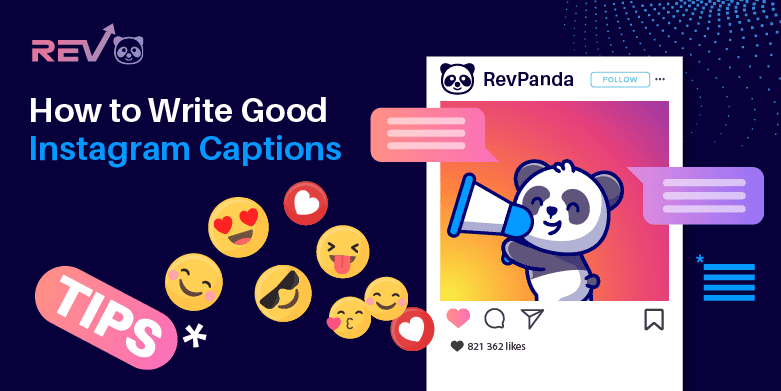 Although the quality of your photos is critical for gaining followers on the platform, getting them interested in what you have to offer requires a niche set of skills. And that is something crucial in digital marketing.
But that's hardly the hardest part. Capturing beautiful pictures and editing them to perfection is half the battle won. The other half is creating quirky Instagram captions. A great caption not only explains the contents of the image in a few words but coaxes the followers to take action. If you consider captions as an afterthought, you're wasting a golden opportunity to engage the audience in ways beyond simple visual aesthetics.
Your Instagram business profile needs a lot more than simple photos and videos to resonate with the audience. Especially if you want to maximise the chances of converting leads to clients, get creative with the captions. With over 72% of Insta users reportedly purchasing something after seeing it on the platform, you must learn how to influence viewers and motivate them to buy from your brand.
After all, with a database of over 500 million daily users globally, Instagram is just too precious to ignore. So, let's dive right into the nuances of how to write Insta-worthy captions. But before getting started, it's worth remembering that scribbling down a few words is barely enough to engage the audience. You must learn how to relate with the viewers and motivate them to take actions in line with your interests.
How to Create Attention-Worthy Instagram Captions in 5 Steps?
The sole purpose of creating a unique caption for Instagram is to boost engagement. As a marketer, your goal is to generate traction with every post. You can share visual narratives, tell jokes, and give your brand a human touch with your posts, but photos alone won't accomplish the task.
Moreover, Instagram has altered the algorithm since the initial days. And users no longer see posts in chronological order on their feed. Instead, the posts are prioritised based on interest and engagement. Now that you understand the basics let's get on with the steps to creating the best Insta captions.
1.     Create Multiple Drafts Before Posting
Have you ever come up with a great punchline after the party and fret later? We've all been there. To avoid this feeling, Instagram users should write a few drafts before publishing a post. Don't rush the process for the sake of content creation. Instead, sit down for a bit, take your time, and nurture a few caption ideas before picking out the best.
While Instagram's algorithms appreciate a punctual post, user engagement is more important for boosting visibility. Therefore, a post with more likes and comments will reach more users within a shorter period. And that's why you must take your time while creating captions for Instagram.
2.     Limit Yourself to Four Hashtags
While we all have the urge to go overboard with our favourite hashtags, stuffing captions with random hashtags have no real benefits. Hashtags on Insta behave similarly to Twitter and ties a conversation with different streams. And as long as your profile is public, anyone searching the hashtag will find your posts.
When used sparingly, hashtags are a great way to reach out to new audiences. However, overdoing it can look spammy to potential viewers. And while hashtags are important, inserting them is a choice. A great Instagram caption can be created without using hashtags. #KeepItSimpleSilly.
3.     Don't Forget the Call-to-Action
A call-to-action serves a crucial function as it directs viewers towards taking a specific action. It gives a purpose to the readers and works wonders for converting leads into clients. According to a study, verbs generate greater activity than nouns and adjectives. So, ending your captions with a question prompts readers to take action.
Unfortunately, Instagram doesn't allow clickable URLs anywhere except the bio. Hence, brands often update the bio with their recent offers while directing the readers with a CTA at the end of each post. Your CTA could also invite people to tag their friends on your posts. This increases brand awareness without you having to spend a dime!
4.     Don't Forget to Use Emojis
An emoji can easily add personality to a boring Instagram caption. Therefore, you'll find most big brands doing it. There is no perfect way to incorporate emojis into the text. You can use them at the beginning of a sentence to grab attention or at the end of a paragraph as a punchline.
Brands have been using emojis since 2015, and they're a common occurrence on social media. Studies show that Insta posts with emojis have a higher rate of engagement. You can split boring text blocks with emojis to spice up a lengthy caption.
5. Cross-Promote Your Social Media Accounts
Social media marketing isn't just about promoting your brand on individual platforms. Instead, it's a tightly-knit mesh that is intertwined on multiple levels. Hence, promoting your other social media accounts on Instagram tells people where else they can find you. This helps build trust and improves your reputation.
If you have Facebook, Twitter, or Snapchat accounts, link them in the caption so that your Instagram audience can follow you elsewhere too. Snapchat, for instance, endorses cross-platform promotions. Every Snapchat account has a unique Snapcode that can be easily integrated with other platforms.
Make the Most of Your Instagram Posts
As you play around with captions on Instagram, keep track of how different posts engage and convert. If you have a tough time coming up with catchy titles, an Instagram caption generator might work wonders. Even a short description can do the magic for your brand.
Of course, every business has a unique style, and there is no such thing as a universal strategy. At the end of the day, the goal is to improve conversions. So don't be scared to experiment with different strategies to figure out what works the best. If you need help setting your Instagram profile on fire, talk to the experts at Revpanda.