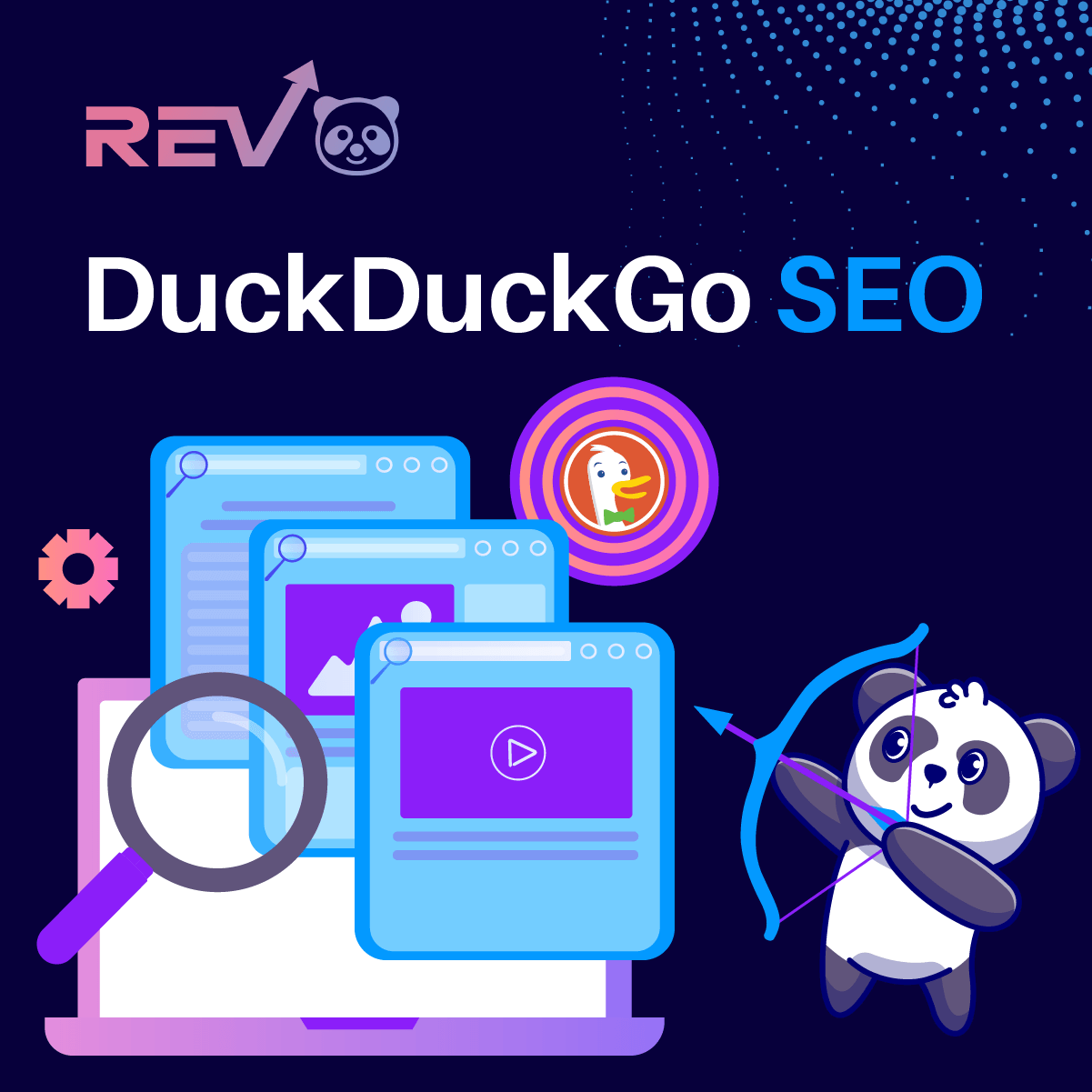 DuckDuckGo SEO
If you're new to search engine optimisation, it's easy to feel overwhelmed initially. Optimising a site for DuckDuckGo isn't vastly different from Google SEO.
Click on a title to jump to a section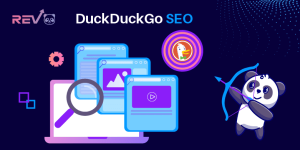 Popular search engine DuckDuckGo reached an epic milestone back in January 2021 as it quietly breached the 100 million daily search mark. This begs the question, is your website sufficiently optimised for DuckDuckGo traffic? If you're new to search engine optimisation, it's easy to feel overwhelmed initially. However, optimising a site for DuckDuckGo isn't vastly different from Google SEO.
But before we get into the details of how to optimise a site for DDG, it's important to understand the reasons behind the search engine's rising popularity. Established in 2008 by Gabriel Weinberg, DuckDuckGo emphasises user privacy above all else. As antitrust claims against Google, Facebook, Apple, Amazon, and other prominent brands grew, DuckDuckGo's privacy policies helped the company steal the limelight.
In fact, DDG addresses privacy concerns better than any other platform in the search market. According to the company, it never stores or shares user data, location information, or search history. Hence, unlike many of its competitors, DuckDuckGo doesn't follow people around with tailored ad suggestions. The company has a generic ad targeting policy that is non-intrusive and safe.
How to Optimise Your Site for DuckDuckGo?
DuckDuckGo consults over 400 resources to gather results for each search query. The search engine collects data from traditional websites, crowd-sourced platforms, and independent web crawlers.
Just like Yahoo, Google, or Bing, practising good SEO techniques for DuckDuckGo will help deliver quality results. The search engine promotes content that is optimised for both humans and robots. And while optimising a site for DuckDuckGo, here are a few critical factors that every digital marketing agency should follow.
Optimise User Experience
DuckDuckGo focuses on delivering a simple, web tracker-free, intuitive user experience that the users can trust. Therefore, it only makes sense that the search engine promotes well-built, high-quality, user-friendly websites that deliver quality content, complete with meaningful internal links and insightful backlinks.
While optimising your website for DuckDuckGo SEO, a great user experience is paramount. But what does a great user experience look like? Well, here are a few examples.
The content must feature sufficient headings, bullets, and paragraphs so that it's easy to scan.
The website must be easy to navigate both from desktop and mobile devices.
Pop-ups and other distractions must be kept at a minimum to help the readers focus on the important stuff.
If your website isn't optimised for a great user experience, the rankings will inadvertently take a nosedive.
Don't Forget to Include High-Quality Backlinks
Just like Google, Bing, or any other search engine, backlinks are crucial on DuckDuckGo. Inserting high-quality links organically to your website will help boost ranking. This means a website with links from high-quality sources will outrank websites with a weak backlink profile.
The Benefits of Keyword Optimisation
Keywords are a crucial SEO tool, especially when you consider constantly evolving search engines like DuckDuckGo, Google, and Bing. Tools like Google Analytics, AnswerThePublic, and Ubersuggest look for longtail keywords related to your content. Use these terms organically throughout the text, heading, and subheads for best results.
While keywords are a key part of every SEO strategy, avoid stuffing random keywords into the content in the hopes of ranking higher for each search term. This is more likely to get your website blacklisted and cause more harm than good. When you finally master the art of organically weaving keywords into the content, your website will generate organic traffic.
Focus on Content
Along with backlinks and keyword integration, quality copywriting forms the Holy Trinity of DuckDuckGo SEO. While optimising the text is crucial for improving your rank on any search engine, webmasters must be extra vigilant with DuckDuckGo since it gathers information from third-party resources. Here are a few neat tricks that can help with content marketing
Build an information-rich website with well-optimised, high-quality content.
Focus on the user's search habits and make sure the site complies with the searches.
Design XML sitemaps, leave sufficient breadcrumbs and include CSS and JavaScript files to help web crawlers index the site.
Design every page primarily for humans and not robots.
Focus on elements that make your site unique or add value.
Mark Your Location Clearly
Unlike Yahoo, Google and Bing, DuckDuckGo doesn't track your IP addresses. Hence, it's crucial that you explicitly list your location to help the search engine rank your site for location-specified searches. Don't forget to include hyperlocal keywords in the text if you want your business to appear on local search results.
For example, DuckDuckGo doesn't display the best results for queries like "best restaurants near me". Google does a far superior job in this department. Unfortunately, your privacy becomes collateral damage.
While this might sound like a bummer for potential DuckDuckGo users, you'll be surprised to know that a majority of internet users would rather compromise on certain non-essential features over privacy.
Another thing that will take your site's performance to next level is translating your website into the local language. Once you localise the content you have with full optimisation, it will be easier to rank higher.
Focus on Promoting Yourself on Multiple Platforms
As we mentioned earlier, DuckDuckGo refers to over 400 sources, including independent sites and crowd-sourced platforms for data. Therefore, it pays to ensure that your site is optimised for the internet and not just specific search engines. DuckDuckBot scours the internet and indexes sites on its own.
Unlike search engines like Yahoo or Bing, DuckDuckGo doesn't accept URL submission. Therefore, webmasters must ensure that the site is prominently visible on the internet for the crawlers to easily find and index the platform. If you want to rank well on DuckDuckGo, you must have content relevant sites like Word of the day, Urban Dictionary, and Ask Different.
The Pros and Cons of DuckDuckGo SEO
Despite DuckDuckGo's alarming growth rate, Google remains the undisputed king in the global search market share. However, privacy remains a concern among the users, which is one area where DuckDuckGo shines. Let's take a look at the benefits and drawbacks of DuckDuckGo SEO.
The focus remains on privacy. User data like IP address, location, and search history is kept confidential. The browser also blocks web trackers.

DuckDuckGo doesn't show targeted ads based on browsing patterns.

Unlike other search engines, DuckDuckGo doesn't employ social engineering techniques and IP Lookup.

Single page results with infinite scroll. Search results keep loading as you scroll down.
Not as feature-packed as Google.

Fewer personalisation options.
Differences Between Google SEO and DuckDuckGo SEO
While most search engines offer fairly linear SEO services, SEO for DuckDuckGo and Bing slightly differs from Google in certain aspects. Backlinking is a prime example. Although all three search engines prioritise backlinks, DuckDuckGo focuses on higher-quality resources. The same rules apply to Bing. In fact, Bing Webmaster Tools pivot around high-quality backlinks, which plays a crucial role in its SEO ranking strategy.
However, unlike DuckDuckGo and Bing, Google's AI is extremely innovative. The algorithm pieces together entities similarly to how humans learn a new language. What this means in terms of SEO is the ability to best match target keywords with search results. Google accomplishes this task by studying the information and finding relevant context around the subject.
All three search engines examine title tags, meta tags, and meta descriptions, which helps improve the click-through rates. Apart from the usual strategies, SEO for DuckDuckGO must include repurposed content since the DuckDuckGo search favours instant answers in addition to links. Therefore, providing relevant answers on crowd-sourced data sites like Quora, Wikipedia, and Reddit can boost your website's ranking on DuckDuckGo.
DuckDuckGo's non-invasive adverts bring a major difference in terms of overall usability as Google welcomes users by bombarding them with personalised ads. Google and Bing also track IP addresses and other sensitive information, which raises major privacy concerns. Apart from protecting the users' privacy, DuckDuckGo offers another interesting feature called Bangs, which are clever shortcuts that promptly deliver search results for related queries.
Conclusion
If you've been slogging to grow your business long enough, you must've heard "don't rely on a single source of revenue" at least a million times. Although a cliche, this advice acts as an excellent SEO guide. While Google is the biggest search engine on the planet, it's not the only player. DuckDuckGo search has a decent market share, and if you ignore DuckDuckGo SEO, you're willingly losing revenue streams.
Mastering SEO best practices is fairly simple once you understand the basics. The sooner you get the hang of it, the sooner your website generates organic traffic. Whether it's Google, Bing, Yahoo, or DuckDuckGo, the basic SEO strategies are the same. Hence, there is no need to overcomplicate the optimisation process by trying to reinvent the wheel.
While every search engine has a list of quirks and features, mastering the few crucial areas can work wonders for every amateur webmaster. Therefore, it pays to not leave your eggs in one basket. At the end of the day, every search engine aims to deliver similar results – relevant information and a user-friendly experience.