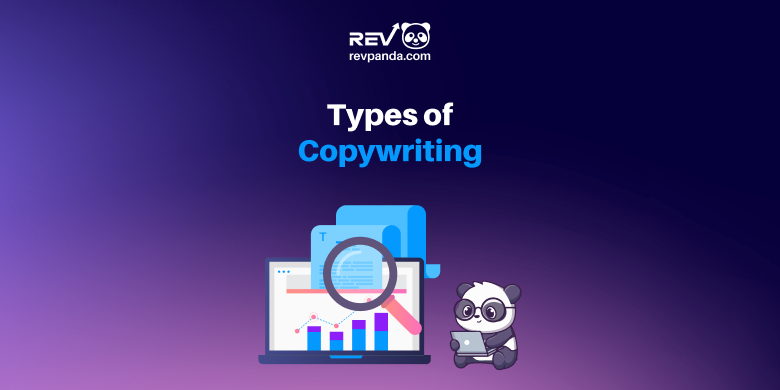 There are many different types of copywriting, each with its own purpose and audience. While one type of copywriting is designed to get the reader to take immediate action, others may focus on building long-term relationships with customers by creating an emotional connection with a company or product. Continue reading to learn about what copywriting is, what makes them unique, their use cases, and finally, how to become a copywriter.
What is Copywriting?
Copywriting is a form of marketing that uses written copies to persuade your target audience to take certain actions. These actions can be about making a purchase, subscribing to your newsletter, booking a call, or requesting a quote. If you have read a product description before, you will agree that the writer's goal is to get you to see the product's benefits, with the ultimate goal of persuading you to buy one.
To succeed with copywriting, you must understand your target audience and know their preferences. When writing your copies, you should tactfully appeal to their emotions on a personal level. But this is not to say you have to overcomplicate things to appeal to your reader's emotions. In fact, it's quite the opposite—keep it simple and sweet. And don't forget to add a compelling call-to-action to push readers into acting.
Difference Between Copywriting and Content Writing
copywriting
Copywriting is often used in digital marketing to sell products or services.
Marketing copies are usually shorter than web content.
Copywriting seeks to evoke readers' emotions, to get them to act.
Copywriting is barely used for SEO purposes.
Marketing copies are direct and straight to the point.
VS
content writing
Content writing is employed to attract readers via search engines like Google to educate and possibly entertain them.
Web contents are usually longer and more detailed than copies.
Web content does evoke emotions, but only to a limited extent.
Website content writing is usually done with SEO in mind to increase visibility on search engines.
Website contents are exhaustive, extensive, and hardly ever straight to the point.
30 Most In-Demand Types of Copywriting
There are many types of copywriting; knowing them allows you to decide which suits your business the best when looking for professional copywriting services. Using the right copywriting service for your business will ensure you get the biggest bang for your buck and achieve your business goals. That said, here are the 30 most popular types of copywriting discussed in detail.
Business-to-Consumer (B2C) Copywriting
In the simplest definition, business-to-consumer, or B2C for short, copywriting is mostly used on online sales pages to persuade consumers to make a purchase, book a demo, or sign up for a paid service. You can also use them on your website pages to move consumers further down your sales funnel. B2C works best for e-commerce entrepreneurs looking to connect on a more personal level with their customers. Of course, this is not to say B2C copywriting is exclusive to e-commerce entrepreneurs; you will also find it useful if you sell services to people.
B2C copywriting has its set of uniqueness. One is that it has a light, friendly tone. B2C copies are written in such a way that it seems as though you are talking to a friend you've known for many years. Humour and sarcasm are often employed when writing such copies. Another unique feature of B2C copies is that they are written to evoke emotions, namely excitement and nostalgia. This is done to get readers to act promptly, as they might without these emotions.
Business-to-Business (B2B) Copywriting
B2B, or Business-to-Business, is a type of marketing copy you write when you are looking to sell your services or products to potential customers who own businesses. Although exceptions exist, B2B copywriting services are often presented with copies that have formal and professional tones. This is because your target audience is managers, business owners, and key decision-makers.
B2B copies are concise and direct, allowing the reader to decide in the shortest possible time. When carefully crafted, B2B copies help build massive awareness for your business and attract potential customers looking for your services. They are also used for building trust with prospects, for proving you have expertise in a particular field.
White Paper Copywriting
White papers are reports you write to educate and inform readers about a particular subject that concerns your business. Typically, the goal of writing white papers is to make prospects see the reasons why you are an authority in your field. Does this mean white papers are blog posts? Not by a long shot! They are purely reports written with the end goal of generating leads for your business. You can write them in a formal or informal tone, depending on your target audience.
White papers work remarkably well if you run an NGO, a fintech, a SaaS business, or a consultancy business. There are two approaches you can take when writing a white paper for your business customers. The first is the backgrounder approach, which involves writing to help prospects understand how your product or technology works. The second is the problem-solution approach, often undertaken to help readers see why a particular solution best answers a common industry problem.
Content Marketing Copywriting
Content marketing copywriting is a form of inbound marketing that involves creating educational and informative materials such as blog posts, web pages, podcasts, videos, and infographics and distributing them online for targeting potential customers and attracting leads for your business. Knowing your target audience and understanding their preferences is key to succeeding with content marketing copywriting.
Content marketing copywriting usually takes a long while to yield results, making it ideal for business owners looking for a cost-effective, sustainable marketing channel. Content marketing helps solidify your credibility as a brand, gain more followers on social media channels, and works well for building traffic to your website, generating leads, increasing conversions, and driving sales.
Conversion Copywriting
Conversion copywriting is a form of creative copywriting that deals with crafting persuasive marketing copies to get readers to act—or convert in this context. Conversion, in this sense, can mean making a purchase, filling out an online form, adding products to their cart, completing checkout, or signing up for a trial. Usually, while writing, the creative copywriter attempts to evoke the readers' emotions by showing them the benefits of using a product to get them to take swift action.
Conversion copywriters often infuse powerful call-to-actions in their copy, which helps supercharge conversion. For best results, conversion-oriented copies are often kept short and precise. And they are loaded with action-driven words. Some of these words include now, pay zero, last chance, don't miss out, and instant. Personalising your copies using "you" and "we" will make readers feel they are a part of your brand and want to act. Focusing on your product's benefits instead of features will also go a long way in boosting conversions. People rarely care about features; they just want to know how useful your products or services are.
Digital Copywriting
Digital copywriting simply involves crafting attention-grabbing, conversion-driven copies for email marketing, advertising and marketing campaigns, and outbound marketing purposes. Digital copywriters do everything from sales copywriting, e-commerce copywriting, and ad copywriting to PR copywriting and writing video sales letters.
Digital copywriting has several uses. It can help drive a lot of traffic to your website, build engagement and awareness for your business on social media, gain quality leads, and develop solid credibility for your business.
Digital copywriting doesn't stop at writing; a lot of research and planning goes into it. For example, before writing a marketing copy to promote your business, a digital successful copywriter would first do intensive research to understand your target audience. After the research comes the planning stage, and your business goals are determined at this stage.
Thought Leadership Copywriting
Thought leadership copywriting is to build credibility in your industry and establish yourself as an authority. It involves writing insightful, educative pieces that address your readers' pain points and provide practical solutions to their challenges. The goal is to show you have expertise and experience in a certain subject, making it easier for prospects to trust your brand as their ultimate solution provider.
Good research skills are one vital key to succeeding with thought leadership copywriting. Research makes it easy for you to know the kinds of topics your target readers will appreciate and what they are looking for. In addition to research, good storytelling is crucial. You have to personalise those stories as much as you can. Most importantly, your copies should address real-life challenges and provide viable solutions to them.
Public Relations Copywriting
Public relations, as the name implies, involves influencing how the public perceives your brand. And not just the public, but your customers, employees, investors, and relevant stakeholders. Their perception of your brand is often determined by what they hear in the media about you, be it good or bad. As a business owner, your job is to ensure people know the truth about your business and are not swayed by false news, one-sided stories, and negative publicity. This is where PR copywriters can do wonders for your business.
Public relations copywriting aims at crafting and disseminating brand-centric stories and messaging that put your business in a positive light. It can take the form of press releases, news pieces, blog posts, and even videos. To make the most of public relations copywriting, you have to constantly keep tabs on industry news, listen to what people are saying about your brand online, and keep up with your competitors. Doing all that allows you to craft PR pieces that are up-to-date and factual.
E-Commerce Copywriting
Managing and growing an e-commerce business is no easy feat—you'd have to write a tonne of copies to attract prospects to your online store and convince them to buy from you. E-commerce copywriting is about any form of copywriting you do – or hire a marketing copywriter – to promote your e-commerce business and boost sales. E-commerce copywriting can take the form of writing captivating headings for your web pages, writing metadata for your product pages to rank high on search engine results pages, or crafting sales letters that get a lot of clicks.
E-commerce copywriting can also be about attention-grabbing product descriptions, video scripts for marketing purposes, promotional content, email marketing copywriting, etc. Your goal when writing copies for your e-commerce business is to let prospects see the benefits of buying your product. Creating a vivid picture of your product's benefits will make it easier to push prospects into making a purchase. Personalising your copies will also help increase the effectiveness of your marketing campaign.
Landing Page Copywriting
Landing page copywriting aims to convince visitors interacting with your page to take action, such as signing up for your service, booking a demo or appointment, making a purchase, guiding them to other pages, etc. Sending people to a generic page, such as your homepage or contact page, after they click on your ad will only result in their exiting your website faster. However, you can optimise conversion rates with a dedicated landing page solely designed to drive conversion. It can be a product detail page, squeeze page, click-through page, and many more.
But a landing page without an intriguing copy won't do much, which is where landing page copywriting comes in. Landing page copies are most effective if they contain a few distinct elements, such as your brand's value proposition, an attention-grabbing call-to-action (CTA), and a captivating headline. Adding social proof or testimonials to your landing page copies goes a long way towards driving more conversions.
Website Copywriting
Website copywriting is exactly what the name says: writing for the web. Usually, website copywriting extends beyond just writing copies for your website to writing social media posts, email copywriting, etc. There are many reasons why website copywriting makes a lot of business sense. It is instrumental in driving organic traffic to your website and helps you generate qualified leads for your business. Effective website copywriting also helps you become an authority in your readers' eyes.
Website copywriting has many extensions, including blog posts, landing page copywriting, and ad copywriting. The type you go for depends on your business goals. For example, blog post writing is a great way to raise awareness for your business and attract qualified traffic to your website. But if you want to drive sales and conversions with your website, landing page copywriting is the way to go.
Sales Copywriting
A great product will not sell itself—you need to use emotion-evoking sales copies to sell it. The goal of sales copywriting is to make prospects see reasons to buy your product or service. In some cases, you can write a sales copy to convince prospects to sign up for your mailing list, share your content, watch a video, download your ebook, and perform other actions that aren't directly connected to sales.
What makes a sales copy powerful at driving conversions and sales is that they focus on one goal, cutting out any distraction that might hinder a prospect from taking action. Sales copies let prospects see all the benefits they can get with your product or service and assure them that their money won't go to waste.
Video Copywriting (Script Writing)
Did you know that YouTube is the biggest search engine after Google? This shows just how much video content people consume every day and the potential videos have in helping you promote your brand. Video copywriting, or script writing, as some prefer to call it, is all about writing captivating video scripts for marketing purposes. There are many reasons why you will want to give video marketing a try. Among them is that video marketing provides the right platform to give people a feel for your products and show them how to use them.
Video marketing allows you to boost engagement on your website, making visitors stay longer, hence increasing their chances of converting, so investing in a great video copywriter should be a priority. Make sure to keep your video script simple, straight to the point, and free of fluff to achieve your desired business goals. And don't forget to throw in your call-to-actions, as without them, your viewers are not likely to act.
UX Copywriting
UX copywriting is an arm of copywriting that deals with creating textual content for user interfaces of digital tools and products to improve the user experience (UX). The ultimate goal of UX copywriting is to help users navigate your software products, including web and mobile apps, in the easiest way possible while still having an amazing experience. A strong UX copy is necessary to make any app or software solution usable.
A good example of UX copy is the error notification that pops up whenever a user makes a wrong move with your app. The copy will not only notify users that they made an error, but also tell them what to do. Another example of a UX copy is the messages that pop up on your screen when you engage with a chatbot. Though those messages might seem AI-generated, the truth is that a UX copywriter wrote them. Onboarding sequences, CTA copies, and user instructions are also some great examples of UX copywriting projects.
Email Copywriting
Did you know that for every $1 you invest in email marketing, you stand to gain back $36? That's a whopping 36000% ROI, making email marketing one of the most powerful digital marketing channels. Plus, it's a lot cheaper than running online ads and even doing social media marketing.
Email copywriting is best used on warm leads. By "warm leads," we mean people who gave you their email addresses via your newsletter or opt-in form. But it doesn't always have to be with warm leads—email copywriting also works with cold prospects. That is, people you send unsolicited emails to without their consent, more commonly known as "cold emailing."
Mastering the art of writing effective email content and eye-catching headlines is key to succeeding with email copywriting. This is because your email header is what people will see first before deciding if they open your emails or not. Personalising your email copies, ridding them of technical jargon, and keeping them short and sweet will help you succeed at email copywriting.
Blog Copywriting
Websites with an active blog are much more likely to rank in search engines than those without. This goes to show that actively writing insightful pieces and publishing them on your website, often for search engine optimization (SEO) purposes, is a great way to build brand awareness, strengthen your credibility as an industry authority, or drive conversions.
When writing blogs for marketing campaigns, you have to write in such a way that your readers can quickly distil the points you are trying to make in the fastest way possible. Plus, your blog content has to be scannable—people hardly ever read through a blog post; they skim and scan. As for search engines, you need to weave relevant keywords into your blog content. Adding relevant keywords to your blog posts will make them findable.
Brand Copywriting
Sometimes, your brand is the only differentiator you can leverage in a fiercely competitive industry. No matter how great your product or service is, you will always have competitors—and those competitors might have a better offering. To beat the competition, you need to invest a lot of time and effort into growing your brand. This is where brand copywriting comes in.
Brand copywriting is a form of copywriting you use to build your brand. When writing copies for your brand, your goal should be to make people see what makes your business unique; your mission statement, goals, and vision as a business. Brand copywriting might also mean writing and publishing blog content that is consistent with what your brand reflects. For example, you can write blog content that details how your brand has been evolving and the things you are doing differently from your competitors. Establishing a solid brand voice with your copies will go a long way towards helping you build a brand you can be proud of.
Social Media Copywriting
In the early 2010s, when social media was just becoming popular, people mostly used it to socialise with friends. But it has grown to a whole new level now as companies are leveraging it to connect with their target audience and customers, promote their brands, and uplift their sales. The good thing about social media marketing is that you can win at it, no matter how small your budget is. However, that can only happen if you have a solid copywriting strategy in place.
Social media copywriting requires you to write captivating, conversion-focused copies for social media platforms, and the tone of your copy depends on the platform you are writing for. If you are writing for Facebook or Instagram, you'd have to keep your copies informal and humorous. But when writing for LinkedIn, keep your tone formal, as it is a social network for business professionals. You can add a little humour to your copies, but only do so lightly. And as for Twitter, use a mix of both. Try to use a lot of hashtags with relevant keywords for your copies, as doing so will help them gain a lot of visibility.
SEO Copywriting
No content strategy is ever truly complete without highly-optimised SEO copywriting, as your website won't enjoy a favourable ranking on search engine result pages. SEO copywriting is the practice of writing and publishing content for the sole purpose of increasing your website's visibility on search engines. The more visibility your website gets, the more traffic it will attract.
An SEO copywriter would first do intensive keyword research using tools like Google Keyword Planner, or SEMrush before writing a single word. The copywriter would use keywords intelligently integrated to organically boost the SEO copy. Often, these keywords are added to the post and page headings, body copy, alt text for images, and meta descriptions.
Keep in mind that SEO copywriting isn't exactly the same as SEO content writing. In SEO copywriting, you write to attract and convert search traffic, whereas SEO content writing deals more with attracting traffic—conversion isn't the ultimate goal. Landing pages, product descriptions, and web page copies are typical examples of SEO copywriting.
Financial Copywriting
Promoting financial services and products online can be challenging. People tend to have misgivings about buying financial products online. So you would have to do a lot of convincing to get them to give you their money. Revpanda's expert financial copywriting services help you with creating copies to promote your financial products and services. The primary aim of financial copywriting is to build trust with prospective customers and make them see that you are an expert in your field.
Financial copywriting might mean creating white papers to address certain problems in the business and finance industries. Financial copywriting can also take the form of blog posts, ads, how-to guides, and many more. Using a mix of different content formats will improve your odds of success.
Direct Response Copywriting
Direct response copywriting services work exceptionally well if you want to elicit action from people immediately after they interact with your marketing campaigns. This makes it ideal if you are looking for quick returns on your marketing efforts.
Making a good first impression with your direct response copies is very important. The reason is that you have a very limited time to hook your readers and make them do whatever you desire. You need to make a conscious effort to entice your reader's desire, to make them take an interest in what you are offering. And the easiest way to do this is by showing them why they need to buy your products. If possible, include some form of social proof, such as testimonials.
Marketing Copywriting
Marketing copywriting is about writing copies to market an idea, a product, or a service. Marketing copywriting can adopt a long-term or short-term strategy. In the long-term arrangement, you would have to write SEO, brand, blog, and ad copies. The idea is to develop a sales funnel to consistently convert your website visitors into customers. In the short-term approach, your goal is to drive immediate action by writing enticing direct response copies that move prospects to act.
Marketing copywriting works when a lot of emotions are added to it. A good example of this emotion is a sense of urgency. When you create a sense of urgency by simulating scarcity in your readers' minds, you prompt them to take swift action. In addition, when writing a marketing copy, make your readers see what your product has to offer and all the wonderful things they stand to gain by buying your product.
Ad Copywriting
Ad copywriting is exactly what the name suggests: writing ad copies to drive conversions. Ad copywriting isn't always restricted to the web; you can write ad copies for newspapers, TV commercials, radio jingles, and many more. A lot of variables need to be in place for ad copywriting to work the way you intend. One is that you need to show your target customers that your products are a lot better than your competitors'. Another thing you will want to do to drive conversion is to offer freebies, such as discounts, coupons, etc. People love freebies, and they will jump on them at the snap of a finger.
Including testimonials from previous customers will help supercharge your ad copywriting efforts. Other steps you can take to make your ad copywriting more effective are to do a lot of research before writing, add humour, and personalise your copies.
Creative Copywriting
Reeling off all the benefits your products have to offer won't always cut it—you need to create a vivid picture of the product in action in your readers' minds to sell it. Creative copywriting is the process of creatively crafting marketing copies to achieve business goals.
A lot of research is needed to make creative copy pop. Research helps you know exactly what the customers want—and when they want it. It helps you determine the correct tone to use for your creative copies to get maximum results. Tell customers a story of how you founded your company, what motivated you to do it, and how you see them as an inseparable part of your business.
Technical Copywriting
Technical copywriting is the act of writing guides and tutorials that explain how a product or feature works and how to use it. Technical writing mostly comes in handy if you sell software products that require some learning to get the hang of. Keep in mind that there is a fine line between technical documentation and technical copywriting. The former is mostly written for experts who understand how a product works. The documentation serves to guide them on how to use the product. Technical copywriting, on the other hand, involves writing guides for readers with little or no technical knowledge about a product.
Often, when writing technical copies, you need to let readers see why using your product makes a lot of sense. It might require you to do some storytelling, appeal to their emotions, and add wit to your copies. In all, technical copywriting is a lot less "technical" and often devoid of confusing jargon.
Casino Copywriting
Casino copywriting is the art of writing persuasive and engaging text for casino websites. Casino copywriters create content that's designed to attract customers and make them want to play games and spend money. It can take long forms like SEO-focused blog posts with over 5,000 words and even guides with dozens of pages, or it can take short forms like ad copies and emails. Good research is also needed to craft convincing casino copies. Researching allows you to find relevant keywords to rank your copies on search engines and also know the kind of copies your readers will love.
Casino copywriters also write about the benefits of playing at a particular casino or gambling site, how to gamble responsibly, and what it feels like to be a winner. Some casinos have their own in-house copywriters, but most hire freelance copywriters on an as-needed basis. A copywriter might be the most important position at a casino, as it's often their responsibility to write the entry page for each game and keep customers engaged.
Do you run an online or offline casino gaming outlet and want to promote your business to attract more punters and generate more revenue? Revpanda's experienced casino copywriting services are just what you need.
Sports Betting Copywriting
Are you looking to break into the sports betting industry? Heads up, it's a highly competitive industry. To get in, you need an aggressive marketing strategy. You need qualified sports betting copywriting services.
Sports betting copywriting is a niche form of copywriting that is related to the betting industry. It is used to create marketing and advertising content for sportsbooks, casinos, and other iGaming sites. There are many types of sports betting copywriters that specialise in different niches like horse racing, soccer, basketball, and so on. They are often employed by gambling sites for several reasons: to create marketing content that will attract new players to the site, generate more revenue from bets, and sell more products.
Bettors may use sports betting copywriting to learn about the most likely scenarios for a game, create content that will help them with their strategy, or make predictions about upcoming games. In addition to creating content, many sports bettors use copywriting skills to make money by writing ebooks and providing marketing services like SEO and PPC marketing.
Political Copywriting
Political copywriting is all about writing persuasive content to influence people's decisions on matters relating to politics. Whether you are a politician, a policymaker, an activist, an influencer, or a voter, you have the freedom to share your opinion with other people in a persuasive manner. And the simplest tool you can rely on is well-written copy targeting your audience. If you want the people you are targeting to take action, you must use persuasive copy that appeals to them and include the right call to action (CTA) phrases to make them act accordingly.
By using top-quality political copywriting services, you will be able to share the facts with your audience in a way they understand. A persuasive writing style that reflects your tone is needed to increase your chances of convincing people to take a certain course of action. It includes explaining, in the simplest way possible, how choosing one thing over the other can benefit their lives. This also means providing them with the right information, writing about what affects their everyday lives, and using specific words that will drive your message home. There's no better way to do all this than by utilising a political copywriter who knows how to connect with your target demographic.
CBD Copywriting
The CBD (Cannabidiol) sector is one of the fastest-growing industries with a lot of potential. Despite how promising the CBD and marijuana sectors look, the industry is surrounded by controversies. There are restrictions on promoting CBD products using conventional channels, so it's important to know the best way to reach your audience. With the help of top-notch CBD copywriting services, you can keep prospective customers well-informed and convert them into buyers. Good content writing makes it easier for people to find your CBD business website without you having to spend a lot of money on advertising.
To increase traffic to your CBD business website, you must employ the right Search Engine Optimisation (SEO) tools. This way, your content will always be among the first to appear in search engines whenever someone searches for CBD products. And providing your audience with useful information keeps them coming back to learn more about your product. Getting regular and valuable content on your CBD business website will build trust over time and consequently lead to more visits. The ultimate advantage of using CBD copywriting is that it helps generate leads. All this is possible if you provide content that educates the public and gives people a reason to try your CBD products.
Ghostwriting
Contrary to what most people think, you don't need to be famous to use ghostwriters. If you want anything written for you or your business, you can always take advantage of ghostwriting services. This is especially important if you don't have enough time to do the work yourself. You may also want to use a ghostwriter if you are looking for top-quality marketing content written by an expert in the relevant field. The best part is that you own all rights to the content once it's delivered to you by the writer.
By sending the right message to your clients or customers, ghostwriting can help your business become an authority in your industry. High-quality content is an effective sales tool that you can post on your blog or website without mentioning the copywriter. By hiring a good ghostwriter, you can tune the tone of your advertising or marketing content to suit your business needs. And that's one of the cheapest ways to get known without having to waste valuable resources writing the material yourself. The result is amazing content that drives traffic to your business site and converts visitors into customers.
People Also Liked
Conclusion
So there you have it; 30 types of professional copywriting services to promote your business. Are you still not sure which type would boost your business and need guidance to decide? Get in touch with our sales team to discuss further and get a custom quote.
Copywriting Jobs
We are currently hiring motivated copywriters hungry for a new challenge. If you are a qualified writer who can excel at everything we've just covered, take a look at our career page or send your portfolio directly to be part of an award winning digital marketing agency!