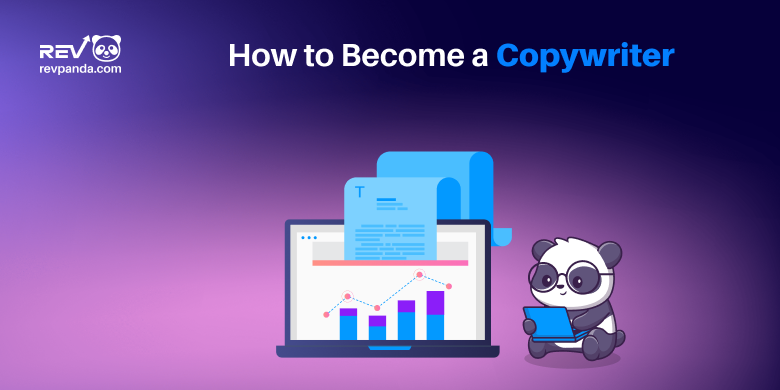 If you ever wanted to know how to become a copywriter, this is all you need. From understanding the work requirements to the industry at large, we share it all.
Thanks to the rising importance of digital marketing and the benefits – and popularity – of remote working, writing is a position that can give you job security. But it's absolutely essential to understand your audience, clients, and language.
Whether you want to pursue it as a hobby or as a career path, this post will teach you how to become a copywriter in detail.
What is a Copywriter?
In the role of a copywriter, you create written copy for clients. In most cases, a copywriter works for a business, and the purpose of the vast majority of the content is to optimise conversion rates, and promote the brand or a product to increase sales.
The range of the types of copywriting a copywriter creates for or with a marketing department is quite vast. Website copy or landing pages are perfect examples of the type of content a copywriter can produce. Direct response copywriting is the golden standard of copywriting for getting immediate responses from audiences and turning them into actions that lead to sales. Email copywriting is another persuasive writing example because it prompts the reader to either subscribe to a program or visit a website, and learning how to write effective email marketing copy is an excellent way to start your copywriting career.
Here's a quick reference list of what copywriting can include, though it's not limited to these instances:
Press releases
Scripts for online videos to prompt sales of a new product or service
Landing page to promote a new product
Sales letters as part of an email marketing campaign
Newsletters that are sales oriented
Industry-related articles for the company's own blog, if the goal is to sell
SEO copywriting to benefit a company's online presence
Google Ads
Everything a copywriter creates for a business must be relevant to the targeted audience and their needs. It must also fit with and promote the brand identity.
With a variety of content like this, being a freelance copywriter can stay interesting even if you do it for a long time. And if you already enjoy writing, there's sure to be content and topics you'll always find stimulating to create copy for.
Copywriting vs Content Writing – What's the Difference?
Before you start your journey as a copywriter, it's important to know the difference between content writing and copywriting. Essentially, a copywriter's goal is to get the reader to take action or buy a product, but you may enjoy using the written word simply to inform or entertain. For the latter, content writing is a more suitable job description.
What is a Content Writer?
A content writer produces copy that's not always intended to sell anything or take action. This type of writer can produce blog posts, educational material, or online content that will inform and entertain the reader. Examples of content creation by this type of writer include:
Social media posts

Video scripts

Search engine optimisation

Press releases

Newsletters

Transcribing
To be a content writer, you'll need the same skills as a copywriter. But, your goal is to provide creative copy for your clients to improve their brand identity and not necessarily sell products or services. Content creation is often more suited to those who love writing but don't necessarily have marketing skills.
Copywriting
Focuses on persuasive writing
Aims to sell a product or service
To entice people to take action
Uses emotions to seal the deal
For ads or website copy
VS
Content Writing
Focuses on creative writing
Purpose is to increase online visibility
To educate the reader
Builds trust over time
For longer form writing
How to Become a Copywriter?
One of the advantages of becoming a professional copywriter is that you don't need a formal education. Most copywriters are self-taught or have taken short courses to hone their copywriting skills. In this section, we provide tips on how to become a copywriter.
Identify Your Niche
Before you start a copywriting business, determine what niche you want to write about. For example, do you want to write for agencies or digital marketing agencies, where you may write on a wide range of topics? Or do you specifically want to write for health and wellness centres since it's something you're interested in?
Often, it's most effective to start off with freelance writing to cover topics you know and feel comfortable with. Consider the skills you already have. Writing about this will give you time to get to know all about writing copy, while you also practice your research skills.
Successful copywriters also write in a way that their audience easily responds to. At first, it will be easier to write for an audience you understand, by keeping to niches you know already.
Study Human Psychology
If you want to persuade your target audience to take action through your writing, then you'll need to understand basic human psychology. Luckily, you don't have to earn a psychology degree to write persuasive content. You're simply learning what triggers your target audience to take action.
According to the Yale Attitude Change Model, people can change their attitude towards something if they have proof of how it works. Therefore, when talking about how beneficial your products or services are, back up your statements with proof.
Learn From Other Works
To become a good copywriter, you can learn different styles and techniques from writers who've been in the industry for many years. Or you can take inspiration from the articles you're conducting your research from.
When you're researching, see how other articles are structured when you're researching. Some copywriters will have many subheadings with shorter paragraphs. Others will use lots of lists to make a piece easier to scan.
But perhaps the best way to learn how to become a copywriter is through short courses on sites such as Udemy. Thanks to training by expert writers, you'll learn the fundamentals of copywriting and how to write content that sells!
Create a Portfolio and Showcase Your Works
To establish a reputable copywriting career, you should create a detailed portfolio of your work. The purpose of a portfolio is to show your skills, style, and proficiency in a language. You can either have a digital folder where clients can access your work, or you can simply share your projects via email. Separate your content into categories, so clients can navigate to what's relevant to them; website content, landing pages, product reviews product descriptions etc.
Using your portfolio as a reference, clients can then make an informed decision on whether you're the type of copywriter they're looking for. Whether you are a freelance copywriter or work for an agency, providing a record of previous work you've done can attract potential clients.
Do I Need a College Degree to Become a Copywriter?
Copywriting doesn't require any formal education. But having a basic creative writing diploma or bachelor's in English can improve your chances of getting hired for a copywriting job. But if you want in-depth knowledge of copywriting,
Consider taking a short course.
Study copywriting through correspondence.
Sign up for an e-learning platform that provides copywriting courses.
If you're on a tight budget, you can learn certain skills through YouTube videos or webinars.
Having the ability to write opens up many doors for you, and you don't need a degree to show how creative you can be. The beauty of copywriting is that you can learn about thousands of industries or write for some of the biggest corporations in the world. All you need are communication and writing skills, along with enough patience to research.
What to Look for in Copywriting Courses
You can improve your skills and find out exactly how to become a copywriter. There are multiple online copywriting courses to pick from.
If you vet them according to these characteristics, you'll get value for money:
Look for information on how many hours the course will require. Do you have enough time available to complete it? Also, if they have deadlines for assignments, will you be able to submit them in time?
Does the cost suit your budget? With the many options available, there should be one in a price range that won't put you under financial strain.
Read up about the course goals and make sure it will supply you with the knowledge you require at this stage of your career path. Some are more advanced and others are for beginners still figuring out how to become a copywriter from scratch.
Because copywriting is a very practical job, the best courses are the ones where a practical application is a priority.
A bonus would be if the course helps you get in touch with a forum or community. The support will help during your training, and you'll become part of a bigger network of writers.
Free and Cheap Copywriting Resources
These days, you can get almost any type of information online. So, yes, there will be cheap copywriting courses available and some may even offer practical tips for free.
There's nothing wrong with saving some money while trying to improve your content marketing and copywriting skills. However, research where the resources come from and whether they're relevant to the niche you want to write for. Also, the information needs to align with today's digital marketing needs.
4 Writing Skills You Need to Master
Once you start the process of how to become a copywriter, you'll quickly see it's not as simple as typing a few words. For your written content to benefit a business's reputation and sales, the following skills are vital.
Whether you're a freelance writer or you work for an agency, you must be able to communicate with clients and colleagues. Part of the copywriter's job is to explain their creative choices. In addition, there will be plenty of feedback from editors and clients, so excellent communication skills will minimise misunderstandings and friction in your exchanges.
As a copywriter, you'll have different types of clients. Some people you work with will be more serious, whereas others might be laid back and friendly. With good communication skills, you'll have the ability to adjust your tone – when talking or writing – based on the expectations and personalities of each of your clients and colleagues.
Copywriting is both an art and a science. The main skill you need to develop is your ability to be persuasive. You'll combine the art of writing with an analytic approach to tap into the psyche of your readers. Once you're aware of your readers' mental triggers when looking at marketing material, it becomes easier to persuade them to take action. By becoming persuasive, you can influence a potential customer with a single sentence.
Your main goal is to convert readers into paying customers. The most persuasive copies share the same three characteristics; they are Concise, have Excellent Grammar, Relevant to the audience. Writing a copy that sells takes a lot of practice. But the more you write and study your audience, the more you'll understand how people's thought patterns work. Then it will become second nature to use words that capture attention and guide their thoughts to take the action you want them to.
Successful copywriters use clever words and sentences with a lot of energy to attract more attention. They'll use a tone and style that are relevant to the service or product they're writing about, but with an exciting twist. To become a successful copywriter, you must see the world from a new perspective, which will give you the ability to write unique content.
Additionally, you may have to follow specific guidelines given by your client. So you'll have to think of ways to make the content more appealing to your audience without compromising on the client's requests.
When you're writing about a specific topic, you must do extensive research to ensure your writing is 100% accurate. There may be many sites discussing the same topic, but their data may be different. Your responsibility is to fact-check your statements using reputable sources.
You must have a keen eye to identify the best websites and sources. A good copywriter will look at different pages when conducting research. You should also use educational sites to get information from where relevant, since they're often more reputable.
Lastly, you must learn how to link to your sources using relevant anchor texts. As SEO is highly important, this proves you've done some research, and it also ensures search engines notice your written copy.
5 Essential Ingredients to Become a Successful Copywriter
If you want to become the best copywriter in your field, then there are some factors you'll need to work on. In this section, we give five tips for providing professional copywriting services!
Prioritise the Reader's Needs and Pain Points
The reason why consumers search for products and services is to solve a problem in their lives. Even though your purpose is to convert readers into customers and promote products, your method to make it happen is to prioritise your reader's problems so you can solve them.
For example, if you're writing about washing machines, your reader's pain points may be frustrations with machines with smaller drums or too many buttons. You could then write about washing machines with larger drums and user-friendly interfaces.
When you prioritise your reader's pain points and needs, your content will fulfil a purpose. It gives your audience exactly the information they're looking for. But to get this right, you — and your clients — must do some research about your audience's needs.
Have Effective Call to Actions
After providing a solution to your reader's problems, you don't want them to leave without taking action. Creating a call to action is where your creative and persuasive skills will be the most valuable. Whether you're creating a landing page copy or a product review, you must add an effective call to action that entices your audience to act, such as:
Click on a link
Buy a product
Add a comment
Like or share a post
Otherwise, what was the point of the content?
One way to write an effective call to action is to make offers feel exclusive or focus on the benefits of their decision. In either scenario, your audience will feel excited about picking the brand.
Make Your Content Scannable
To write content that is suitable for marketing, it must be easy to read or at least give an overview of what it's about.
Let's face it, few people read digital content by looking at every word. Your layout must help them confirm that the page contains what they're looking for, even if they just scroll down quickly. And this is why you must learn to improve your writing by making your content scannable.
To achieve this, you can add the following elements to your writing:
Bullet lists
Tables
Step-by-step guides
Subheadings with shorter walls of text under each heading
Some readers don't always have the time to go through everything you've written, especially if they're looking for an answer to one specific question. Long walls of text with no subheadings can easily deplete your website's traffic.
Your readers must be able to scan your posts to quickly find the topic they're looking for. With lists and tables, you can provide quick answers and solutions to your reader's problems and questions.
Incorporate SEO into Your Copy
Your audience must see it for your copy to make a difference in your client's sales performance. But with a lot of digital content, search engines like Google determine what consumers view. Without SEO copywriting best practices, Google's algorithms won't identify your written copy as a good quality product to show to those browsing online.
To impress Google and your readers, implement the following:
Incorporate relevant keywords your audience is likely to use during an online search
Provide answers to questions people ask the most on the topic
Implement good practices such as making content easy to scan—this makes visitors stay on the page longer, which Google will take note of
Spend time creating optimised meta descriptions, meta titles, and headers
Focus on the Benefits
Remember, your writing skills must help your clients boost sales. Your audience won't view the client as the preferred brand, service, or manufacturer if you don't make it absolutely clear what benefits they can look forward to. To write effectively about a service or product's advantages, you must understand it yourself. So, take enough time to get to know your topic.
Better yet, mention which features set it apart from other similar products on the market. This USP is what will prompt a potential customer to pick your client above the competition.
What Are the Main Types of Copywriting Jobs?
Even though copywriting in general is about helping to promote a brand and products, there are different ways to go about it. Depending on your needs and preferences, you can work towards becoming settled as one of these copywriter types.
Agency Copywriters
Corporate Copywriters
Freelance Copywriters
These writers work for an agency that provides writing services to multiple clients. If you choose this type of career, you'll work full-time with a fixed salary, which is great if you prefer job security. Just remember, you'll often have strict deadlines for projects.
As a corporate copywriter, you will write content for your organisation that employs you as a writer. You'll be responsible for your company's website copy, social media pages, and email marketing campaigns.
Becoming a freelancer is ideal if you want to have your own copywriting business. You establish your own rates and work according to your time. You may work on freelancing platforms that help make it easier to handle tasks like invoicing.
| | | |
| --- | --- | --- |
| Agency | Corporate | Freelance |
| Works on a fixed salary | Works on a fixed salary and bonuses | Creates their own rates |
| Works with multiple clients | Writes only for their company | Chooses their clients |
| Works according to office hours | Works according to office hours | Chooses their own hours |
| Strict deadlines | May have flexible deadlines | Works according to when the client needs work |
| Minimum work-balance | Medium work-life balance | Improved work-life balance |
Agency
Works on a fixed salary
Works with multiple clients
Works according to office hours
Strict deadlines
Minimum work-balance
Corporate
Works on a fixed salary and bonuses
Writes only for their company
Works according to office hours
May have flexible deadlines
Medium work-life balance
Freelance
Creates their own rates
Chooses their clients
Chooses their own hours
Works according to when the client needs work
Improved work-life balance
How to Become a Freelance Copywriter?
There's no one perfect way to become a freelance copywriter. You can try out different methods and find a career path that suits your preferences.
We list the most common methods for you to follow.
Find Clients Independently
Rather than facing the world as a solo writer, use agencies created especially for your scenario.
Many companies use freelancing agencies because they prefer working with a freelance copywriter rather than employing a large digital marketing company. So, there's usually an abundance of options to apply for on the job boards. This makes it an excellent starting point for new freelance copywriters.
Many companies use these agencies because they prefer working with a freelance copywriter rather than employing a large digital marketing company. They can also expect competitive rates. So, there's usually an abundance of options to apply for on the job boards. This makes it an excellent starting point for new freelance copywriters.
Work with an Agency
Another effective method to get established and gain experience is to work with an agency that provides copywriting services to its clients.
Once again, many of the stressful aspects of the job are taken care of. An agency sources work from clients and allocates it to one of the team's copywriters. Since they handle invoicing, freelance copywriters can simply keep doing what they enjoy most: writing.
A reputable digital marketing agency like Revpanda usually has a streamlined process that ensures a steady flow of work. And although there are high expectations in terms of quality and keeping to deadlines, there are multiple benefits, including:
The agency sources all relevant information from the client, which is good news
You'll receive guidance and have a team to ask questions if you're unsure about a project's expectations
You may be writing copy for growing brands and have the satisfaction of seeing them grow
The organisation may offer training to improve your skills and help you become an experienced copywriter
For these and other benefits of writing for an agency, send us your portfolio and get in touch with the Revpanda team.
Network with Other Writers
Start reaching out to other writers, and you're bound to see the multiple benefits that come your way:
Follow the influencers and read their content, to stay up to date with trends and developments in this niche. You may need this insight when you pitch to new clients.
These market leaders know how to become a copywriter, because they already did it, so their step-by-step guide blogs are worth reading.
Other writers may know available work opportunities you can pursue to benefit your career path. If they already know your work through your own website, they may vouch for you, and you can land your first few clients.
If you benefit them by sharing their blog post copy via your social media, they may do the same for you.
Reach Out to Potential Clients
Is there that one company you've always dreamed of working for? Perhaps you've heard how well they treat employees, or you respect their work ethic around sustainability.
Why not be a member of their content team?
It may take lots of practice to get your pitch right and impress the boss or the marketing manager. But many people don't enjoy writing or have time to write. They may appreciate a passionate team member taking on the role of in house copywriter, who can take care of all the writing on their behalf. Apart from general companies, also consider publications that may need new writers on their team.
Pros and Cons of Freelance Copywriting
Yes, it's great to be your own boss. But any job comes with its challenges. Having a realistic expectation of what it will take to pursue freelance copywriting will help you prepare properly and make a success sooner than you expect.
Flexible hours
Multiple, different projects, so it's never boring
Can work from anywhere
Creative career path
Challenges to ensure you get paid
Self-discipline doesn't always come easy
Tight deadlines cause stress
Must be your own motivator
4 Ways You Can Make Money as a Freelance Copywriter
Today's freelance copywriter environment sees these creatives getting paid in different ways. You can settle on a specific payment method and insist on it when talking to new clients. Alternatively, stay flexible and determine what method is best for the project at hand.
Hourly
You can get paid for each hour you spend on a project and have a standard rate you charge for each hour worked. For fairness to both parties, find a way to track your hours. You'll find these on some freelance platforms, or you can use independent apps. It ensures compensation for the time you put in and proves to clients you're honest about what you state on invoices.
This is a helpful payment option if you're unsure how long a certain project will take. However, as you get better and faster at your job, it's best to use other types of quoting. You're still doing the same amount of work, only quicker—your income shouldn't suffer because of your experience.
By Project
To quote for a project, you'll need some experience as a freelance copywriter. Your past projects will give you an idea of how much time and effort a specific project will require. This helps you quote a reasonable price that ensures your compensation is also adequate.
This payment option also makes it easier to budget and plan the time you need to invest in that project. This way, you can learn about your limits and even think about taking on multiple projects to run concurrently. Working on multiple projects at the same time also ensures that you are never stuck on a single project or experience writer's block.
By Retainer
A client can pay you a set fee for a month and, in return, you must work a set number of hours doing copywriting work for them. For a freelancer, it's a benefit to have a steady source of income. But if other large projects come along, you may not have enough time to commit to them.
Your client can also ask you to perform any copywriting-related tasks during those hours. Sometimes there will be multiple rounds of editing, which can become rather frustrating. It's paramount that you negotiate a better deal for all involved parties before signing a contract. This way, there are no unexpected surprises and everyone involved gets what they want.
Commission
A client may offer you a commission based on the sales your written copy generates for the company. You may get a percentage of the sales or a certain amount for each product sold.
If the content forms part of an effective campaign, this could be lucrative. However, many factors determine the outcome of advertising campaigns, not only your copy. For example, does the client use it on the right social media platform with the correct graphics? This approach can motivate copywriters to deliver their best work at all times, which is good news for clients. But it carries risk for copywriters who have no guarantee about outcomes. And it makes it difficult to budget.
Where to Find Copywriting Jobs
There are multiple avenues that can help you benefit your journey of freelance writing. But why not kickstart your career in the copywriting business by partnering with agencies that already have clients waiting to make use of your skills?
Contact Revpanda directly, or check out our careers page to see if there's a relevant position that aligns with your interests and skill set.