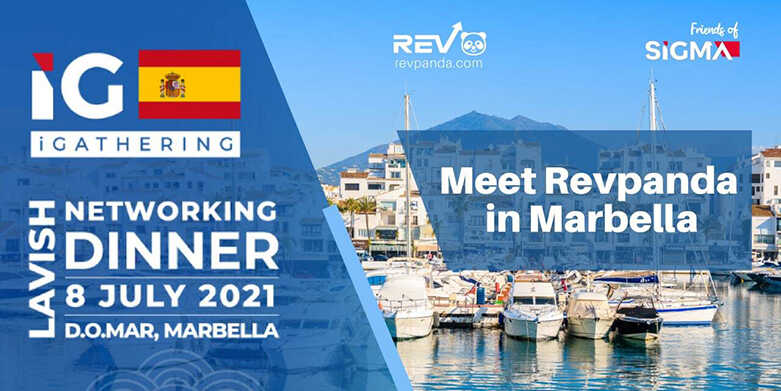 Our digital marketing agency Revpanda will attend the iGathering Dinner hosted by SiGMA in Marbella, Spain, on July 8, 2021. The event is among the biggest gatherings of leaders and professionals from the online gaming industry this year.
We have several interesting ideas and plans for the year ahead to share with the attendees. Also, we are excited to meet and interact with various professionals from the industry and spend the evening in good company.
The networking dinner is SiGMA's first event in the region and will serve large communities in Gibraltar and Costa del Sol. It opens the Spanish iGaming industry's schedule for the calendar year 2021 after a long list of travel and gathering restrictions, including night curfews and regional blockades.
The iGathering Dinner will be held at the D.O Mar Restaurant in Marbella, one of Spain's premier venues overlooking the Mediterranean. Guests are invited to immerse themselves in the informal vibe and expand their social networks over great seafood and meat specialities from the region.
About Revpanda
Revpanda is an emerging digital marketing firm that provides cutting-edge marketing solutions and development services that give customers a distinctive edge in the highly competitive digital marketing world. The team creates bespoke business solutions that help customers dominate their respective industries.
Revpanda specialises in CRM services, Social Media Marketing, search engine optimisation, web development, translation & localisation, as well as multilingual copywriting. We apply years of experience and knowledge to deliver results-driven marketing solutions that provide real-life benefits to our partners.
About SiGMA
SiGMA is a renowned event planning and management company with a keen eye for innovation as per industry-leading standards. The team plans to be the premier Gaming go-to company in terms of event organisation and has a penchant for delivering optimum results, which is its forte.
SiGMA's strengths are its global events portfolio, reputation for delivering excellence, and a diverse and multicultural workforce. Having strong content management and media team is a bonus!