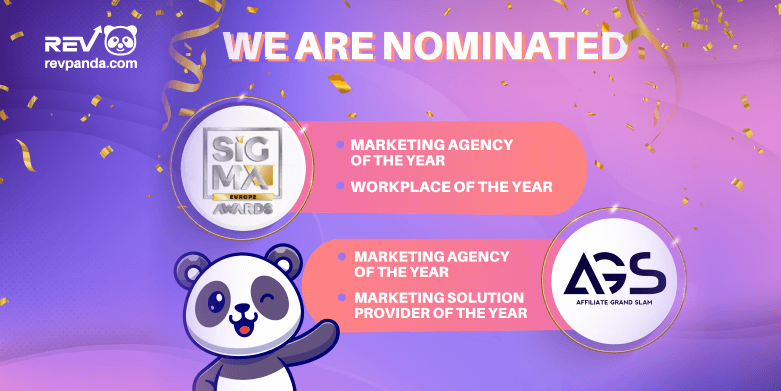 Team Revpanda is excited to announce that we have been nominated for four prestigious awards! And we are thrilled to share the news with you.
We are shortlisted for SiGMA's Marketing Agency of the Year and Workplace of the Year awards, and the Affiliate Grand Slam's Marketing Agency of the Year and Marketing Solution Provider of the Year categories.
The Road to SiGMA Awards Europe 2022
SiGMA is the world's leading hub for everything related to the iGaming industry. And the SiGMA Awards Europe 2022 highlight the contributions of thousands of iGaming operators, affiliate marketers, innovators, IT experts, entrepreneurs, and investors every year. Revpanda has been nominated in two major award categories this year, and we are deeply grateful for the recognition.
From its humble origins in 2014, SiGMA has grown exponentially into one of the world's biggest iGaming hubs. From hosting just over 1,000 people at its first regional event to hosting 15,000 delegates at the last international summit, SiGMA has come a long way. And team Revpanda is honoured to be a part of the journey.
The Affiliate Grand Slam 2022
To make things better, Revpanda is also nominated for the Affiliate Grand Slam 2022! Our services are shortlisted in the Marketing Solution Provider of the Year category. And Revpanda's newly-launched professional link-building tool has made significant headway for our clients.
AGS brings together thousands of like-minded individuals from the iGaming industry, including content marketers, lead generation and optimisation experts, media buyers and affiliates, influencers, and SEO stalwarts. And we are honoured to share the stage with some of the most highly-accredited iGaming brands.
Recognitions Received in 2022
This isn't our first award nomination this year. Revpanda received two coveted AVA Digital Platinum Awards for team achievement and unprecedented growth in February 2022, followed by the prestigious SBC Awards in July 2022.
We are grateful for your continuous support and trust in our brand. And we are committed to serving you in the years to come. Team Revpanda has grown considerably since our previous nominations, and we hope to continue expanding our services to serve you better!