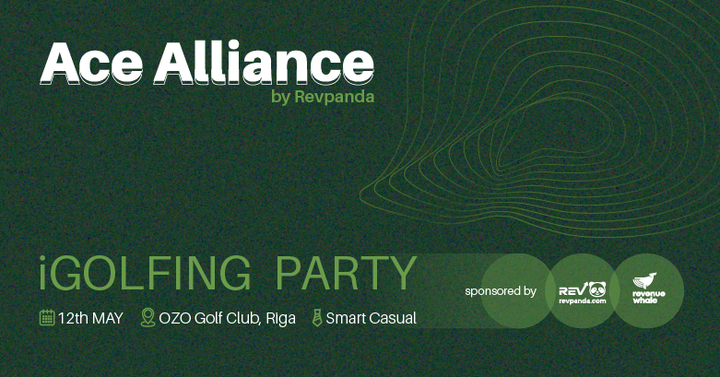 Revpanda is back with a new networking initiative in the iGaming industry, and you do not want to miss it. The first gathering will be on May 12, 2023, and with iGolfing being so popular, what better venue than the OZO Golf Club in Revpanda's hometown of Riga?
Ace Alliance is a not-to-be-missed event for anyone involved in the iGaming industry. Hosted by Revpanda and other industry leaders, the event promises to deliver networking, learning, and brand marketing opportunities in a fun and relaxed setting.
Golf, Views and More!
Set against the stunning backdrop of the OZO Golf Club in Riga, Latvia, Ace Alliance offers attendees a chance to enjoy the beautiful views of the lake, relax and unwind, and network with peers and industry experts.
While the golf course won't be available to play during the event, attendees can still appreciate the lush surroundings and atmosphere. The versatile venue caters to different preferences, making the event a perfect balance of business and pleasure.
Whether you're looking to network, socialise, or simply take in the beautiful surroundings, Ace Alliance has something for everyone. So come join us for a day of stunning views, relaxation, and valuable networking opportunities at this unforgettable event.
Ace Alliance in a Nutshell
Who's Hosting?
Ace Alliance was born from the passionate minds at Revpanda, the award-winning digital marketing agency. Our experts here at Revpanda are at the forefront of what it takes to make brands work in 2023. Thanks to our expertise on topics like SEO, PPC management, brand management, and CRM services, Revpanda's earned SiGMA, and AGS awards over the past year.
Who Should be There?
Revpanda understands the iGaming world's joys but also its challenges, as well as the value of networking with others in the field. Our passion for the industry prompted us to gather professionals working in iGaming in one place, helping them learn from each other, build their professional networks, and even offer brand marketing opportunities. These are all vital milestones in such an enjoyable but competitive and ever-changing market.
The event is ideal for anyone involved in the iGaming industry, including affiliates, top operators, payment vendors, and game providers.
What's on the Programme?
Revpanda has curated an exciting programme that promises to deliver value for all attendees. The highlight events will take place on May 12 and include a 2-hour networking session followed by a fun party time.
19:00: Guest arrival.
20:00: A 2-hour session specifically designed around networking, giving everyone an opportunity to engage with others in the industry.
22:00: Fun party time during which more networking can take place, but attendees can also let loose and enjoy themselves in a stunning environment, until the early hours of the morning if they so wish.
What's on the Menu?
Ace Alliance offers an impressive selection of exclusive snacks and signature cocktails that cater to a variety of diets and taste preferences. Miro Restaurant will prepare custom cocktails inspired by brand names, along with Revpanda's signature cocktails.
Marketing Through Sponsorship
Ace Alliance offers various sponsorship opportunities, including logo placement, social media content, and on-site branding. The main sponsors also have the chance to play a round of golf at OZO before the main event.
Ready for the Event of the Year?
Ace Alliance promises to be an unforgettable event that will deliver benefits for attendees, sponsors, and the iGaming industry as a whole. Register now to secure your spot and contact our team to discuss sponsorship opportunities. Don't miss out on the chance to connect, learn, and relax at the event of the year.