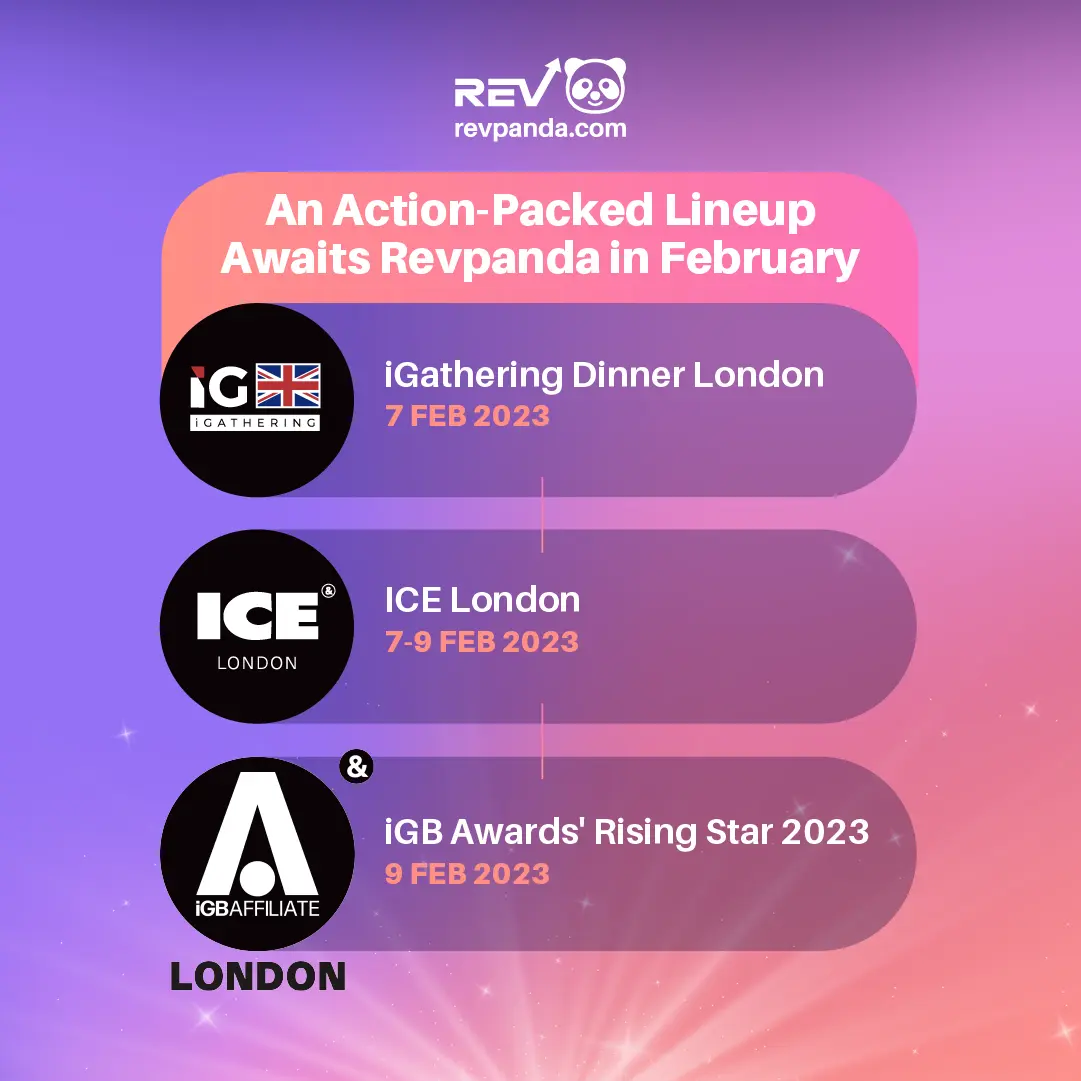 2022 has been an eventful year for Revpanda. We have not only improved our link building services even more by introducing a cutting-edge tool for improved efficiency, but we also continue to lead the industry as the most result-driven digital agency in the industry. 
And we are not stopping there! We are kicking off 2023 with 3 noteworthy events by attending ICE London from February 7–9. We will also be present at the iGathering dinner on February 7. Please drop by to meet our Pandas in person if you are in London next week. We are thrilled as usual to catch up with old friends and make new ones
That's not all! We are also nominated for the 2023 iGB Rising Star Award. Make sure to send your love and support to the team on February 9.
Meet Team Revpanda at ICE London 2023
ICE London is back in full force, ready to up the game for the global iGaming industry in 2023, and team Revpanda is attending in full force. While we won't have a booth at the venue this year, you can meet the Pandas on the show floor as we interact with industry leaders, innovators, and peers. Over 35,000 iGaming pioneers will be present at ExCel London between February 7 and 9, and the Pandas will be a part of the elaborate networking event.
ICE London is a premium networking event for iGaming enthusiasts and innovators to present the latest technology, solutions, and regulatory updates. It's the ideal platform for presenting and nurturing new ideas, cultivating thoughts, and interacting with iGaming professionals, like-minded individuals, and stalwarts from all sections and seniority levels. Our Pandas will share our plans for the future, and we hope to leave the venue with new connections and ventures in tow. So, do not forget to say hi when you see us there!
Revpanda Attending SiGMA iGathering Dinner 2023
SiGMA organises several satellite events every year. These lavish events offer countless networking opportunities, with this year's iGathering Dinner in London planned aboard an opulent sunset cruise this year on the Thames. And our Pandas will be in full attendance. The iGathering Dinner is the perfect chance to interact with veterans from the iGaming industry. And the exotic locations make it a networking event unlike anything else you have ever experienced.
The guest list is strictly limited to 200 individuals, making it a private event. Exclusivity and privacy are the highlights of the SiGMA iGathering Dinner. And it's the perfect platform to meet the thinkers, innovators, marketers, and stalwarts of the industry. Being a sponsored event, the delegates are treated to the best experiences for free. And we are thrilled to be a part of the experience this year. iGathering Dinner 2023 is scheduled aboard the Silver Barracuda Fleet in London on February 9 at 7.30 P.M.
Revpanda Shortlisted for iGB Rising Star Award 2023
The iGB Affiliate Awards are back for 2023, and the event is scheduled for February 9. The Affiliate Awards showcase notable achievements and innovations in the iGaming industry from the past 12 months and highlight ground-breaking products and strategies. And this time our team is nominated in the prestigious "Rising Star" category.
This is Revpanda's first nomination of the year, and we look forward to more such achievements throughout 2023. The team ended 2022 in high spirits by winning two prestigious awards: SiGMA Marketing Agency of the Year and AGS Marketing Solutions Provider of the Year. And we are grateful for the eternal love and support that you show us. As usual, the team is working overtime to deliver a more fantastic experience as we strive to serve you better over the years. See you in London!