Interview with Nikola Tchakarov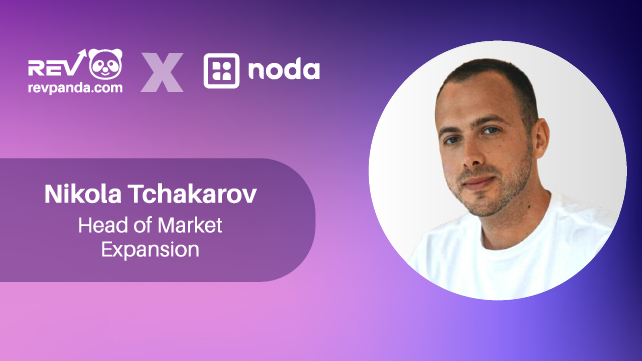 In an engaging conversation, Anastasija from Revpanda recently had the privilege to interview Nikola Tchakarov, the Head of Market Expansion at Noda. They delved into Noda's innovative multi-currency open banking solution, its global reach through partnerships, and its commitment to prioritizing clients in the payment industry. Nikola also shared insights into balancing a demanding role, his personal interests in water sports and skiing, and his fascination with Leonardo da Vinci's Renaissance era. Let's explore the highlights of their conversation.
Noda is a global, multi-currency open banking solution for seamless business transactions. It operates with 1,650 banks across 28 countries, encompassing 283 bank brands with over 30,000 branches. Headquartered in the UK, Noda has additional offices in Spain, Latvia, Lithuania, and Cyprus.</br>
Noda enables merchants to receive direct bank payments from eCustomers via Open Banking as an alternative to cards. Merchants can implement Open Banking payments quickly via Noda API, using their intuitive UX and lower fees.
Click on a title to jump to a section
14/11/23
5 min read
Discover the secrets behind Paul Puolakka's success, the CMO of Mr Gamble. Learn the hints of success, and his words on the iGaming and affiliate marketing world.
09/11/23
9 min read
Explore the iGaming world with Lucie Kadlecova, CMO at Aviatrix, as she shares insights on innovation, NFTs, and marketing success.
26/10/23
5 min read
Dive into the world of online gaming and business development with Seba Nader, VP at AngelsHub, in an exclusive interview with Anastasija from Revpanda.
Other Interviews
We are more than proud to share that Revpanda has been recognised by the authorities around the globe. We count our awards as a seal of approval of our work and fuel for our motivation to strive for excellence.