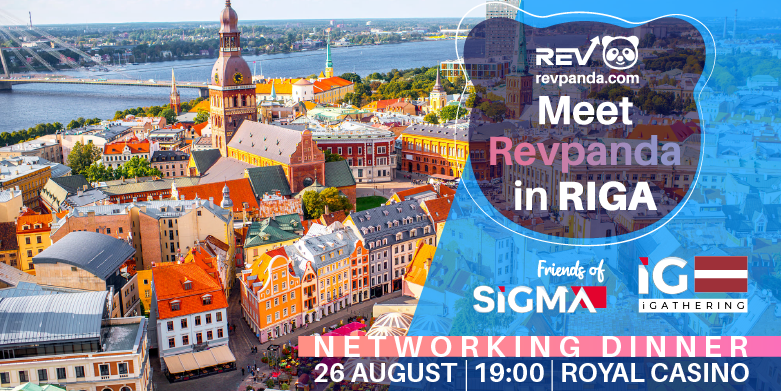 The next SiGMA iGathering is scheduled for the 26th of August in Riga, Latvia, and Revpanda is sponsoring the event. 
On a regular basis, SiGMA hosts several satellite events at luxury restaurants, poolside venues, and aboard exquisite cruises as part of the Friends of SiGMA initiative. These lavish events are excellent networking opportunities where people get to meet and greet the stalwarts of their respective industries. And this time is no different.
The dinner is being hosted at Royal Casino at 19:00 in the presence of over 200 C-level executives, including casino owners, software developers, service providers, and top-level digital marketing agencies. Industry veterans from several neighbouring nations are also expected to be in attendance.
Therefore, it is an excellent opportunity for the attendees to interact with the industry's top thinkers. 
Our team will be present in full force, and we hope to meet new people. We have quite a few interesting projects and ideas lined up for the future that we will share during the event.
Riga finally has the iGaming event it deserves
Being the centre of the Baltic states, Riga has been home to many companies from the iGaming sphere. Well-known game providers like Evolution Gaming and Playtech run their live shows from their offices in Riga, and many online gambling houses run their operations from the city.
In addition to those industry pioneers, there are a number of iGaming affiliates, third-party service providers, and start-ups that conduct their businesses in Riga.
Considering all of these, organising an iGaming event in Riga is a great way to network professionals and counterparts all around the industry. 
Briefly about iGathering in Marbella
This isn't Revpanda's first encounter with SiGMA, and neither will be the last. The team was at the D.O Mar Restaurant in Marbella, Spain, in July 2021, attending the iGathering dinner. As always, it was a magnificent event with many laughs and remarkable stories.
During the previous event, our team had a chance to meet new faces and catch up with the existing contacts. And as the sponsors of the upcoming one, we can't wait to meet professionals and sector veterans again.