Best Revenue Share Affiliate Networks 2023
Acting as the middleman, revenue share affiliate networks enable affiliates to earn a percentage of what merchants' income is from specific products or projects that the affiliates have secured the advertisers. It's a lucrative affiliate marketing earning plan, especially if advertisers pay high commission rates. On a RevShare affiliate network, you can easily find different revenue share programs to try out.
You will learn how exactly this earning plan works and how to ensure you benefit optimally when using it as part of your affiliate business. We also showcase the best revenue share affiliate networks on today's market. Compare networks, programs, and earning plans in order to pick the best affiliate programs to grow your business.
How Do Revenue Share Affiliate Networks Work?
On revenue share affiliate networks, you can search for revenue share affiliate programs offered by merchants who need assistance in marketing to a wider audience. In return for obtaining high quality traffic that results in revenue, the merchant pays the affiliate marketer a percentage of the income resulting from generated leads.
A RevShare affiliate network serves as the meeting place for merchants and affiliates to find each other. To be clear, RevShare can be the only earning plan or one of many earning options available on an affiliate network. Each earning plan is unique, and affiliates must determine which network and affiliate program will benefit them the most.
The commission an affiliate marketer gets depends on the affiliate program and the offer from the merchant. It can range from as little as 5% up to 90% even. Merchants are willing to pay such high rates since they're only required to pay as long as there are sales and revenue generated. In some cases, the earning potential is ongoing, as long as there's recurring revenue from a lead that turned into a new customer.
In these scenarios, RevShare affiliate networks have various roles in the affiliate marketing pipeline. The network will ensure that the affiliate keeps receiving the promised commission payments. Monitoring this process is made possible by technology. Firstly, there's an affiliate link, which the affiliate marketer uses in digital marketing campaigns as a blogger, influencer, or marketer. Then, technologies such as cookies and algorithms track the activity of each lead generated by that affiliate link.
The best affiliate networks do more than just handle payments between merchants and affiliates. They also offer useful services, like tools that help affiliates improve their marketing efforts and campaigns. Reputable networks can also provide account managers to offer advice. There are usually no costs involved for affiliates to join, but some affiliate networks do have strict application processes.
How Can Affiliates Benefit from the Revenue Sharing Model?
The standout feature of RevShare affiliate programs that affiliate marketers appreciate is the possibility of lifetime earnings. Unlike many other earning models where you'll only be eligible for a once-off payout, revenue share means you're sharing in the spoils of all the revenue your marketing made possible. This means passive income streams for affiliate marketers and never ending growth.
Do take note that contracts differ, so one affiliate program may have lifetime cookies, while others will pay a share of the revenue for a certain period only. When looking at revenue share affiliate program offers, it's also very common to see high commission rates. Furthermore, offers don't necessarily have a predetermined cap on how much you can earn. All of this results in beneficial income streams for affiliates.
5 Best Revenue Share Affiliate Networks
If you want to incorporate more revenue share affiliate programs into your affiliate services business, it's important to identify the best ones on the modern market. And for that, revenue share affiliate marketing networks are the best resources to use. You can look through the different offers from merchants and choose the ones that fit with your online marketing content and audience.
Also, since some affiliate networks showcase offers with different earning plans, you can use one platform to view all your options, easily find beneficial affiliate marketing offers, and start earning from a variety of commission models. After all, they all have their own benefits and drawbacks.
We've compiled a list of the top 5 RevShare affiliate networks that are well-known for assisting affiliates in optimizing their income, particularly in terms of RevShare earnings. By using information on the verticals they're most known for, available payment options, and user friendliness, you can quickly create your shortlist on which networks to try next.
RevenueLab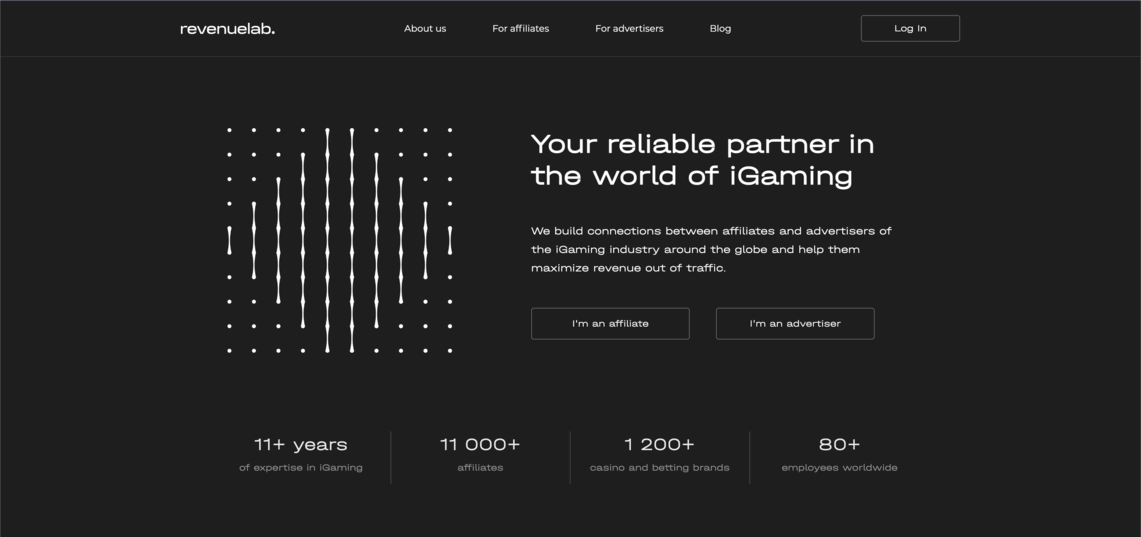 The RevenueLab affiliate marketing platform was started in 2011 and focuses on the iGaming niche. In just over a decade, it has managed to earn awards, including Sigma's Affiliate Network of the Year in 2022. Also, in this short period, it has drawn 11,000 affiliates that make use of offers that involve 1,200 brands. That's more than enough to give followers a variety of offers to choose from and, thus, give affiliate marketers a better chance at earning well.Part of RevenueLab's secret to success was taking their time in perfecting the platform. This was done over a 2-year period where they only served a few publishers before introducing it to a worldwide audience. Today, they have a group of 80 employees that serve their network from 8 different countries around the globe.
RevenueLab does offer various earning options, of which RevShare is a popular option, and you can expect high rates in the commission structure. They're also particular about making sure affiliates' contract details won't change and publishers can enjoy lifetime earnings.