We'll Call You Back in Next 5 Minutes!
People Also Liked
Best Revenue Share Affiliate Networks 2023
Acting as the middleman, revenue share affiliate networks enable affiliates to earn a percentage of what merchants' income is from specific products or projects that the affiliates have secured the advertisers. It's a lucrative affiliate marketing earning plan, especially if advertisers pay high commission rates. On a RevShare affiliate network, you can easily find different revenue share programs to try out.
You will learn how exactly this earning plan works and how to ensure you benefit optimally when using it as part of your affiliate business. We also showcase the best revenue share affiliate networks on today's market. Compare networks, programs, and earning plans in order to pick the best affiliate programs to grow your business.
How Do Revenue Share Affiliate Networks Work?
On revenue share affiliate networks, you can search for revenue share affiliate programs offered by merchants who need assistance in marketing to a wider audience. In return for obtaining high quality traffic that results in revenue, the merchant pays the affiliate marketer a percentage of the income resulting from generated leads.
A RevShare affiliate network serves as the meeting place for merchants and affiliates to find each other. To be clear, RevShare can be the only earning plan or one of many earning options available on an affiliate network. Each earning plan is unique, and affiliates must determine which network and affiliate program will benefit them the most.
The commission an affiliate marketer gets depends on the affiliate program and the offer from the merchant. It can range from as little as 5% up to 90% even. Merchants are willing to pay such high rates since they're only required to pay as long as there are sales and revenue generated. In some cases, the earning potential is ongoing, as long as there's recurring revenue from a lead that turned into a new customer.
In these scenarios, RevShare affiliate networks have various roles in the affiliate marketing pipeline. The network will ensure that the affiliate keeps receiving the promised commission payments. Monitoring this process is made possible by technology. Firstly, there's an affiliate link, which the affiliate marketer uses in digital marketing campaigns as a blogger, influencer, or marketer. Then, technologies such as cookies and algorithms track the activity of each lead generated by that affiliate link.
The best affiliate networks do more than just handle payments between merchants and affiliates. They also offer useful services, like tools that help affiliates improve their marketing efforts and campaigns. Reputable networks can also provide account managers to offer advice. There are usually no costs involved for affiliates to join, but some affiliate networks do have strict application processes.
How Can Affiliates Benefit from the Revenue Sharing Model?
The standout feature of RevShare affiliate programs that affiliate marketers appreciate is the possibility of lifetime earnings. Unlike many other earning models where you'll only be eligible for a once-off payout, revenue share means you're sharing in the spoils of all the revenue your marketing made possible. This means passive income streams for affiliate marketers and never ending growth.
Do take note that contracts differ, so one affiliate program may have lifetime cookies, while others will pay a share of the revenue for a certain period only. When looking at revenue share affiliate program offers, it's also very common to see high commission rates. Furthermore, offers don't necessarily have a predetermined cap on how much you can earn. All of this results in beneficial income streams for affiliates.
5 Best Revenue Share Affiliate Networks
If you want to incorporate more revenue share affiliate programs into your affiliate services business, it's important to identify the best ones on the modern market. And for that, revenue share affiliate marketing networks are the best resources to use. You can look through the different offers from merchants and choose the ones that fit with your online marketing content and audience.
Also, since some affiliate networks showcase offers with different earning plans, you can use one platform to view all your options, easily find beneficial affiliate marketing offers, and start earning from a variety of commission models. After all, they all have their own benefits and drawbacks.
We've compiled a list of the top 5 RevShare affiliate networks that are well-known for assisting affiliates in optimizing their income, particularly in terms of RevShare earnings. By using information on the verticals they're most known for, available payment options, and user friendliness, you can quickly create your shortlist on which networks to try next.
RevenueLab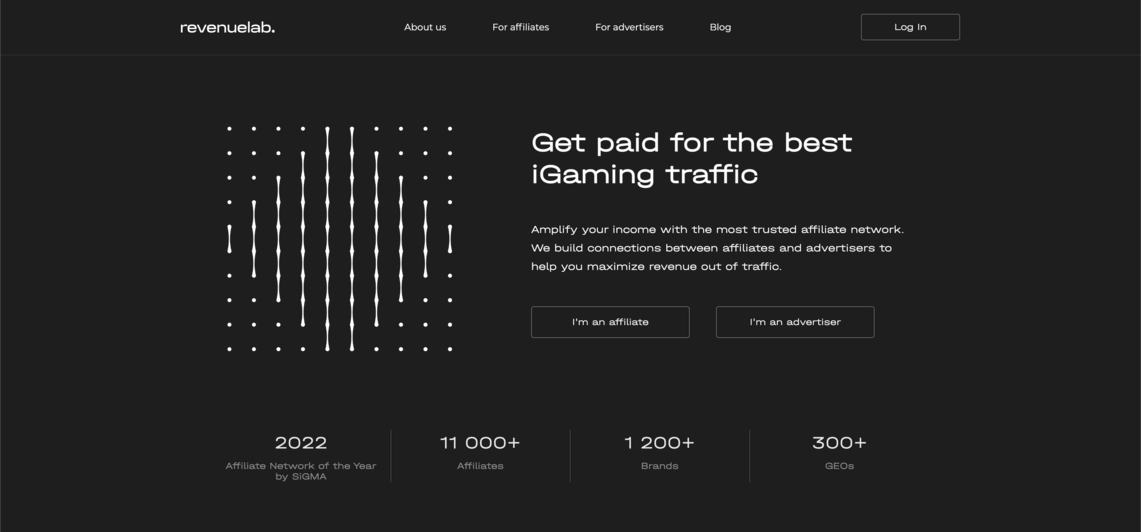 The RevenueLab affiliate marketing platform was started in 2011 and focuses on the iGaming niche. In just over a decade, it has managed to earn awards, including Sigma's Affiliate Network of the Year in 2022. Also, in this short period, it has drawn 11,000 affiliates that make use of offers that involve 1,200 brands. That's more than enough to give followers a variety of offers to choose from and, thus, give affiliate marketers a better chance at earning well.Part of RevenueLab's secret to success was taking their time in perfecting the platform. This was done over a 2-year period where they only served a few publishers before introducing it to a worldwide audience. Today, they have a group of 80 employees that serve their network from 8 different countries around the globe.
RevenueLab does offer various earning options, of which RevShare is a popular option, and you can expect high rates in the commission structure. They're also particular about making sure affiliates' contract details won't change and publishers can enjoy lifetime earnings.
| | |
| --- | --- |
| Network | RevenueLab |
| Niche/Product Types | iGaming |
| Average Commission Rate | Depends on campaign |
| Cookie Duration | N/A |
| Minimum Payout | N/A |
| Payment Methods | 20+, including Skrill, Visa, Mastercard, Bitcoin |
| Payment Duration | Monthly |
| Affiliate Support Type | Personal Manager, Chat |
Our Verdict About RevenueLab
RevenueLab is an affiliate network with a very specific vertical, but thanks to iGaming getting more traction all the time, this will become more and more relevant for many different affiliate marketers' followers. Therefore, we think it's worth adding it to your affiliate marketing list.  
Pros
Large number of brands involved

Offers convenient payment methods

Regular payouts

Popular niche

300+ GEOs
Cons
Limited verticals

No phone number for support
Advendor Affiliate Network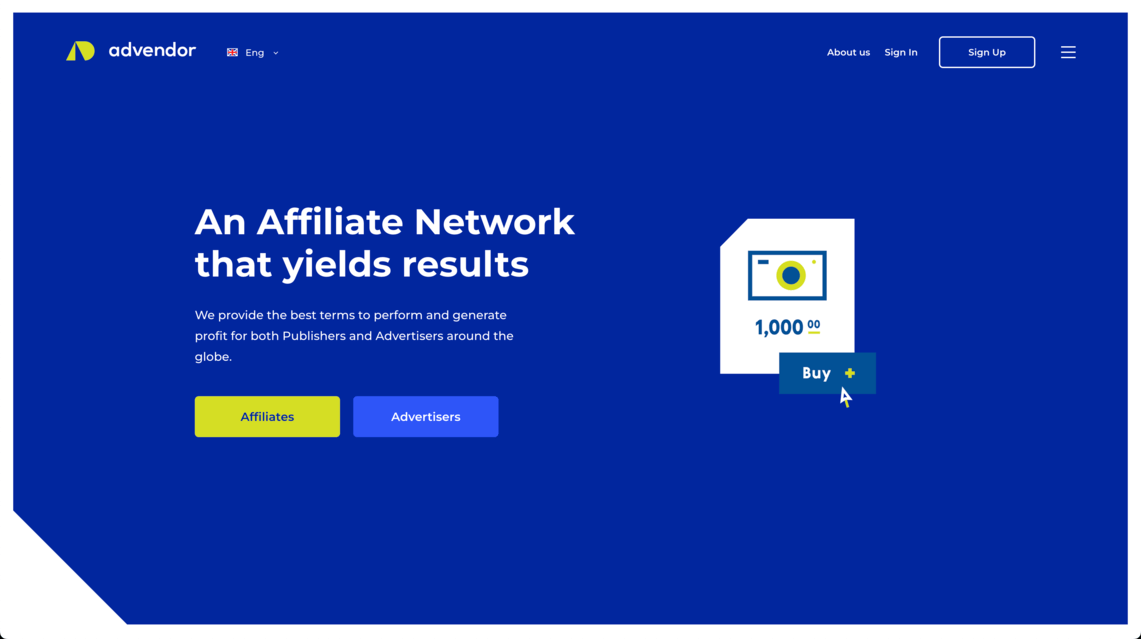 Advendor has only been around since 2015, but don't underestimate this brand just because they are newbies compared to some others on the list. This affiliate network is a smart option when looking for RevShare affiliate program options because of their diverse verticals, which include dating offers and gaming. These types of niches offer great earning potential for RevShare affiliates. Also, they already have over 500 advertisers whose offers you can browse, and this has drawn over 30,000 publishers. We do hope they can increase their number of active offers, though. In general, it stands at less than 400.The brand employs in-house software, so you know you're working with tools designed specifically for affiliate marketing. They do have offers that enable you to earn through different earning models, so if you want to try a mix of revenue share, CPA, and others, Advendor is one platform where you can try it all.
| | |
| --- | --- |
| Network | Advendor  |
| Niche/Product Types | Various |
| Average Commission Rate | 3% referral program; CPA offers, CPL offers, CPI, Revenue Sharing program |
| Cookie Duration | Traffic moderation of 3 hours |
| Minimum Payout | $50, but $200 for PayPal and $2,000 for Wire |
| Payment Methods | Qiwi wallet, Yandex, WMZ, Wire, PayPal, Webmoney, Epayments |
| Payment Duration | Weekly |
| Supp | Telegram, email, Live chat, dedicated affiliate managers |
Our Verdict About Advendor
We think the verticals that Advendor offers can be beneficial to anyone looking for more revenue share earning opportunities. Also, because they offer variety in terms of verticals and earning plans, newbies have a chance to try it all out and gain experience, all from one platform.
Pros
Affiliate manager for assistance

Quality software

Proof of growth in a short period of time

Low minimum payout
Cons
Not a long track record

Limited offers compared to other market leaders
Traffic Cake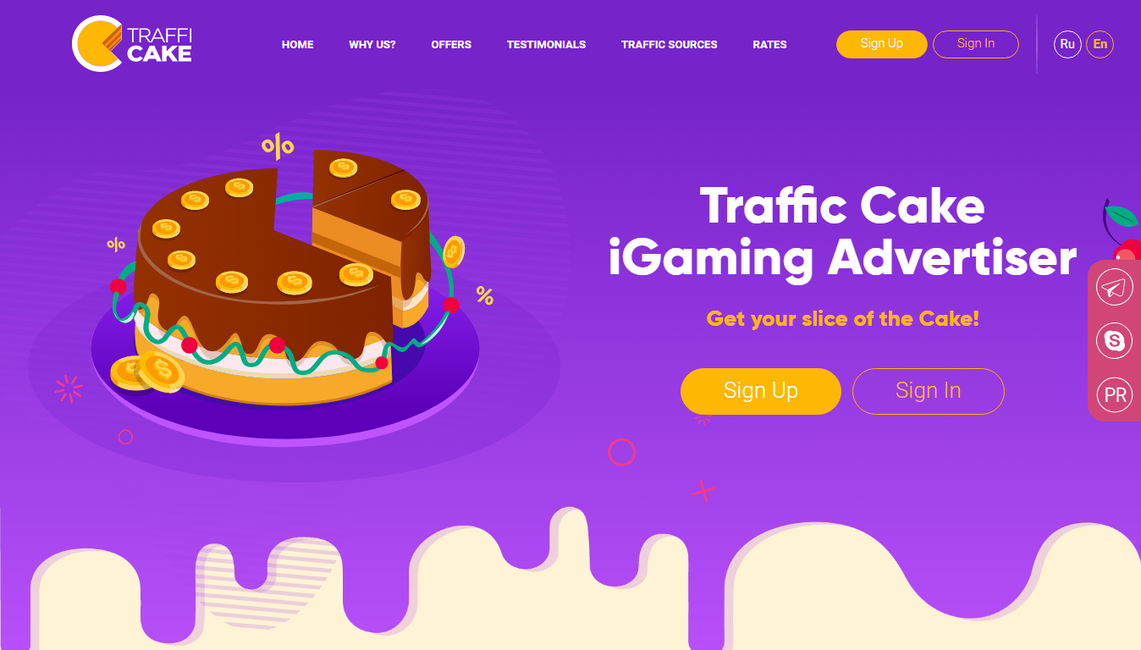 Traffic Cake is another one of the casino affiliate networks worth checking out if your followers are likely to respond to offers from the iGaming world. This is the niche that this affiliate network focuses on, covering offers for sports, eSports, and online casinos. So, instead of just having knowledge about affiliate marketing in general, behind the scenes there are experts at work who know this industry and can get affiliates the best offers.Similar to Advendor, they haven't been around for that long, but in a little over 5 years, they've become an authorized partner of many market-leading brands. Though they're new, they're drawing positive reviews from many users.
| | |
| --- | --- |
| Network | Traffic Cake |
| Niche/Product Types | e-sports, Casino, Sports |
| Average Commission Rate | Revshare up to 60% |
| Cookie Duration | N/A |
| Minimum Payout | €50 |
| Payment Methods | Skrill, NETELLER, QIWI, Webmoney WMZ, Bitcoin, and Capitalist (options depend on country and currency) |
| Payment Duration | Weekly payouts |
| Affiliate Support Type | Skype, Telegram |
Our Verdict About Traffic Cake
Traffic Cake can make it easy for affiliates to earn their commissions, since their offers may accept all types of traffic. Whether you're active on YouTube, TikTok, or Facebook, you can be eligible for huge payouts—especially with such high RevShare commission rates of 60%.
Pros
Experts on iGaming

High RevShare commission rates

CPA-RevShare hybrid deals available

Multiple communication options
Cons
Site contains limited information

New player in the industry
Armorica Network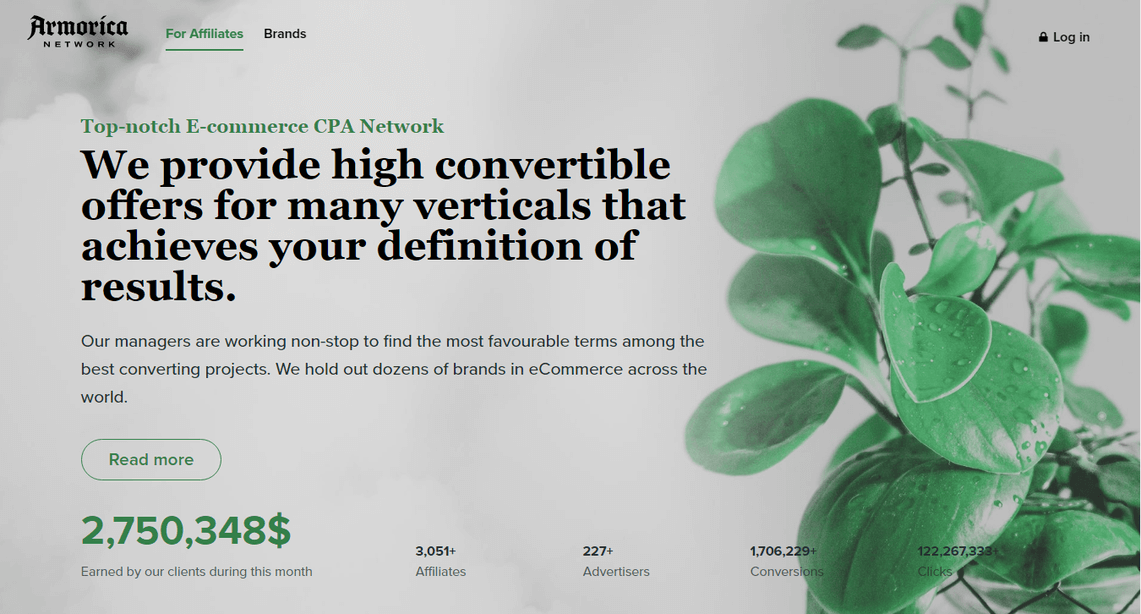 Here's another affiliate network that doesn't necessarily focus on RevShare but has multiple features that benefit publishers who want to expand their revenue sharing income streams. For example, you can do affiliate marketing for world-famous brands like Sony, Puma, Nike, and AliExpress. And even for some of these renowned companies, offers can include 50% or 70% commission rates. Furthermore, with verticals like dating that are excellent for RevShare affiliates, they have a lot that's attractive for newbies and established publishers.Armorica Network is able to provide this excellent service thanks to their great network, which includes over 3,000 affiliates, more than 200 advertisers, and the millions of clicks they can report on.
| | |
| --- | --- |
| Network | Armorica |
| Niche/Product Types | Versatile including CBD, hemp, dating, and health & beauty |
| Average Commission Rate | Offer dependent, up to 70% RevShare |
| Cookie Duration | N/A |
| Minimum Payout | $100 |
| Payment Methods | Various including WebMoney, ePayments, Bitcoin, Wire |
| Payment Duration | 7 days |
| Support Type | Chat, Email |
Our Verdict About Armorica Network
As can be seen from Armorica Network's own site content, there is a huge focus on CPA offers. However, the brand still delivers excellent offers for RevShare earners as well, so they're worth a try. We also appreciate the ways they aim to make it easier for publishers, such as multiple contact options, real-time statistics, and quick payouts.
Pros
Network will search for more offers upon request

Famous industry players

High commission rates

Regular payouts
Cons
Huge focus on CPA

Limited company information available on site
ClickDealer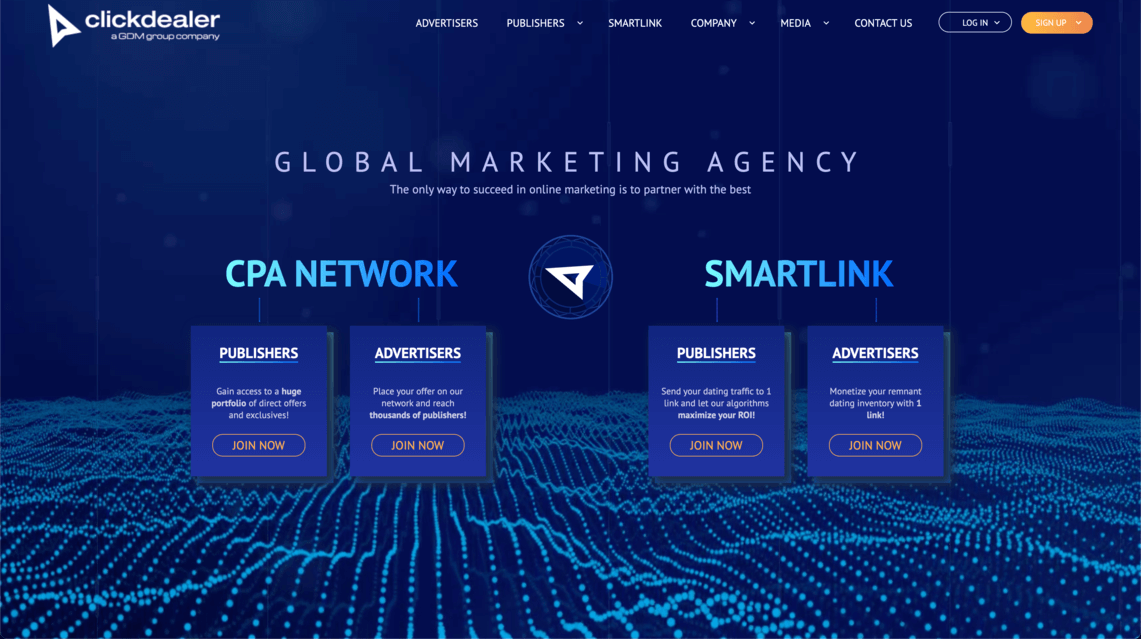 ClickDealer is last on our list, and it's definitely a revenue share affiliate network worth checking out. For one thing, they focus on verticals that are very beneficial for RevShare earnings, such as gaming, which makes driving traffic fairly easy.The network started in 2012, and since 2016, they have regularly been taken note of by the industry and received awards. Their list of partners also proves their excellent reputation, with Huawei, AliExpress, and Joom being just a few of the well-known companies promoting their products on the platform.
Being so esteemed, they've been able to draw 1,000+ clients, and there are over 10,000 publishers showcasing their offers. They also make it easier for publishers to earn since they accept most traffic types, including email.
| | |
| --- | --- |
| Network | ClickDealer |
| Niche/product types | Various with top verticals being e-commerce mobile entertainment electronics social networking dating and nutra |
| Average commission rate | Referral program with 2% commission for 6 months |
| Cookie duration | N/A |
| Minimum payout | Wire Bitcoin PayPal Paxum Tipalti WebMoney |
| Payment methods | ACH Wire Cheque PayPal |
| Payment Duration | Monthly but can become weekly |
| Affiliate Support Type | 24/7 support |
Network
Niche/product types
Average commission rate
Cookie duration
Minimum payout
Payment methods
Payment Duration
Affiliate Support Type
ClickDealer
Various with top verticals being e-commerce mobile entertainment electronics social networking dating and nutra
Referral program with 2% commission for 6 months
N/A
Wire Bitcoin PayPal Paxum Tipalti WebMoney
ACH Wire Cheque PayPal
Monthly but can become weekly
24/7 support
Our Verdict About ClickDealer
We found their platform modern-looking and robust in information, which showcases that they stay up-to-date with what the industry requires and care about their users' needs. They do have a huge focus on CPA earnings, but RevShare fans will still find lots of affiliate programs to benefit their campaigns.
Pros
Accepts most traffic types

Great security in place

Well-known advertisers

Smartlinks available
Cons
CPA is a main focus area

Approval process mandatory before you're allowed to join
RevShare Model vs CPA Model
In the affiliate marketing arena, both CPA (cost per action) networks and RevShare earning models are popular, but they're vastly different. While both carry benefits, affiliates should consider how each will benefit them in the long run, so you can focus on affiliate programs that are most advantageous for your campaigns.
For example, these payment models suit different verticals. So, instead of simply picking the best CPA affiliate networks along with RevShare affiliate networks to find good offers, you need to assess your business first and determine what will suit you most. Whether you pick one or use a combination will depend on your followers, online content and campaign details.
Revenue Share Model
lifetime earnings
Responsible for your share of returns, refunds and chargebacks
Only get paid if there's a successful conversion
Possible to earn high commission rates
Challenging to calculate earnings
Carries risk
High commissions are possible
Good for the long term.
VS
CPA Networks Model
Usually a once-off payment
No carry over or returns responsibility
Get paid for completed actions even if there's no sale
Fixed amount to earn
Sometimes low, sometimes high
Easy to calculate earnings
Predictable income
Income isn't necessarily high, though it's consistent
Good for short term.
Conclusion
It's clear how beneficial a RevShare agreement can be for both affiliates and merchants. Advertisers have an effortless advertising channel to draw leads and new customers, while affiliates can greatly benefit from the high commission rates of some merchants' offers.
To maximize the impact of RevShare earnings on your affiliate marketing plans, put in the effort to identify the best merchants and offers. The better deals you start on, the better earnings you'll have, and with RevShare contracts, they can benefit your income streams in the long term. The quality RevShare affiliate networks showcased here are the best places to start browsing, since they showcase the best affiliate marketing offers in the industry at the moment.
You can pick your affiliate marketing network based on verticals and commission rates, but never underestimate the value of good customer care and marketing tools these platforms can provide. When you work with the best, they will help you streamline and even scale your affiliate marketing business quicker than you expect.
FAQ
Make sure you understand as much as possible about the revenue share affiliate marketing industry. The smarter your business decisions are, the better your payouts will be each month. Also, having a good reputation could see more merchants searching you out to help them with their online exposure.
What Verticals Are Best For RevShare?
RevShare earning is best for verticals that allow for ongoing sales. This includes travel website bookings, gaming, dating, online gambling, and other verticals that require continued online interaction.
How Much Do You Get Paid with RevShare Affiliate Marketing?
With revenue share marketing, affiliates are paid according to what clients spend with merchants. With low-end offers, the commission rate can be as low as 5%, but on the higher end of the scale, you can earn as much as 50% or even 90% of sales.
How Much Can You Make as a Beginner Affiliate?
Earnings as an affiliate marketer depend on earning models, the amount of time you put in, and some other factors, such as the size of your audience.
Can You Start Affiliate Marketing If You Don't Have Money?
Yes, you can start affiliate marketing without any available capital. You'll first need to build an online following using free traffic source platforms, such as TikTok. If you can prove a consistent, large following, even some of the best affiliate marketing networks and affiliate marketing programs will be open to using you as part of their marketing supply chain. Luckily, joining most affiliate marketing networks is also free for publishers.