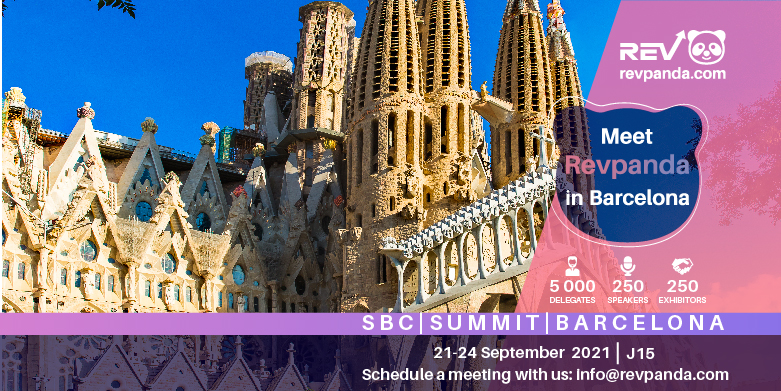 The event is scheduled between September 21 and 24 and will host 5,000+ delegates (live and online), 250+ speakers, and 100+ exhibitors.
The Biggest Congregation of the iGaming Industry
SBC Summit Barcelona is the hub of iGaming operators, suppliers, regulators, and affiliates. This is where the iGaming industry converges every year to meet in person, exchange knowledge, discuss ideas, increase their network, and do business together. SBC Summit Barcelona presents a novel opportunity to interact with veterans from the iGaming industry and be a part of the discussions about our collective future.
This year's event features over 100 exhibitors who are here to flaunt an impressive lineup of next-generation products. While over 250 eloquent speakers will share valuable insights on the overreaching issues plaguing the iGaming industry and offer their solutions. The Revpanda team is thrilled to be a part of the event, and we have several interesting ideas to share with the attendees.
The networking opportunities aren't limited to the conference venue during the day, as the hosts have exclusive evening parties lined up for the attendees. Team Revpanda is going to make new connections and engage with stalwarts from the iGaming industry during the 3-day event. Find our team there at booth #J15! 
Keeping the COVID-19 restrictions in mind, the organisers have opted for a hybrid model for the event this year, which will be live-streamed to participants from around the world. While in-person attendees will visit the iconic Fira Barcelona Montjuïc fairgrounds.
A Peek at Revpanda's Networking Calendar 2021
Team Revpanda has been keeping busy this year, and we've got a long list of events lined up in the next few months. We attended the TES Affiliate Gathering in Marbella back in July and held several events in Amsterdam and Cyprus. So, if you missed us then, make sure to catch up now.