Click on a title to jump to a section
Project Overview
Industry: Online Casino Affiliation
Target markets: Germany, Spain, Norway, Finland, Japan, Poland, New Zealand, ROW
Project scope: Getting organic traffic from the target countries with high-volume keywords that hold high-conversion potential.
Time span: 2+ years
The website has been operated on behalf of our partner company for more than two years. During the given timeframe, Revpanda has provided the client with 360-degree SEO services, and built and applied strategies for SEO and conversion.
Services Included in the Project
Challenges
The iGaming market has always been saturated, and as the affiliate marketing field keeps growing, it has become one of the most competitive SEO verticals, if not the most. Following the back-to-back Google Core Algorithm updates, the SERPs became volatile, making it more challenging to create & revise the road map for many website owners.
Approach
Ever since day one, we have followed the SEO best practices and made sure that all the stakeholders of the product are aligned with the goal. To do so, we applied a 360-degree approach to the product itself, with strong guidance from our SEO experts. 
Accordingly, we created SEO content in 7 languages, technically optimised the website through state-of-the-art development, crowned it with white hat link-building services, and built PR and backlinks to optimise the off-page performance of the website.
Process
During the Q4 of 2022, the website's vision was revised in order to provide the most potent and comprehensive product possible to the visitors, while maintaining the SEO strategy to optimise the performance for getting organic traffic. Accordingly, the UX of the website was prioritised, leading us to adopt a user-first approach for both design and content creation. 
The website has been redesigned with more functions and features, and the new version is deployed at the beginning of February 2023 with fully adapted code for the latest Google trends with Lighthouse score. This is followed with fresh SEO content on multiple languages as well as optimisation of the existing pages on a full-cycle, including building an EEAT profile for the website.
Result – 13% Increase over the previous quarter
Despite the fact that the first few weeks after the deployment seemed to be a minus for the website, in the mid-run (5-8 weeks), there is a dramatic increase in organic traffic experienced. During the last month of the Q1 2023, the website hit record daily organic traffic on a weekly basis consecutively, which also corresponds to the time when Google Core Algorithm update was completely finalised. On the last day of the Q1 2023, the website hit record high traffic with 824 organic users.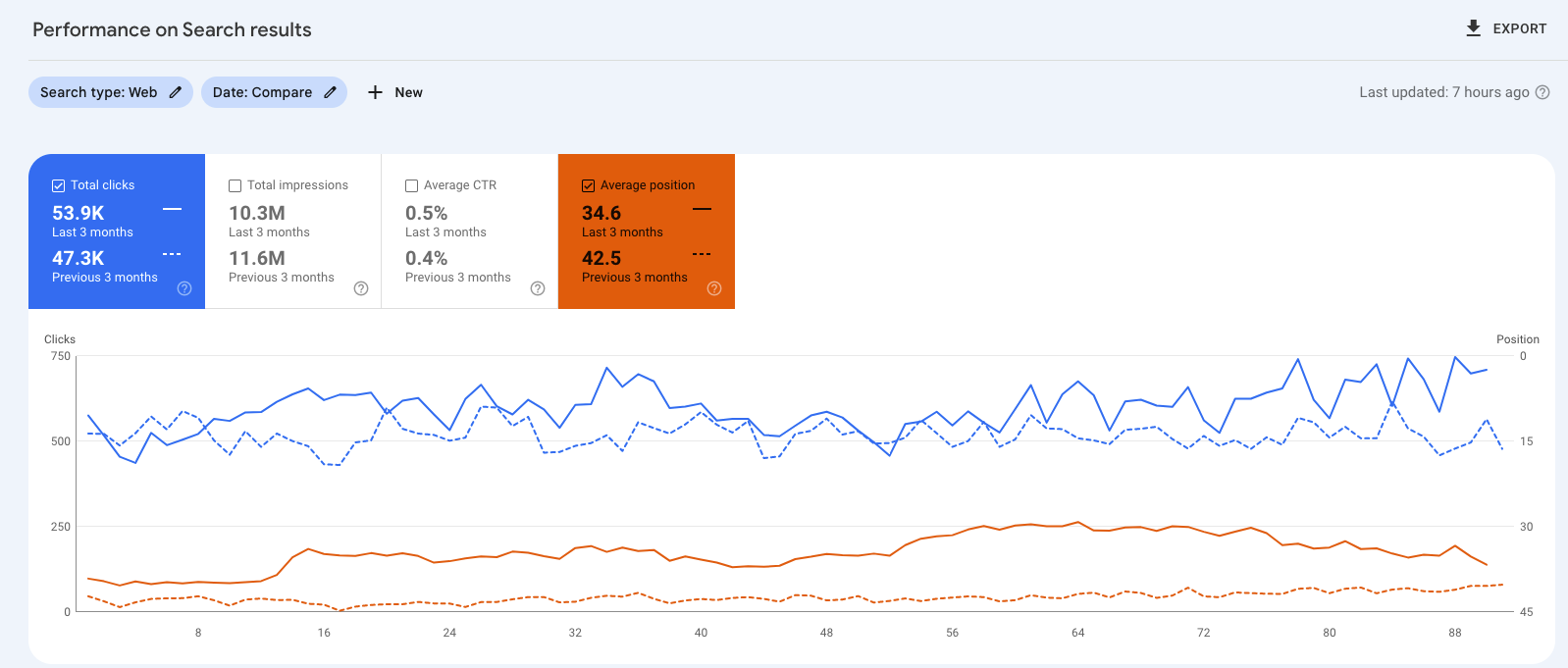 In a quarter to quarter comparison, the website has reached overall six and a half thousand more organic users through Google.
Get Results With Us
Succeed in your projects with Revpanda's bespoke services.