We'll Call You Back in Next 5 Minutes!
The CBD industry is growing at incredible rates and is attracting many investors. Thanks to the various restrictions governing bodies impose on CBD businesses, it's not easy for cannabis companies to advertise their products using conventional means such as social media or Google Ads.
The good news is that CBD companies can still market their products using the best CBD SEO strategy. As a search engine optimization agency, Revpanda helps cannabis businesses reach their target audience through SEO tactics, influencer outreach, link building, and many more techniques. Our SEO specialists take the following steps to make sure that your CBD web pages appear on the first page of Google.
How Revpanda Helps You Rise to the Top with CBD SEO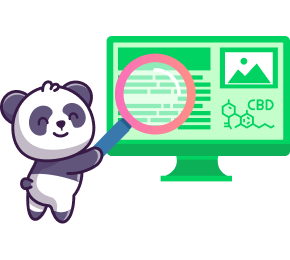 1
Conduct Detailed CBD Website SEO Audits
With our seasoned SEO experts, Revpanda is the leading SEO agency, carrying out a detailed analysis of your CBD website to see if there are any problems with SEO. Revpanda takes SEO auditing extremely seriously, and using Google Analytics and other such tools to analyse the performance of your business site, our CBD SEO company optimises the content on your website to dominate the SERPs.
2
Implement Relevant Keywords for CBD Industry
As the top cannabis SEO company, Revpanda conducts extensive CBD keyword research. Rather than focusing on costly online advertising via Google Ads, we use relevant keywords to help your CBD website rank highly. We are aware that many searches on the internet are focused on finding local businesses. We use local SEO strategies combined with local keywords so that you get noticed by more prospective and relevant customers in your area.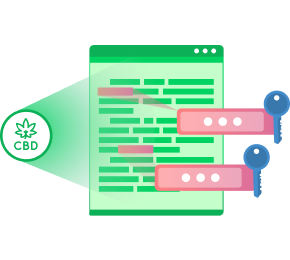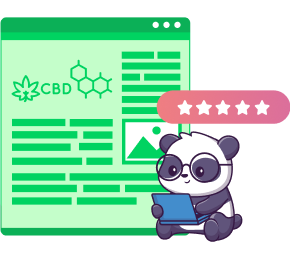 3
Produce High-Quality Content to Promote CBD Business
Unlike other CBD SEO firms, we capitalise on proven content marketing strategies to advertise to your audience. Utilising the necessary keywords and content marketing strategies, Revpanda's SEO specialists work with our experienced CBD copywriters to produce high-quality CBD content to help your business's website rise to the top of the SERPs. Forget about paid ads and rely on our SEO optimised content to cheaply and efficiently market your CBD oil and other CBD products.
4
Get High-Authority Links with CBD SEO Link Building Campaign
Revpanda's industry-leading link building tool makes it easy to attract organic and high-quality traffic to your CBD website. We help you benefit from referral traffic from reputable sites with backlinks to pages on your CBD site. Our SEO company sets up an effective sales funnel with an appropriate lead magnet. Using our industry-leading link building tool, we devise a link building campaign that perfectly generates real traffic from other recognised, high-authority websites.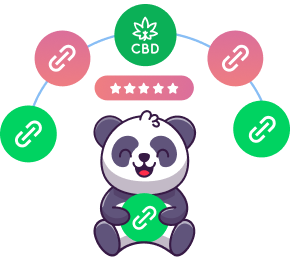 6 Reasons Why Your Cannabis or CBD Business Need CBD SEO Services
Worth $4.9 billion, the CBD industry is one of the most lucrative sectors. The market is getting crowded, and your business needs to combine well-written CBD copywriting with the right CBD SEO techniques to succeed. Find out why reliable SEO agencies with proven strategies is the best option for your CBD business to grow.
Generates More Quality Leads
As the leading SEO agency, Revpanda's effective SEO for CBD campaign uses search engine optimisation and link building to attract traffic to your website. At Revpanda, we choose the most suitable keywords, external links from high-authority websites, and SEO techniques such as internal links to optimise your SEO performance to convince and direct prospective buyers to your website. Even those who are not interested in CBD will be intrigued by checking your products and eventually consider making a purchase.
Helps You Rank Higher in Your Local Area
Our cannabis SEO company ensures that key search engines rank your CBD site highly. The first thing you want to do as a business owner is to market to the people in your local area. Charity begins at home, and that's why we implement local SEO strategies when writing advertising content for your cannabis website. Our CBD SEO experts include local keywords in your marketing campaigns to ensure your business will be among the first to be discovered by prospective customers in your neighbourhood.
Builds Trust and Credibility for Your CBD Brand
CBD products carry a lot of stigma, and the best way to overcome it is by carrying out a CBD SEO campaign that educates the masses about their benefits. And by doing so, not only will your CBD business build trust among your existing and potential customers, but it will also make your brand more credible in the industry. Revpanda's CBD SEO team makes sure that whenever customers search for cannabis or CBD products, your brand name is the first one to appear.
Saves Your CBD Businesses Money with Organic Traffic
Organic traffic simply refers to visitors who come to your website through a search engine. This happens as a result of organic search results or unpaid listings that appear whenever someone looks for CBD products online. To help your business attract traffic naturally, our agency performs CBD keyword research and employs top-quality link building services. This SEO strategy is much better than paid advertising because the costs are significantly lower.
CBD SEO is Free PR
Getting your business known in the CBD industry is not that easy if you don't know how to entice people. Using social media and popular Google Ads will not give you the recognition you need, and paid advertising is expensive. The most cost-effective way is to use a digital marketing strategy that relies on SEO. That way, you can easily market any CBD product to local and international customers without having to invest a lot of your hard-earned money.
The Best Traffic Source in the Long Run
Revpanda is not like other SEO companies that offer short-term solutions with low yields. CBD brands that use our SEO service are able to increase their traffic, which has continued to grow for a long time. Search engines will keep ranking your website highly as long as it's optimised using SEO. The more traffic your cannabis business attracts, the more buyers you are likely to get in the long run. Choose Revpanda's CBD SEO services to guarantee your business generates the highest quality organic traffic and increase your reach.
CBD Affiliate SEO
CBD marketing involves leveraging all possible channels to create awareness of your products and convince people to buy them. One of the most useful strategies is to use affiliate marketing SEO strategies. Revpanda creates SEO content for your website and sets up a sales funnel that directs visitors to your website. We use all possible communication channels, such as social media sites, renowned business websites, and YouTube to share referral links. This is an easy way to advertise to the masses without spending huge amounts of money.
CBD Brand SEO
We are here to help you market your brand if other SEO agencies have failed you. The SEO team at Revpanda is committed to helping you rise to the top of the competition no matter how stiff it gets. Whether you are selling CBD oil or other products, you only need to implement the right SEO marketing strategies. Luckily for you, we have all the best SEO techniques at our fingertips to make your brand more visible. Combined with our compelling copywriting services, we produce optimised content that makes it easier for customers to discover your brand online.
Why Should Your CBD Business Use CBD SEO Over CBD Advertising
As the number of customers who wish to buy cannabis and CBD products grow, you'd naturally want to invest in CBD advertising campaigns to increase your reach. However, it is still a major challenge as one of the biggest problems is that well-known advertising companies like Google are unwilling to promote CBD products. This means that paid ads via the popular platforms are out of the question for CBD companies. Paid advertising is also a costly endeavour, and customers can easily get tired of seeing the same old Google Ads all the time. You definitely don't want people to get bored when they see your ads.
Your return on investment (ROI) is an important factor to consider when using any advertising strategy. No one wants to invest a lot of money in paid ads only to spend years waiting for returns. Thanks to our CBD SEO services, you can attract traffic to your website and generate revenue as soon as you stop investing. This is certainly the long-term solution you need for your business to succeed in the increasingly competitive cannabis industry.
The CBD industry is facing a myriad of restrictions from governing bodies, and as a CBD business owner, you want to circumvent anything that prevents you from reaching your customers. With CBD SEO, you can efficiently boost your revenue with minimal costs involved. All you need is search-optimised content that drives customers to your business site organically. Check our comparison table below to find out why CBD SEO work is better than paid advertising and why your business should adopt it.
CBD SEO
CBD SEO is affordable for both new and established businesses
SEO can generate traffic and revenue immediately after investing
You don't have to worry about restrictions when using CBD SEO services
VS
CBD Advertising
Paid advertising is generally expensive
It takes time for paid adverts to give you the expected ROI
There are many advertising restrictions on CBD
Get CBD SEO Services That Generate Results Today!
Do you want your CBD company to find a breakthrough in a highly competitive market? All you have to do is to contact Revpanda, the award-winning digital agency. Our SEO specialists employ exceptional content marketing techniques to help your cannabis business flourish.
Take advantage of our SEO work for CBD and link building services to reach your target audience and increase e-commerce sales and build brand awareness. We use tried and tested SEO tactics that make it easy to sell your cannabis and CBD products in the most effective way.
Get in touch with our sales team, get started with a free consultation, and let's discuss how we can help your CBD business flourish!
People Also Liked
FAQs
Why Use a CBD SEO Agency?
An experienced CBD SEO company like Revpanda has the expertise to know what works best for your business, help you find the right keywords to use in your content, and generate organic revenue by ensuring that your cannabis CBD website ranks highly in search engines. The best part is that search engine optimization services are cheaper than paid advertising, and make it more likely for people to find you through Google searches.
Why Do I Need SEO for My CBD Business?
You need SEO because CBD advertising is not easy due to restrictions. A famous advertising organisation like Google is unwilling to market cannabis and related products. With local SEO, you can advertise to customers in your area without incurring unwanted costs. Your business site will be among the first to appear whenever customers input their search queries.
What Does a CBD SEO Company Do?
SEO for CBD companies assists businesses in the cannabis sector to market their products to potential customers using search engine optimisation. This is a digital marketing strategy technique in which an SEO agency creates content using the right keywords. Such content allows your business to rank well in search engines. SEO search engine agencies also offer link building services to help business owners drive organic search traffic to their CBD websites without spending too much money.