We'll Call You Back in Next 5 Minutes!
People Also Liked
Revpanda – International SEO Agency
Looking for an award-winning digital marketing agency to help your business reach new key markets? Our International SEO services are designed to improve your search marketing through keyword research, digital PR, and search engine optimization. With a proven track record of success, Revpanda increases your search visibility in target markets and ranks your business highly in Google search results.
Our experienced team is highly skilled in creating international content that transcends language and cultural barriers. By collaborating with you to identify your business needs, we develop a reliable global SEO strategy and expertly crafted SEO content that builds authority and drives successful campaigns, helping you get noticed by prospective clients.
How Revpanda Performs International SEO Campaigns
1
International Technical SEO
Ensuring website accessibility and a pleasant user experience across multiple regions and languages is essential for any website. By optimising technical elements like website speed, mobile friendliness, and structured data, Revpanda's SEO experts help search engines understand the structure and content of your website, and improve the visibility and ranking of the site in search results across different regions.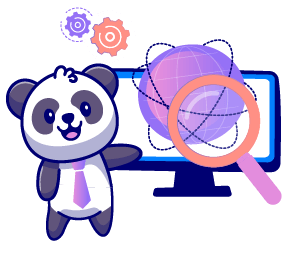 2
Local Audience Intent Research
Locally tailored offerings are a great way to enter and dominate a new market. Revpanda's International SEO team leverages local audience intent market research to help your business identify local search queries and keywords your potential global customers might use when searching to ensure your content is optimised for local search results and meets local needs.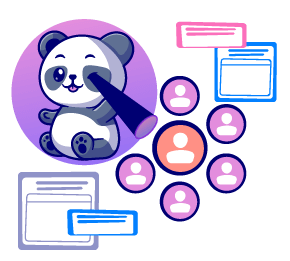 3
International Competitor and Industry Analysis
Revpanda recognises the importance of international competitors and industry analysis for SEO. By analysing the strategies of your competitors and identifying gaps in the market, we help you create a unique value proposition and differentiate your brand in a crowded marketplace. Our experts do a full analysis of your industry and your competitors on a global scale. This helps them find growth and expansion opportunities in new markets, enables you to stay ahead of the competition, and optimises your SEO strategy for long-term success.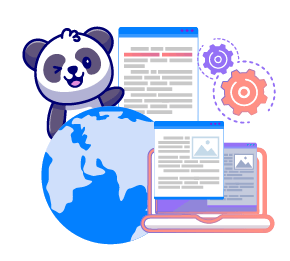 4
International Link Building
By building high-quality links from reputable websites in different regions and countries, (SERPs) your website receives higher levels of traffic, which increases the likelihood of conversion, and ultimately drives more revenue for your business. Our International SEO experts identify the most effective link-building strategies for your business, from guest posting and influencer outreach to broken link building and content syndication. With our international link building services, Revpanda helps you expand your reach and tap into new markets, driving further growth and success for your business.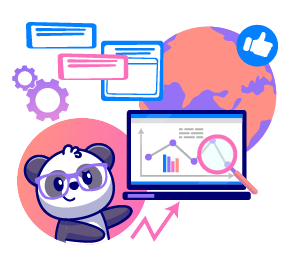 Why Should You Work with an International SEO Agency
Working with an International SEO agency offers many benefits to companies seeking to expand their reach and drive targeted traffic and conversions from different countries and cultures. International SEO agencies like Revpanda provide valuable insights and expertise on local markets, consumer behaviour, and search engine algorithms. Agencies help create customised and localised SEO strategies that cater to the unique needs and preferences of different markets. Achieve global success with Revpanda's SEO services and compete effectively in different markets.
Hreflang Tags Review
Hreflang tags are very important if you want search engines to show the right version of your content to the right people in different countries and languages. By reviewing and optimising your Hreflang tags, Revpanda improves your website's organic visibility and accessibility in global search engine results pages and eliminates any confusion or errors that could negatively impact your SEO efforts. With higher levels of targeted traffic to your site, you reach a wider audience, expand your business globally, increase conversions, and ultimately drive more revenue for your business.
International Website Launch & SEO Migration
When launching a new website in different regions or languages, it's crucial to ensure that your SEO strategy is optimised for each target market. Revpanda's International SEO team will migrate your existing SEO strategy and content to your new website, ensuring that it's optimised for search engines and the user experience. By optimising your website for international audiences, we help you increase your website's visibility and accessibility, driving higher levels of targeted traffic, engagement, and conversions. Our focus on conversion optimization ensures that your website not only ranks well but also drives revenue and growth for your business.
Specialised Content Creation & Optimization
Revpanda's specialised content creators identify the most effective types of content for your business, from blog posts and infographics to videos and podcasts. By having content that is valuable, informative, and engaging, it is much easier to differentiate your brand, stand out in a crowded marketplace, and drive more traffic, lead generation, and sales for your business.
International SEO Consultancy
Expanding a business globally can be a daunting task, especially when it comes to digital marketing and SEO. Setting up an International SEO Consultancy is essential for businesses looking to expand their reach and achieve success in different markets around the world. Our International SEO Consultancy services focus on helping businesses understand the unique needs and preferences of different markets and audiences and develop tailored strategies that cater to these specific requirements.
Revpanda – The Right International SEO Agency for You
At Revpanda, we provide global SEO services to help businesses reach customers in different markets around the world. Our expertise spans across borders, overcoming cultural differences and linguistic nuances. We offer a range of language options and use tailored content marketing strategies to connect with specific target markets in various locations.
Whether you're looking to expand your business globally or target specific regions, we've got you covered. To receive your initial consultation and proposal, you can either chat with one of our friendly sales team members or fill out our online form.
FAQ
What Are International SEO Services?
International SEO services are a set of strategies and techniques used to improve a website's visibility and ranking in search engine results pages (SERPs) for multiple countries and languages. The main goal of international SEO is to drive more traffic to a website from different regions of the world, ultimately increasing brand awareness and revenue.
What Services Do International SEO Companies Provide?
International SEO companies provide a range of services, including keyword research and analysis, content creation and optimization, technical SEO audits, backlink analysis, and localization of website content. They also ensure that your website is optimised for multiple languages, currencies, and search engines, while complying with local regulations and search engine guidelines.
What Is an International SEO Strategy?
An international SEO strategy is a set of techniques and tactics used to optimise a website's content, structure, and technical elements to rank higher in search engine results pages (SERPs) for multiple countries and languages. It involves adapting the website to local search engines, languages, and user behaviour while complying with local regulations and search engine guidelines.
How Long Does It Take to See Results from International SEO Services?
The timeline for seeing results from international SEO services varies depending on various factors, including the website's current state, the level of competition in the target market, and the SEO strategy used. However, businesses typically start seeing an increase in traffic and visibility within a few months of implementing international SEO strategies.