We'll Call You Back in Next 5 Minutes!
People Also Liked
We provide an in-depth look at cost-per-action earnings to help you gauge how to best put it to use in your affiliate business. You can choose platforms that will give you the best shot at making it big as a publisher, blogger, or influencer by reading Revpanda's extensive affiliate network reviews.Scroll down to understand CPA network terminology, find answers to common FAQs, and read our affiliate site reviews.
What is CPA Affiliate Marketing?
A CPA pricing model is one of many earning plans that can be used to determine an affiliate's payment for advertising services rendered. CPA stands for "cost per action," and this refers to an individual having to perform a certain task, an "action," after clicking on an affiliate link in an affiliate's digital marketing content.
Although making a payment is sometimes one of the actions an affiliate will get paid for, it's not the only accepted action. Some merchants offer to pay CPA affiliates each time an individual fills out a form, watches, or downloads a video.
The benefit of the CPA marketing model is that affiliates don't necessarily have to wait until a client commits to a sale before getting paid for marketing services. Even sending a query or viewing a document can be seen as enough engagement for the merchant to reward an affiliate.
Not all merchants and affiliate marketing programs offer CPA earning plans, and affiliates must have clarity on what exactly encompasses an "action." Before committing, compare advertisers and double-check the contract.
What Are CPA Affiliate Networks and How Do They Work?
Merchants, also called advertisers, want good CPA affiliates who will market their brands to the right people. Affiliates are usually on the lookout for new opportunities to earn through affiliate marketing, with CPA earning being a welcome option. A CPA affiliate marketing network is a third party to these groups, acting as a platform where affiliates and advertisers can search for each other, connect, and commit to a contract.
Affiliate networks can focus on a specific niche or earning plan, or they can offer a diverse range of popular online advertising verticals by catering to CPA, RevShare, and other earning options. Affiliates may find only a few affiliate programs on a network or browse hundreds of brands' offers in one place.
Apart from serving as a marketplace for role players, an affiliate network also assists with services such as marketing, managing commission payments, and giving advice through account managers.
Advantages of CPA Marketing
Many affiliates like adding CPA marketing to their options for earning income since it's a relatively safe earning plan. There are also benefits for merchants, many of whom are happy to agree to such an arrangement as the performance-based approach protects their interests and budgets. So, it's a win-win for all parties.
Transparent
Profitable
Low Risk
Easy to Use
As long as the contract clearly states expectations, affiliates will know exactly what they'll get paid. Using cookies and reporting tools, an affiliate can have updated information on how many completed actions there have been for a specific affiliate program. There's very little chance of either party having to dispute the data, ensuring quick payouts and easy administration.
CPA earning plans make financial sense for advertisers because they only have to pay when a beneficial action occurs, such as a client engaging with them. So, there's always a benefit in return for paying the affiliate.
Similarly, affiliates will find CPA marketing advantageous because of the high ROI. Clients may think twice before committing to a sale, but filling out a form or watching a video doesn't cost them anything. Therefore, there's a greater likelihood of them completing that action than making a purchase. That increases the chances of affiliates earning commission.
There's very little risk for either party in a CPA marketing agreement. There's no chance of merchants paying without receiving something in return because they only pay if an action is completed. Furthermore, affiliates benefit because they don't put their bottom line at risk by having to wait until clients spend money. In some niches like casino affiliate marketing, there's also no use of negative carryover with this earning plan.
For all parties concerned, this earning plan is easy to manage. Software and cookies track the actions of clients that use affiliate marketing links. Thanks to this modern technology, clear reports are given about all completed activities, so there's no need for manual calculations for affiliates or merchants. Affiliates can simply await payment according to the advertiser's payment schedule.
13 Best CPA Affiliate Networks
In the affiliate industry, even the best CPA networks differ, such as by having different earning plans and verticals they focus on. For example, not all of them are exclusively focused on CPA, as they may also offer RevShare, CPC, and other revenue options.
It's still worth using these diverse platforms, as you can discover which earning plans you prefer—they all have benefits. But with a CPA affiliate network usually making it so easy to earn, it will always be a favourite for affiliate marketers.
Below, we discuss various CPA affiliate networks that's worth checking out. If CPA is your focus as an affiliate marketer, these will be valuable for future campaigns.
MaxBounty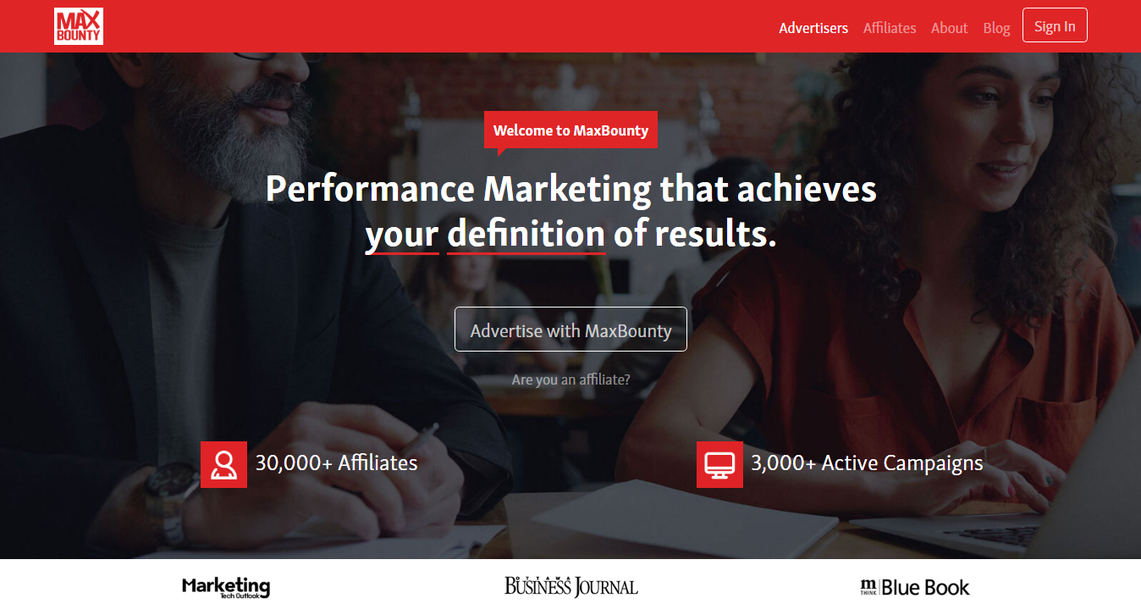 MaxBounty is specifically designed for CPA earning plans, so you know you're working with experts in this field. The brand has been around since 2004, and the leaders behind the company have relevant skills and experience that help keep the company at the top of the industry. From performance marketing to understanding information systems and financial management administration, the leadership team has all bases covered.It's a global affiliate network with over 30,000 affiliates, helping advertisers get the results they want. With 200+ advertisers and partners like Norton, Microsoft, and American Express offering over 3,000 campaigns, there's a lot to choose from. All these role players create a healthy international network that works for everybody's success.
| | |
| --- | --- |
| Network | MaxBounty |
| Niche/Product Types | Versatile |
| Average Commission Rate | 5% referral fees on commission payments of referred affiliates; CPA rate depends on campaign |
| Cookie Duration | N/A |
| Minimum Payout | $100 (depends on the payment method) |
| Payment Methods | Check, PayPal, Wire, Direct deposit, Payoneer, Intercash, eCash, ACH (options depend on country) |
| Payment Duration | Weekly payouts |
| Affiliate Support Type | Account managers, email |
Our Verdict About MaxBounty
We were really impressed with MaxBounty's user-friendly approach for newbies. Instead of battling to find information, a step-by-step guide helps you understand all the necessary details. Also, perks such as getting a 20% bonus on your first payment help newcomers earn more, providing cash flow to invest in more ventures.
Pros
Bonus payments

User-friendly, informative platform

Caters for affiliates from many countries globally

Real time tracking
Cons
Advertisers can refuse to pay for certain traffic types

Daily cap on some products
Perform [cb] – Previously Clickbooth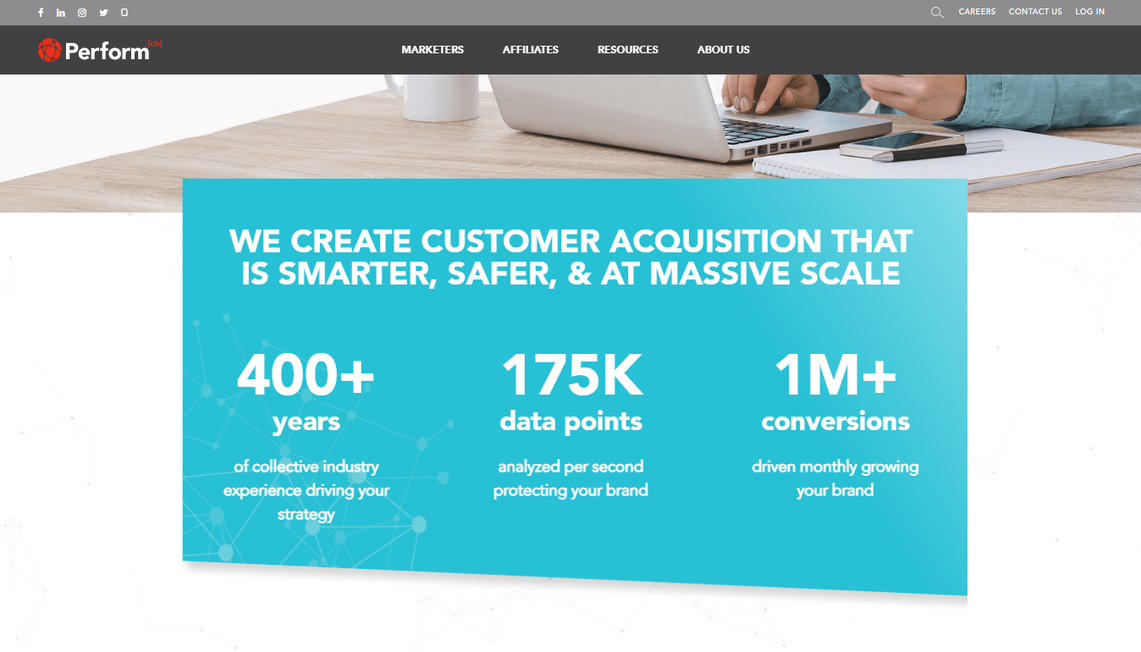 The company was started in 2002 under the name Clickbooth, but it has since been bought out by other companies and changed its name in 2020.
For multiple years, Perform [cb] has earned awards such as "#1 CPA Affiliate Network" worldwide, so they have the industry recognition to give affiliate marketers confidence to trust them. The brand uses AI in their tracking platform, which was developed in 2015, enabling them to offer various features that improve affiliates' experiences.
While known for quality CPA deals, they also offer CPS, CPE, CPL, PPC, and CPI earning plans. They can report over 1 million conversions monthly that benefit their advertisers, and this reputation draws well-known affiliate marketing partners like Walmart, HBO, and McAfee. They've been active for over 20 years, and their positive track record speaks to their value in the CPA marketing scene.
| | |
| --- | --- |
| Network | Perform [cb] – Previously Clickbooth |
| Niche/Product Types | 100+ verticals |
| Average Commission Rate | Varies based on campaign |
| Cookie Duration | N/A |
| Minimum Payout | $50 |
| Payment Methods | W9 (Domestic), W8 (Entity or Individual), ACH, PayPal, Check, Wire, Payoneer, Capitalist |
| Payment Duration | 30 days or bi-weekly |
| Affiliate Support Type | Email / support tickets |
Our Verdict About perform [cb]
It's refreshing to navigate an online platform that makes it so easy for users to maximise their affiliate performance. Tools and questionnaires built into the web pages help you make the right decisions and easily find the relevant information you're looking for. They also have a vast knowledge base to answer common questions.
Pros
Variety of earning plans

AI speeds up and improves processes like tracking

Accepts various traffic types

Many verticals supported

User friendly online platform
Cons
Limited methods of contacting for assistance

Not all campaigns are CPA
Adsterra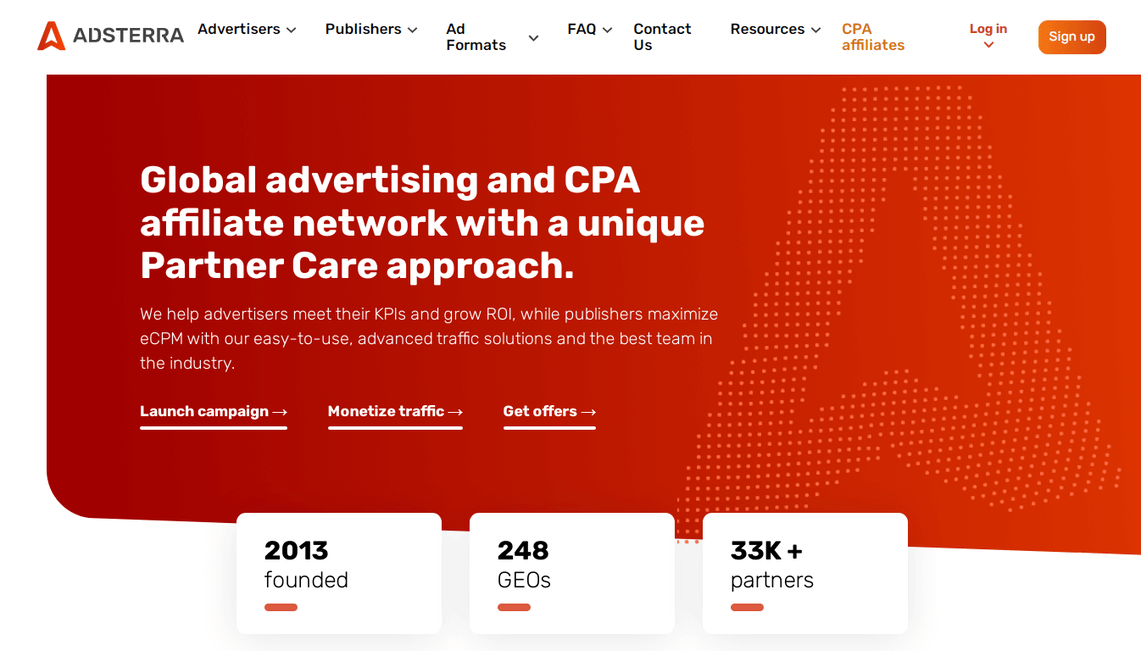 The Adsterra company was founded in 2013, and only a decade later, they have over 33,000 partners and over 20,000 active campaigns to choose from. The list of brands includes Basebone, Mobinner, and Moar Offers. There are more than 18,000 publishers who help advertisers get good traffic and leads, which lets the company report as many as 1 billion impressions per day.The company has agents to assist affiliates but has also upgraded its self-service option for those who prefer doing it on their own. The user-friendly workflows help you find information and options quickly. They also offer tools like ad formats that help boost conversion rates. Adsterra offers CPA but also CPC, CPM, CPI, and CPL earning plans.
| | |
| --- | --- |
| Network | Adsterra |
| Niche/Product Types | Various, with top verticals being: Apps, VPN, Sweepstakes, Lead generation, Gaming, Finance, eCommerce, Software, Subscriptions |
| Average Commission Rate | 5% on referrals' revenues |
| Cookie Duration | N/A |
| Minimum Payout | $5 for Paxum and Webmoney, $100 for PayPal, Bitcoin and Tether, $1000 for Wire |
| Payment Methods | Hyperwallet, PayPal, Payoneer, Bitcoin, USDT, PayPal, Webmoney, Wire, Paxum |
| Payment Duration | Every two weeks |
| Affiliate Support Type | Online chat, managers for pro affiliates |
Our Verdict About adsterra
Both advertisers and publishers benefit when using Adsterra, and they appreciate the friendly customer service along with the helpful tools. For example, affiliates can use the provided ad formats to enhance marketing campaigns. We found the platform very informative, although details on commission and payments should be made clearer.
Pros
Excellent security

Many campaigns to pick from

Anti-adblock solutions provided

Marketing tools provided

Acceptable payment frequency
Cons
Certain information difficult to find

Brand promotes CPM for new advertisers, rather than CPA

Not active in all countries
CPAlead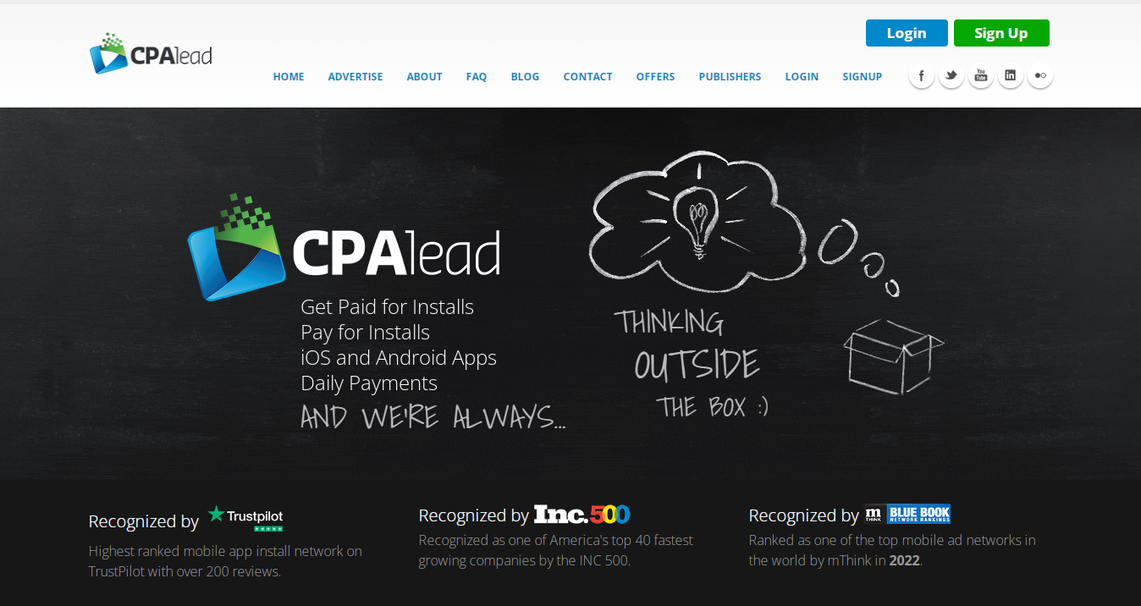 This CPA affiliate network services a very specific niche, namely the installation of apps. It started in 2006, so it's clear they're one of the established CPA networks—and here to stay.Advertisers such as app developers can find an experienced affiliate marketer willing to market their software products, and publishers get paid for each relevant action that benefits the merchant. Thanks to the network's global reach in over 180 countries, new apps can be marketed and downloaded quite quickly across the world.
Although the name mentions only CPA, CPI and CPE earning are also options, in which case you get paid for each install of an app and not just any action like viewing the app in the app store.
| | |
| --- | --- |
| Network | CPAlead |
| Niche/Product Types | Mobile app install |
| Average Commission Rate | $1/user interaction (but can be as high as $50/interaction); up to $4/install; 5% bonus on referred members' earnings. |
| Cookie Duration | N/A |
| Minimum Payout | $1 |
| Payment Methods | Paypal, Payoneer, Wire, ACH, and Cheque |
| Payment Duration | Daily payment, NET30 |
| Affiliate Support Type | Phone, Email, Chat room |
Our Verdict About CPAlead
We think CPAlead as a CPA network is great at supporting this niche community, especially with features like a chat room where affiliates can discuss their work, earnings, or other topics. The brand provides helpful tools that are customizable, so you can optimise the look and impact of your campaigns.
Pros
Regular and daily payments

Referral program available

Continual updates to tools like API and SDK

Users enjoy features like the OfferWall
Cons
Only for small niche, with no other verticals

Sometimes a delay in responses from customer service
ClickDealer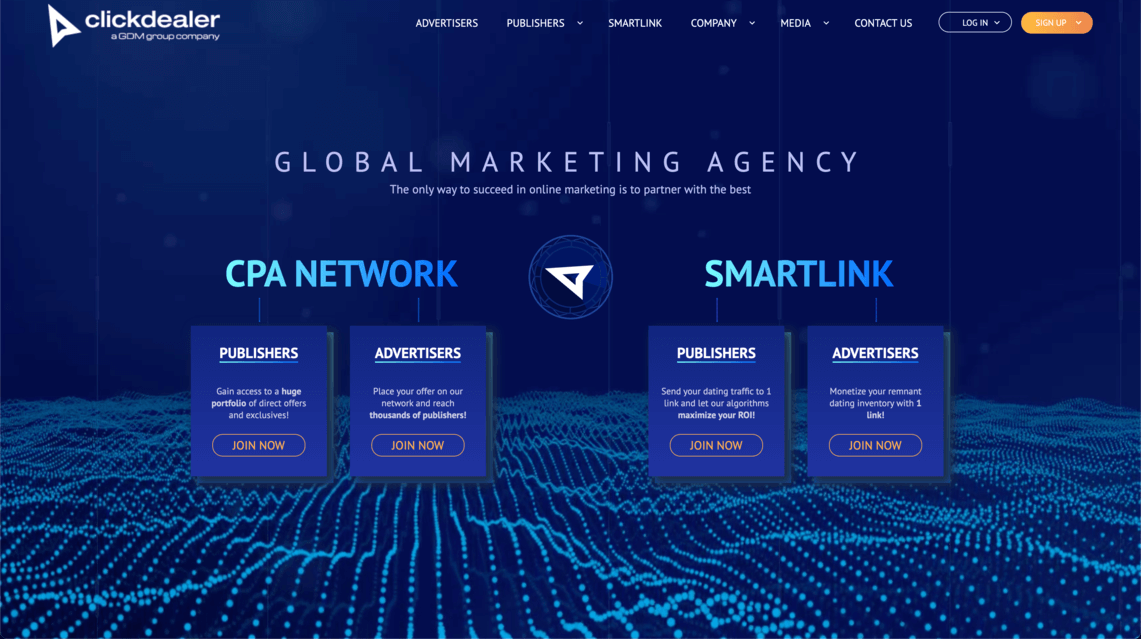 ClickDealer has a high number of publishers—over 10,000, and over 1,000 clients seeking affiliates to market their CPA offers. Partners include Joom, Huawei, and AliExpress. They aren't as established as some of the other best CPA networks, but since being founded in 2012, they've created a good reputation. For one thing, all parties are vetted, and software protects against issues like fraud.Although they started out as an affiliate-focused company, they now also offer clients other advertising services—even networking parties and worldwide meetups for affiliates.
For affiliates, there are benefits ranging from bonus programs and exclusive CPA offers to flexibility regarding payment. Apart from CPA, you'll find more than one official affiliate program offering CPS, CPI, RevShare, and CPL. Campaigns can benefit from Smartlinks that direct users to the most appropriate offer or destination by analysing data such as device type, location, and more.
ClickDealer offers support around the clock, and affiliates benefit from the fact that many quality traffic types are allowed, even email.
| | |
| --- | --- |
| Network | ClickDealer |
| Niche/Product Types | Various, with top verticals being e-commerce, mobile entertainment, electronics, social networking, dating and nutra |
| Average Commission Rate | Varies based on campaign – Referral program with 2% commission for 6 months |
| Cookie Duration | N/A |
| Minimum Payout | Monthly NET15: $500; Smartlink payment: $100 |
| Payment Methods | Wire, ACH, Payoneer, PayPal, Paxum, WebMoney, ePayments, eCheck, Qiwi, Yandex.Money, and Capitalist |
| Payment Duration | Monthly but can become weekly |
| Affiliate Support Type | Support manager, help ticket |
Our Verdict About Clickdealer
The brand makes affiliate marketing exciting with features like private parties and loyalty programs that allow you to earn points and claim rewards in different categories. You can even donate that money to a charity, so ClickDealer makes it really easy to do more than usual with your affiliate income.
Pros
CPA is the brand's specialty

Other marketing services also available

Unique features, including parties and rewards systems

Great security
Cons
High minimum payment

Sometimes labels good traffic as fraudulent

Low payment frequency at first
CrakRevenue
CrakRevenue has been operating since 2010, and it's another brand that has obtained industry recognition in the form of award nominations for being the best CPA network around. For affiliates, there are over 700 offers at any time to consider. They don't have the longest track record, but it's been enough time for the company to solidify its influence and improve its services.Despite being offered big money to sell the business, the original founder, Nick, kept going, and now there are over 35,000 affiliates using this network. It's run by a team of professionals that already numbers over 100.
Affiliates can work themselves up to be eligible for Rising Star, VIP, or Elite perks, such as exclusive CPA offers and having a dedicated affiliate manager.
| | |
| --- | --- |
| Network | CrakRevenue |
| Niche/Product Types | Various including CBD, dating, adult gaming |
| Average Commission Rate | Defined in the affiliate agreement; Referral program offers 5% of earnings |
| Cookie Duration | N/A |
| Minimum Payout | $100 for Cheque, ePayService, Paxum, PayPal / $500 for Bitcoin and Wire |
| Payment Methods | Bitcoin, Cheque, ePayService, Paxum, PayPal, Wire |
| Payment Duration | Weekly or bi-monthly; 7, 15 or 30 days after the last day of the payment period |
| Affiliate Support Type | Account managers, Live chat, email, knowledge base |
Our Verdict About CrakREvenue
This affiliate website is informative, making it another one that's beneficial for newbies. CrakRevenue's tools, such as Smartlinks and WordPress plugins, also simplify campaigns, so the brand has innovative ways of making tech work for its users.
Pros
Very detailed but intuitive reporting

User friendly on PC and mobile

Regular payouts

Many perks for high performance affiliates

Exclusive campaigns
Cons
Dedicated managers only for VIP and Elite affiliates

Lack of response on occasion
Cpamatica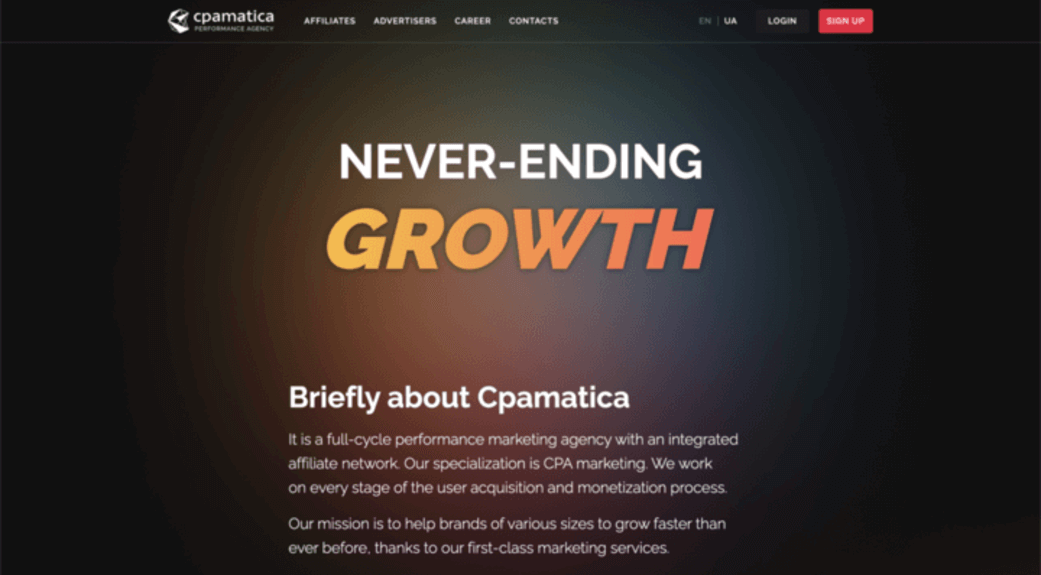 The benefit of using the Cpamatica CPA network is that it's another platform that has CPA earnings as its main focus. At any time, affiliates can browse around 1,000+ offers from over 200 advertisers, and the company sources exclusive offers you won't find on other CPA affiliate network platforms.They draw quality partners by drawing traffic from 100+ countries, so they're relevant for many affiliate marketers. Apart from affiliate marketing, the brand also has its own comparison websites that support the entire system of promoting offers.
This is also a network that makes use of the helpful Smartlink technology, which simplifies and optimises outcomes for affiliate marketers.
Note that this CPA network is appropriate for very specific audiences, mostly catering to adults. Still, the CPA-based advertising platform can be useful for various influencers and bloggers. If you want, you can also consider CPS, CPL, and CPI marketing.
| | |
| --- | --- |
| Network | Cpamatica |
| Niche/Product Types | Dating, Games, Streaming, Sweepstakes |
| Average Commission Rate | CPA, CPI, CPS, CPL offers; 2% in referral commissions for 12 months if you refer other affiliates |
| Cookie Duration | N/A |
| Minimum Payout | $50, $150 for cryptocurrencies and capitalist; $1,000 for Wire |
| Payment Methods | Payoneer, Paxum, PayPal, Capitalist, Crypto (BTC/USDT), Wire |
| Payment Duration | Weekly Payments |
| Affiliate Support Type | Affiliate managers available 24/7 via email |
Our Verdict About Cpamatica
It's clear Cpamatica wants to help its affiliate partners by empowering affiliates. It lets affiliates get traffic from most sources, including social media, and gives them tools like Smartlinks to help them do much more. It would be great if sources like email were also accepted with any campaign, but still, this is an impressive CPA network to try.
Pros
Worldwide reach with various geographical areas currently growing

Loyalty program offers more benefits for dedicated affiliates

24/7 customers service availability

Pays often
Cons
Verticals not relevant to all affiliates

On occasion users find issues with payments
Advendor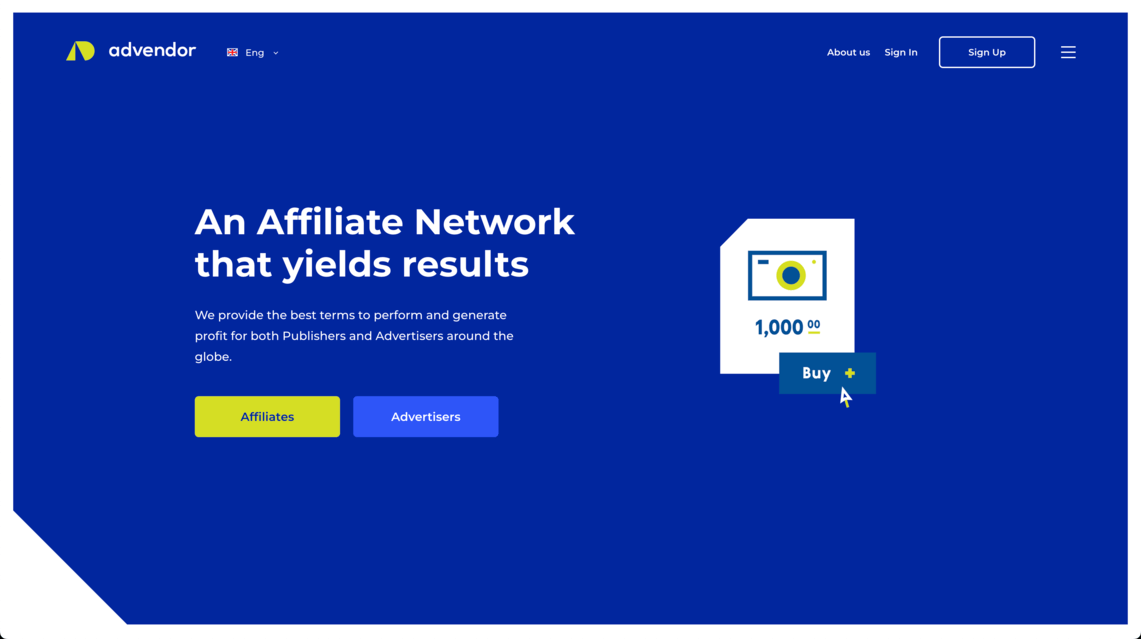 This CPA network is based in Ukraine and Estonia, and it only supports English and Russian. Compared to some other CPA affiliate networks on this list, Advendor almost seems like a brand new CPA network since they've only been around since 2015. But they have worked with important players like affiliates and ad agencies before, so they do offer products and services that are worth using. Their affiliate program verticals cover a wide range of topics, some of which are geared toward adults, like dating and finances.The pages of this CPA marketing network website are user-friendly, with practical filters to help affiliates find offers that would suit them. A search can be based on verticals, countries, operating systems, devices, or offer types. They publish program details publicly and the detailed descriptions tell affiliates exactly what they'll get paid for and what the restrictions are.
| | |
| --- | --- |
| Network | Advendor |
| Niche/Product Types | Various |
| Average Commission Rate | 3% referral program; Offers CPA, CPL, CPI, Revenue Sharing program |
| Cookie Duration | Traffic moderation of 3 hours |
| Minimum Payout | $50, but $200 for PayPal and $2,000 for Wire |
| Payment Methods | Qiwi wallet, Yandex, WMZ, Wire, PayPal, Webmoney, Epayments |
| Payment Duration | Weekly |
| Affiliate Support Type | Telegram, email, Live chat, dedicated affiliate manager |
Our Verdict About Advendor
Advendor's website wasn't the fastest of the lot we tried out, so be prepared for a slight lag when navigating the pages. Still, it carries all the characteristics you look for in a quality affiliate network, such as good security and user friendly workflows. Also, affiliates can customise certain features to suit their preferences.
Pros
Affiliate managers

Good payment frequency

Detailed offer descriptions

Easy navigation and filters
Cons
Website lags slightly

Less experience than some other networks
Mobidea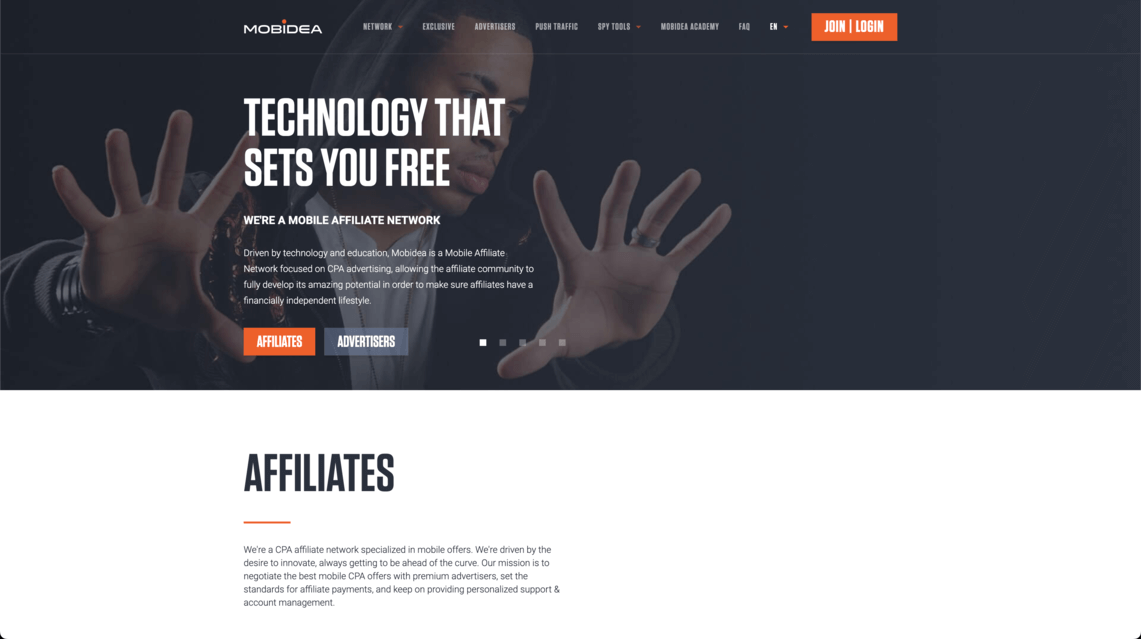 It's impressive to see industry leaders support Mobidea, including experts like Neil Patel and Charles Ngo. This proves the value Mobidea brings to the table for affiliates and advertisers. It was founded in 2011, so it has made quite an impression in just over a decade.Mobidea uses the latest in tech to benefit affiliates, such as spy tools that help you research what others are doing and identify website traffic sources. This makes it easier for affiliates to make money, so it's no surprise that over 100,000 publishers use the platform.
Their verticals range from music to beauty and fitness, so they're relevant for a large percentage of affiliates. The offers from over 800 advertisers are exclusively CPA, so publishers who prefer this earning plan will have lots to pick from among the 2,000+ CPA offers.
| | |
| --- | --- |
| Network | Mobidea |
| Niche/Product Types | Various |
| Average Commission Rate | CPA only – depends on offer |
| Cookie Duration | Traffic moderation of 3 hours |
| Minimum Payout | €50 / $50 |
| Payment Methods | PayPal, ePayments, Paxum, WebMoney, Wire |
| Payment Duration | Weekly |
| Affiliate Support Type | 5 days a week – online form submission |
Our Verdict About Mobidea
We really appreciated Mobidea providing information in a clear and succinct way, so new users can quickly gauge if this platform will work for them. There's loads of information to help onboard affiliates, and the brand does a lot to help publishers earn more and get more genuine traffic for advertisers. This is sure to secure the brand as a market leader going forward.
Pros
Support in 5 different languages

Flagging fraudulent traffic benefits advertisers

Multiple tools to optimise traffic and income, including spy tools

No vetting – start using Mobidea after signing up

User friendly browsing of offers

Good payment frequency
Cons
Some contradicting information on the website

Fees on payouts unless you're a VIP

VIP status only after earning €10,000
Toro Advertising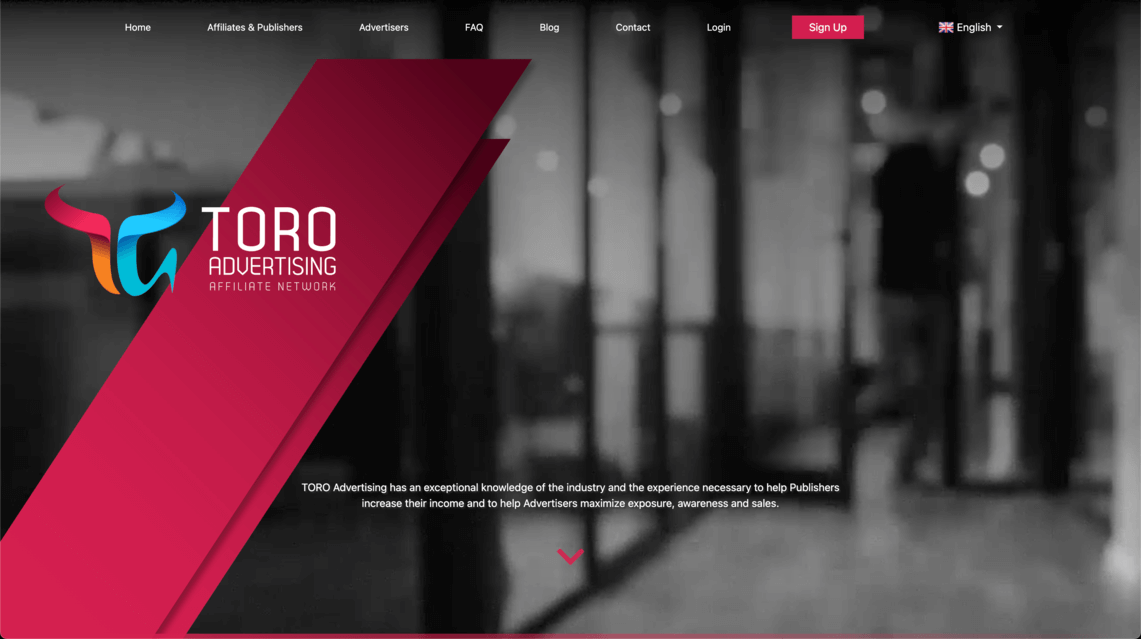 Toro Advertising was started in 2012 and is based in Argentina and Spain, but you can get support in 3 languages, namely French, Spanish, and English, which help to keep users happy in 90+ countries. Being active on social media makes it easy to keep up with changes and news about the brand.The company does offer all popular earning plans, so apart from CPA deals, you can also try out RevShare, CPI, CPS, and CPL. CPA is one area the company has received award nominations for.
Toro Advertising's general payment guidelines are acceptable, but do inquire about special payment terms once you're established, since they're open to discussing adjustments if you have high traffic stats.
There is potential for success thanks to provided features such as Smartlinks and tools like custom scripts and ad formats. You'll find thousands of offers to browse on their Offerwall.
| | |
| --- | --- |
| Network | Toro Advertising |
| Niche/Product Types | Various, including dating, surveys, education and business opportunities |
| Average Commission Rate | Varies based on program. 5% referral commission for 3 months only |
| Cookie Duration | N/A |
| Minimum Payout | $50 |
| Payment Methods | Wire, PayPal, Skrill, ePayments, Payoneer |
| Payment Duration | Weekly, NET20, NET7 |
| Affiliate Support Type | Account managers, service tickets |
Our Verdict About Toro Advertising
We appreciated the easy access to most information new users would require. You should note you'll have to wait for the affiliate approval process, which can take up to 3 days, before you know if you can use the platform. Also, there's a minimum requirement of already using another affiliate network successfully, which means CPA affiliate marketing through Toro isn't for newbie CPA marketers.
Pros
Good vetting process ensures quality affiliates

Many offers

Helpful tools to boost campaigns

Active on social media
Cons
Approval required to use network

Application process can take 72 hours

Need proof of previous success to be accepted
AdWork Media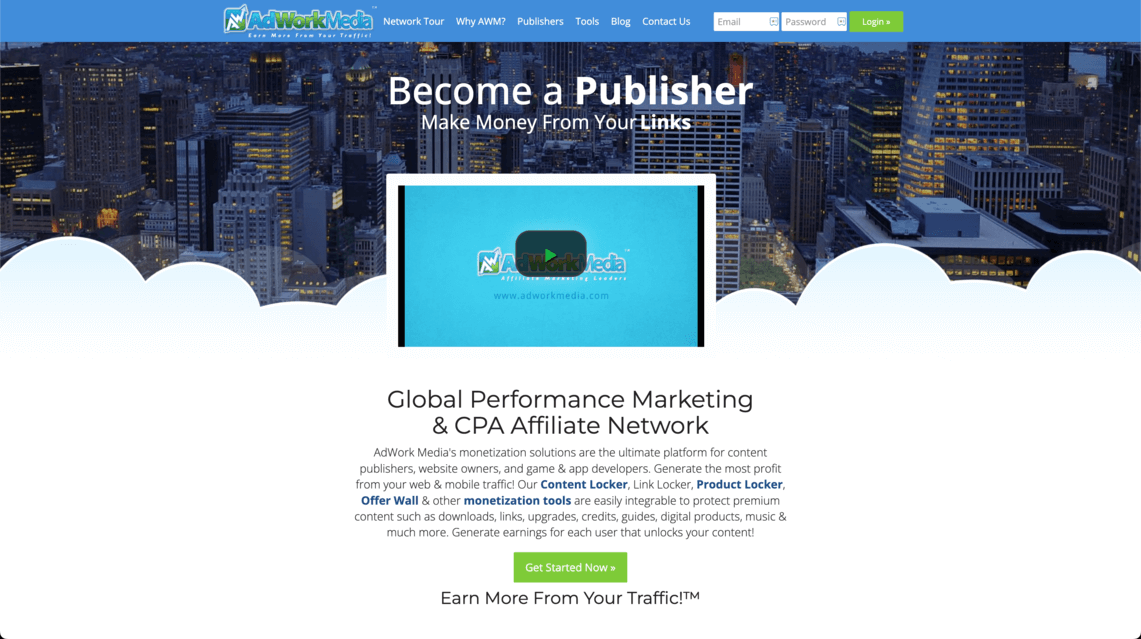 AdWork Media is focused on CPA earning, and there are over 2,500 campaigns to pick from. Being active in 250 countries, it's a network relevant to a large percentage of the globe's affiliates. This is why they can report having 50,000+ affiliates in the network.Unlike most CPA networks, they have a standout feature, namely efficient Content Locking, which results in monetizing almost all web content and traffic types, from eBooks to apps and coupons.
They aim to streamline affiliate workflows with tools that automate labour-intensive tasks, such as campaign optimization for certain devices or areas, identifying the campaigns that perform the best, and choosing how to implement traffic strategies. There are also helpful tools like Split Testers that help publishers improve their campaigns.
Although data isn't shown in real time, there are at least daily reports to help track your income and performance. It's also a mobile affiliate network that allows you to track performance via an app.
| | |
| --- | --- |
| Network | AdWork Media |
| Niche/Product Types | Various |
| Average Commission Rate | Varies based on program. 3% referral |
| Cookie Duration | N/A |
| Minimum Payout | $35 |
| Payment Methods | Western Union, PayPal, Cheque, Bitcoin, ACH Direct Deposit/Wire, Payoneer, Payza |
| Payment Duration | Start on NET30, which can change to NET7, NET15, weekly, and bi-weekly |
| Affiliate Support Type | 7 days a week, email, support tickets, Dedicated performance managers |
Our Verdict About Adwork Media
With features such as stats apps, it's clear this brand wants to help with marketing efforts and make it easier for affiliates to manage their campaigns, which means you can get more done in a day and boost your income. They also seem to lead the industry in terms of content locking, so when using Adwork Media, users are partnering with experts in the field. The platform seems intuitive and it's information rich to help onboard new users.
Pros
Multiple helpful tools

Global affiliate marketing network

Multiple payment options

Low minimum payment

Best CPA network for content locking
Cons
Data not available in real time

Joining requires an approval process
Madrivo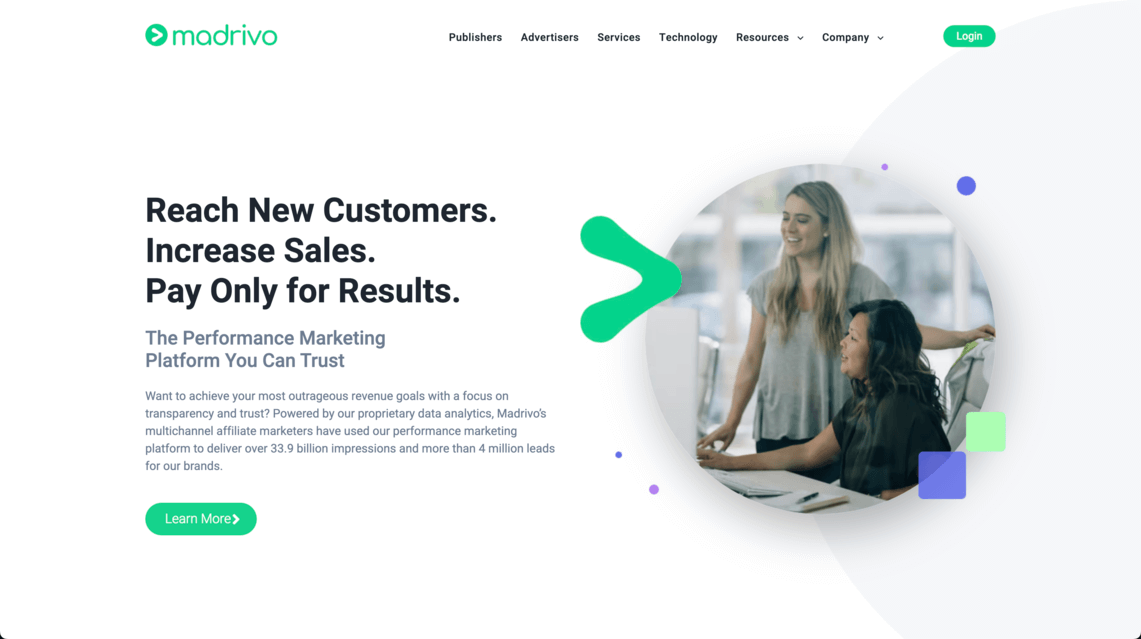 Madrivo has been in operation for over 2 decades, and it's exclusively a CPA network. You'll find over 10,000 role players in the Madrivo network, with advertisers including well-known brands like Bark Box, ADT, and American Standard. Compared to some other platforms, this may not be the highest number of publishers and advertisers combined, but it's understandable when you realise their passion to prevent fraud, which motivates them to vet publishers and only work with top affiliates.There are many perks to joining, such as getting a $2,000 bonus simply by earning $1,000/week within your first 2 months. While it's a high number to hit, it's a great motivator, and the company does a lot to help affiliates optimise their campaigns from the start. For example, there are virtual sessions with managers to guide and advise affiliates. 
| | |
| --- | --- |
| Network | Madrivo |
| Niche/product types | Various with areas of expertise being Health Home Improvement Insurance Finance Transportation Education Retail |
| Average commission rate | Varies based on the program 5% referral commission |
| Cookie duration | N/A |
| Minimum payout | No minimum |
| Payment methods | ACH Wire Cheque PayPal |
| Payment Duration | Net30 |
| Affiliate Support Type | Skype phone email dedicated success manager 24/7 |
Network
Niche/product types
Average commission rate
Cookie duration
Minimum payout
Payment methods
Payment Duration
Affiliate Support Type
Madrivo
Various with areas of expertise being Health Home Improvement Insurance Finance Transportation Education Retail
Varies based on the program 5% referral commission
N/A
No minimum
ACH Wire Cheque PayPal
Net30
Skype phone email dedicated success manager 24/7
Pros
Offers exclusive to platform
Well known brands are affiliate marketing partners
Incentive programs to earn more
Quality network with very low fraud rate
No minimum payment
Cons
Not for newbies

Approval process determines whether you can join
Pros and Cons of CPA Affiliate Networks
CPA affiliate marketing is definitely one of the most beneficial earning plans for affiliates, and CPA affiliate networks make it so easy to find relevant affiliate programs offering this commission option.
Of course, as with any business situation, there are advantages and drawbacks. Affiliates should educate themselves about all aspects of the best CPA networks so they can make wise choices that benefit their income.
Safe platform for affiliates to find reputable new programs to join

Online marketing tools help create better online marketing campaigns, benefiting affiliates and merchants

Helps ensure affiliates get paid for each completed action

Affiliates save time browsing online – everything is found in one place
Some CPA networks won't accept newbies, preventing fast business growth

CPA networks can charge commission which affects merchants' and affiliates' income
Best CPA Networks Conclusion
CPA earning methods are so helpful in the life of an affiliate. There's a bigger chance of clients performing the actions required than there is of them committing to a sale. That boosts your chances of earning! For this reason, affiliate networks that offer CPA deals are welcome. Also, some of them exclusively focus on CPA, which could mean more exclusive CPA offers for this affiliate niche.
The affiliate networks showcased here are the best CPA network vendors to consider, but they still all have strengths and drawbacks. You need to compare CPA networks with your preferences and needs as an affiliate. For example, do you want a variety of earning plans, or do you only need CPA deals?
The affiliate market caters to everyone's requirements, especially when you work with vendors like the ones above. The best CPA networks go the extra mile to benefit both advertisers and publishers. Pick your best CPA networks and let us know if you have any other suggestions that affiliates may benefit from.
FAQ
What Are CPA Networks?
CPA networks are websites where affiliates and advertisers can find each other and engage on a secure platform. With a CPA network the earning plans will include CPA as the only option, or one of a few.
Do CPA Marketing Offer High Payouts?
With the right affiliate program found on the best CPA networks, affiliates can earn high payouts. Some merchants are willing to pay high commission fees for each action because direct results are guaranteed with each payment.