We'll Call You Back in Next 5 Minutes!
People Also Liked
Best CPL Affiliate Networks
In any business, having quality leads is important for effective marketing, and this makes affiliate networks popular for merchants and creates earning opportunities for publishers. Are you looking for ways to boost your affiliate business? With leads being so valuable, merchants are very willing to pay affiliates who will help them obtain quality leads. This is good news for anyone looking into site traffic monetization.
Below, you'll find reviews of the best CPL affiliate marketing networks that create online marketplaces where advertisers and publishers can meet. Compare them and find the platforms best suited to help scale your business.
What Is CPL Affiliate Marketing?
CPL marketing is one of the oldest earning models in the affiliate industry and is popular with all parties concerned. Simply put, "CPL" stands for "cost per lead." For advertisers, this advertising model helps them accumulate more leads thanks to affiliates who direct potential clients towards them in the hope of generating a new valuable lead.
A lead can take on various forms, but the goal is always to obtain personal information about an individual in order to continue engagement. In practice, this could mean capturing details when someone signs up for a company's mailing list or provides information to start a subscription with the advertiser. A lead may also request a product or service, in which case the individual becomes a verified lead. These leads are valuable assets for brands since they provide access to the company's target audience.
For the role that affiliate marketers play in this process, they do get paid, but usually only for each generated lead that is confirmed. The data on lead generation can be collected thanks to technology such as cookies or other tracking tools. Only once a client has supplied their contact information will the marketer be eligible to receive payment from the merchant.
What Are CPL Affiliate Networks and How Do They Work?
Many advertisers and publishers want to use CPL affiliate marketing as part of their business strategies, but it's important to find the best partners in the business. CPL affiliate networks make this a little easier because they act as online marketplaces where affiliates and merchants can discover each other, interact, and manage campaigns.
An affiliate network showcases brands that offer CPL affiliate marketing programs as part of their advertising efforts. They invite affiliates to browse the available offers and pick ones that are relevant to them and their audiences. Affiliates can include a referral link to an offer in their online content, such as blogs, social media, or emails, and create the opportunity to earn every time someone clicks on it and completes the necessary actions to turn them into qualified leads for the merchant.
The affiliate network can offer additional services such as assistance with marketing campaigns, general advice, and ensuring that affiliates get paid. On one affiliate marketing network, you may find only CPL monetization models or a variety of offers that include CPA, RevShare, and other models.
Advantages of Using CPL Marketing 
CPL marketing is such a popular feature in affiliate campaigns because of the various advantages it holds for all parties concerned. Merchants appreciate the effortless way of obtaining more leads for their sales teams, and affiliates stand the chance of earning big. Also, CPL is a way of monitoring whether you're efficiently growing your client base.
Low Risk
Profitable
Convenient
Precision
Affiliates will find many advertisers willing to do CPL marketing thanks to the low risk that's involved. The advertisers know they only have to pay for qualified leads, so on their side, there's no risk of paying without receiving something in return.
On the affiliate's side, the low risk also makes CPL marketing an attractive option. Since they only get paid for qualified leads, they have an incentive to provide high-quality leads that are more likely to convert. This can lead to a more profitable partnership between the affiliate and the advertiser, as both parties are motivated to work towards the same goal of generating sales. 
Although the risk isn't high, there's a good chance of CPL leading to high profits for advertisers. With the details of leads in hand, an effective sales strategy can turn that lead into an income stream. This is why merchants are willing to pay good money for this type of marketing. 
For affiliates, CPL is also profitable since the commission they're likely to earn is sometimes higher than that of CPA or CPC plans. As long as the merchant you find on an affiliate network offers good rates, you also don't need a lot of qualified clicks to earn a decent amount.
CPL is convenient for marketers and advertisers, but also for the clients (leads), because this marketing method doesn't necessarily require an exchange of funds. They may simply have to fill in a form and instantly become a lead.
Because of the conveniently low expectations of potential customers, there's a higher likelihood of a lead being generated, and this conveniently benefits both the advertiser and publisher. Furthermore, neither party has to do much after the affiliate campaign is launched, because technology helps track results and compile reports without manual calculations being necessary.
Role players like merchants or affiliate networks can accurately determine who needs to be paid for each qualified lead, all thanks to modern tracking tools. Also, marketing can become more precise because the outcomes of campaigns can be tracked and used to improve them.
Furthermore, merchants have precise reports of who those leads are, with very little chance of fraudulent data. It's possible to be precise in who is targeted by using qualifying questions or marketing to certain demographics, so the acquired leads are more likely to turn into committed customers.
10 Best CPL Affiliate Networks
Modern affiliate marketers and the brands showcasing their offers can both benefit from CPL affiliate marketing. However, it's important to use a reputable and reliable affiliate network in order to get the best outcomes. For one thing, the best CPL affiliate networks carry advantages such as dedicated account managers and assistance through marketing tools.
We save you time on identifying the next CPL affiliate network to join by listing the best ones below. You can compare them based on a variety of relevant information and pick which ones to try.
MyLead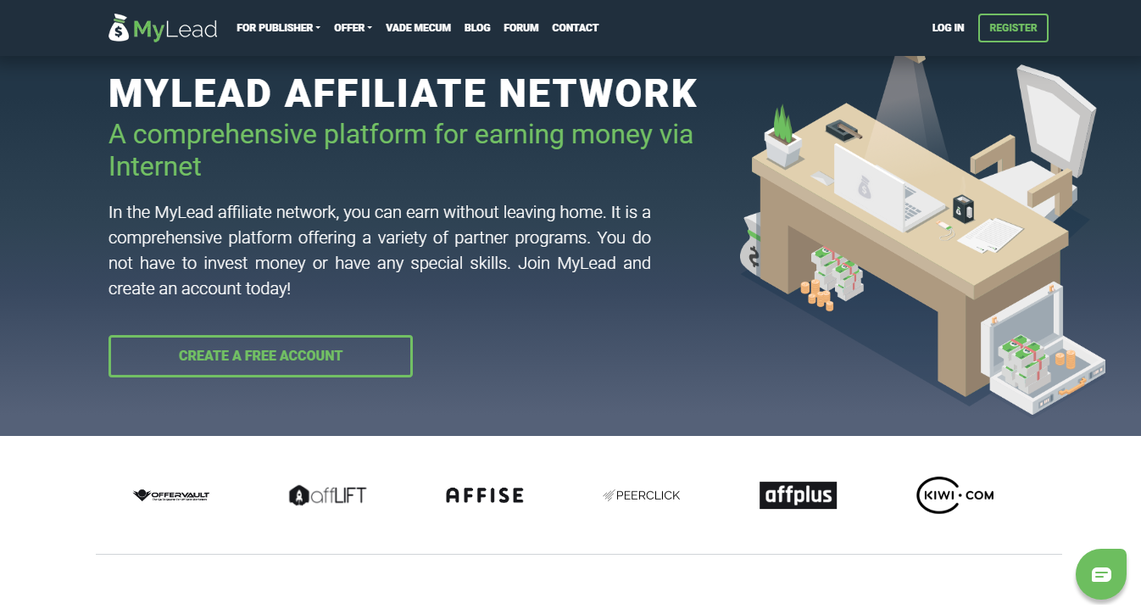 Surprisingly, MyLead has only been active as an affiliate network since 2014, but in less than a decade, they've established themselves as one of the best affiliate networks around. They've won various awards, including ones from market-leading companies like Deloitte. In a short time, they've drawn over 3,000 brands, among which you'll find respected brands including Udemy, Prime Video, and Pandora. Furthermore, the network includes over 600,000 publishers that provide advertising services and earn money in 150+ countries worldwide.On this platform, you can access affiliate marketing offers for CPL as well as other earning plans such as CPA. A major upside of this platform is that you can request payouts at any time, which isn't the case with most other affiliate networks.
| | |
| --- | --- |
| Network | MyLead |
| Niche/Product Types | Versatile |
| Average Commission Rate | Merchant dependent |
| Cookie Duration | N/A |
| Minimum Payout | $20 |
| Payment Methods | PayPal, WebMoney, Skrill, Revolut, Bank Transfer, Bitcoin |
| Payment Duration | 48 hours – 14 days |
| Affiliate Support Type | Support in multiple languages, 24/7, Skype, Email, Phone, Tutorial |
Our Verdict About MyLead
We appreciate the flexibility of MyLead since affiliate marketing programs may pay for marketing done through almost any digital channel—even SMS and phone calls are sometimes eligible for getting you paid.
You'll also appreciate the informative website with shortcuts providing easy access to vital details. With tutorials and a user-friendly site, newbies get on board fast.
Pros
Informative website

Wide variety of verticals

Appropriate for newbies and established marketers

Global affiliate network

Filters make for easy searching of programs to find CPL offers
Cons
Pop up windows can be bothersome  

Some navigation features are glitchy on the website
ClickDealer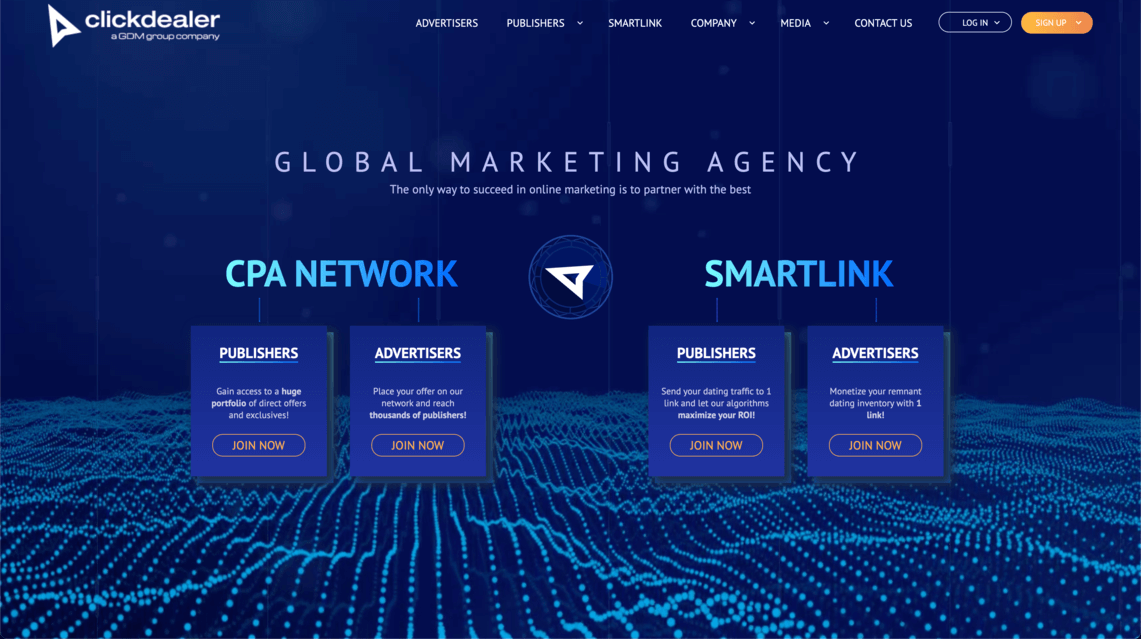 ClickDealer does focus on CPA marketing, but it is still one of the best affiliate networks for CPL marketing. You can also access offers for RevShare, CPS, and some other models.This affiliate network started in 2012 and has been winning awards since 2016. You'll find 1,000+ advertisers and 10,000+ publishers on the network. With their partners, including brands like Huawei, AliExpress, and Joom, it's a platform worth joining. They also have unique features, such as hosting parties, organizing worldwide meetups, and offering bonus programs. 
A major reason to give ClickDealer a try is because of their use of smartlinks. These will direct one of your audiences to the most appropriate destination after analyzing data such as their geographic location, their device, and other factors. This makes marketing campaigns much easier for affiliates to manage.
Note that they were recently acquired by Digital Media Solutions, and we're not sure if this will impact any of their operations.
| | |
| --- | --- |
| Network | ClickDealer |
| Niche/Product Types | Versatile |
| Average Commission Rate | Depends on campaign |
| Cookie Duration | N/A |
| Minimum Payout | Monthly NET15; Must exceed $500. For smartlink payments, Monthly NET15, must exceed $100. |
| Payment Methods | Wire Transfer, ACH, Payoneer, PayPal, Paxum, WebMoney, ePayments, eCheck, Qiwi, Yandex.Money, Capitalist |
| Payment Duration | Monthly |
| Affiliate Support Type | 24/7 support, Dedicated affiliate manager, Phone, Email |
Our Verdict About ClickDealer
We found this affiliate network extremely informative, which makes it easier for new affiliates to join and quickly streamline their campaigns. It can also be exciting to learn about the industry during meetups and parties. By making affiliate marketing more interactive, the life of an affiliate marketer can seem less isolated. They're clearly an established brand that prioritises the needs of marketers.
Pros
Multiple offices worldwide

Respected partners

Access to smartlinks

Support available in multiple languages
Cons
CPL isn't the focus

Recent acquisition of Digital Media Solutions
Perform [cb] – Previously Clickbooth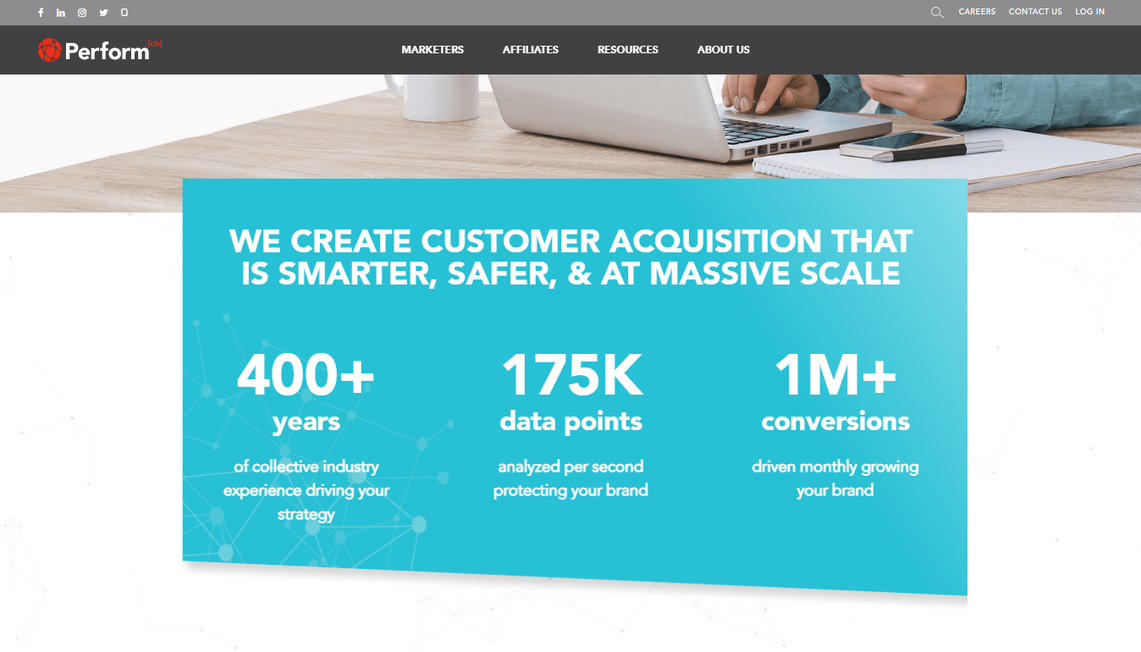 For affiliates who start using the Perform[cb] affiliate network, there's the chance of marketing for brands like Mizuno, HBO, Babbel, Benzinga, and many more. You'll also be using an affiliate network that has won a variety of awards over the past few years.The network originally started as Clickbooth back in 2002, but thanks to their growth, they could initiate various acquisitions that further built the brand. 
Taking a look at the leadership team behind Perform [cb], you'll discover years of experience that backs the decisions taken by the network. This helps the company make smart decisions to the benefit of affiliates and merchants. An example of this is making continuous changes and updates to the platform, along with offering tools that simplify the work of affiliates. A favourite feature of this affiliate network is the learning algorithm that helps allocate the best possible offer of an affiliate program to each customer.
Their strengths are most visible in CPA marketing, but CPL earning plans are also available and beneficial.
| | |
| --- | --- |
| Network | Perform [cb] – Previously Clickbooth |
| Niche/Product Types | Lifestyle, Entertainment, Health, Beauty, Finance, Software, E-commerce and many more |
| Average Commission Rate | Varies based on campaign |
| Cookie Duration | N/A |
| Minimum Payout | $50 ($100 for wire) |
| Payment Methods | W9 (Domestic), W8 (Entity or Individual), PayPal, ACH, Check, Wire, Payoneer, Capitalist |
| Payment Duration | 30 days or bi-weekly |
| Affiliate Support Type | Email |
 Our Verdict About Perform [cb]
We really liked some of the advanced features on the Perform [cb] website, such as the easy-to-navigate drop down menus that help you access the most relevant information they have to share. Also, they have an impressive collection of resources that can help you learn more about a wide range of affiliate topics.
Pros
Quality fraud detection tool keeps users safe

Uses advanced technology

Award winning brand

World famous brands are partners

Customized dashboards are available
Cons
No phone number available for support
MaxBounty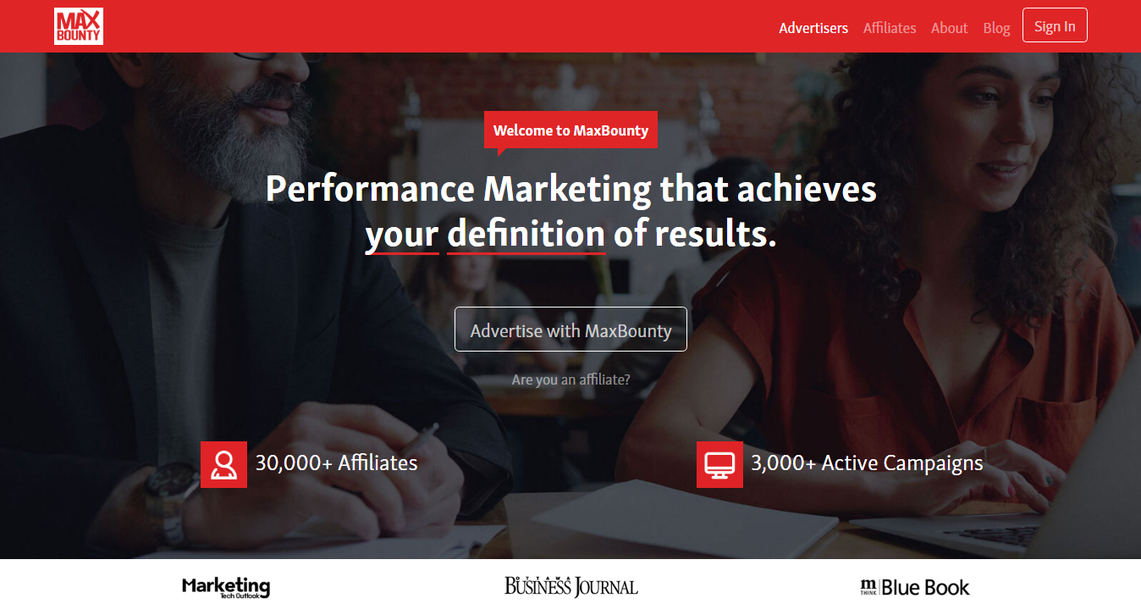 MaxBounty is a leading affiliate network, as proven by the list of partners it has. This includes brands like Microsoft, McAfee, and American Express, so you can trust the platform and have peace of mind knowing you're working with one of the most beneficial CPL affiliate networks on the current market. They certainly managed to build an impressive affiliate network over the past 2 decades.Numbers also prove their worth, since there are more than 30,000 affiliates who enjoy using MaxBounty. Also, with over 3,000 campaigns to choose from, you have more than enough options to get responses from potential customers and generate quality leads.
Part of their mission is to help affiliates earn more thanks to high commissions, so they actively work to obtain advantageous rates. You'll find this for CPL but also for CPA, CPS, and CPI earning plans.
It's worth working hard at making MaxBounty work for you since the company offers performance-based bonuses.
| | |
| --- | --- |
| Network | MaxBounty |
| Niche/Product Types | Versatile |
| Average Commission Rate | 5% referral fees on commission payments of referred affiliates; Commission rate can be as high as 50% |
| Cookie Duration | N/A |
| Minimum Payout | $100 (depends on the chosen payment method) |
| Payment Methods | Check, Wire transfer, PayPal, Direct Deposit, Payoneer, (options depend on region) |
| Payment Duration | Weekly |
| Affiliate Support Type | Affiliate managers, email |
Our Verdict About MaxBounty
MaxBounty looks like a market leader in the industry since they are actively involved in activities such as affiliate summits across the globe. Thanks to their user-friendly website, it's easy to obtain information, and because their technology continuously improves to benefit affiliates' income streams, it's a worthwhile platform to try.
Pros
Established brand

World renowned partners

Technology improves all the time

Detailed reporting
Cons
All affiliates must be vetted – can take time to get on board

No contact number
lemonads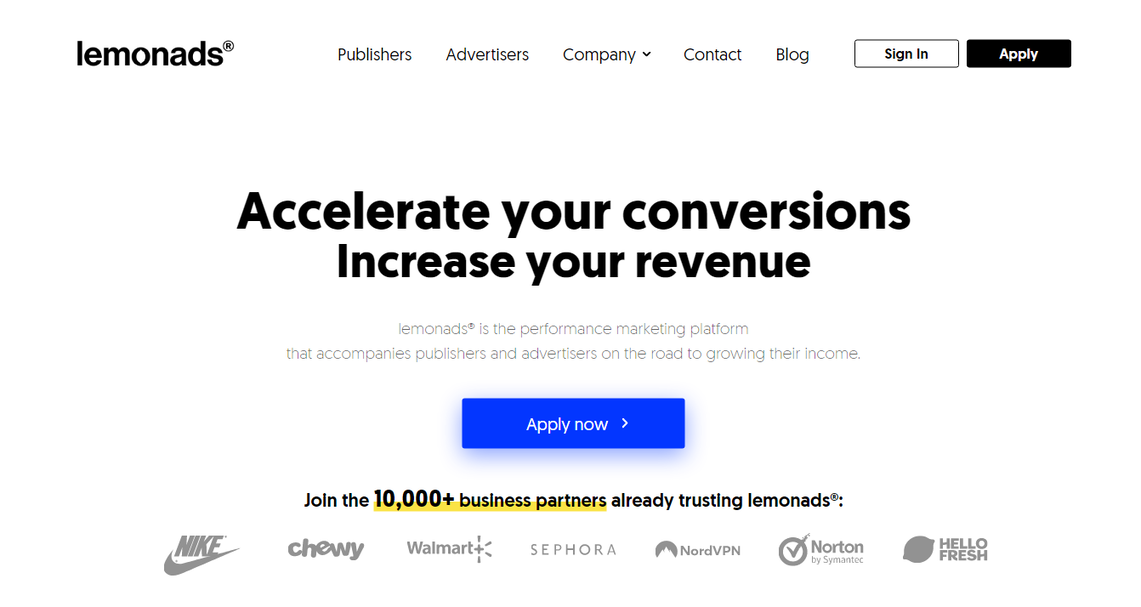 lemonads has over a decade's worth of experience and appears on various top affiliate marketing network lists, and with good reason. For starters, they have 10,000+ business partners, and the list of big names includes Nike, Norton, and Walmart.While personal service is always a winning feature, the brand also built its resources to provide a self-service platform, so you don't have to waste time talking to anyone. Most information is easily available, such as through a real-time performance tracking system.
lemonads markets itself as a performance marketing platform, and you'll eventually be directed to the TORO network if you're a new signup.
| | |
| --- | --- |
| Network | lemonads |
| Niche/Product Types | Versatile |
| Average Commission Rate | Offers CPL, CPI, CPA, CPS. Commission dependent on program |
| Cookie Duration | Varies |
| Minimum Payout | $100 |
| Payment Methods | Direct transfer, Wire, Paypal, Paxum & ePayments |
| Payment Duration | Daily payments, 24 hours after authorised |
| Affiliate Support Type | Email, dedicated support, informative articles, chat |
Our Verdict About lemonads
We appreciate their updated statistics that show you the network's performance during the past month. This gives you good insight into their value at the moment, and you'll also know when the affiliate network is deteriorating so you can look for other resources to use.
Currently, however, they impress with everything from real-time data being available to providing dedicated support. It's unfortunate that only after starting the signup process do you get told that lemonads doesn't accept new accounts, so you need to use TORO Advertising instead.
Pros
Has won various awards

In-house tracking technology

Partners worldwide makes them relevant for many affiliates

Comfortable payment methods
 Cons
Can only sign up via TORO

Contact features such as chat aren't available 24/7
Leadbit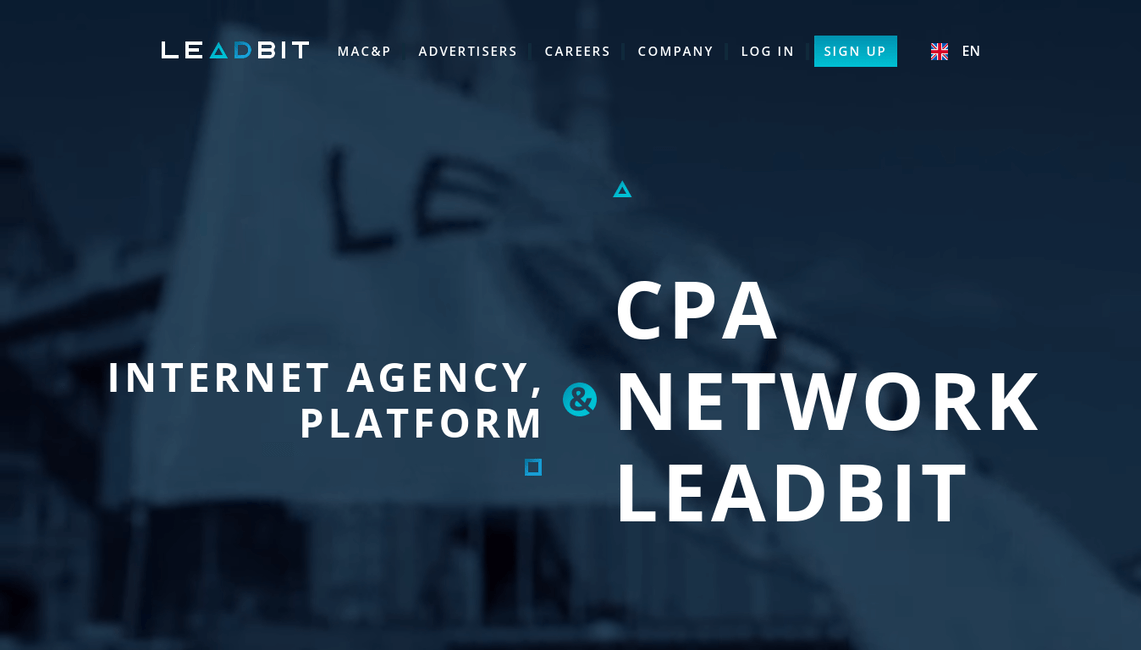 Leadbit was started in 2013, and although CPL isn't as prominent on the platform as CPA, it's still a good idea to consider using it. It has multiple verticals but is especially helpful for verticals like finance and nutra.Because each vertical has a specific team working on it, you know there are dedicated experts that can answer your questions. Also, they understand their specific niches, so it's easier for them to identify the most beneficial offers for affiliates.
Leadbit does its best to make it easy for affiliates to flourish by offering tools like banner rotators and even free translation to reach a wider audience.
| | |
| --- | --- |
| Network | Leadbit |
| Niche/Product Types | Versatile |
| Average Commission Rate | Depends on campaign |
| Cookie Duration | N/A |
| Minimum Payout | N/A |
| Payment Methods | Webmoney, Credit Card, Wire Transfer, Paxum, ePayments |
| Payment Duration | Within 7-14 days |
| Affiliate Support Type | 24/7, email, Skype, Telegram |
Our Verdict About Leadbit
With helpful tools and real-time reporting, affiliates can stay on top of their campaigns and monitor when it's time to make changes to generate leads more effectively. Leadbit is active in the affiliate community, and meeting its representatives can be of value, especially for new affiliates who want to learn about the industry.
Pros
Free translation and other tools

Exclusive offers

Quick payouts

Involved with and hosts various summits and industry festivals

Assistance in 3 languages
Cons
Outdated website information

Limited information for advertisers on platform pages
Affilight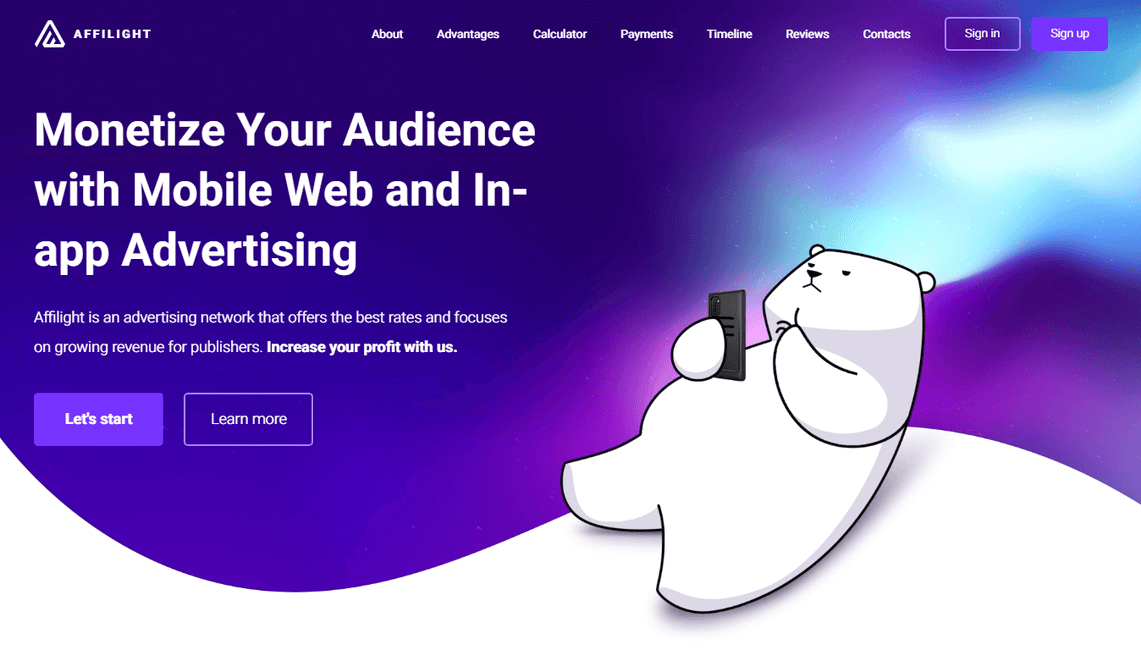 Affilight has a few advantages for affiliates whose audiences are mostly reached through mobile devices, since mobile and in-app marketing is what they do best. Know that the advertisers you find here are specifically after leads they can acquire via mobile traffic, so adjust your campaigns appropriately. Affilight launched in 2016, so it's one of the newer networks on today's market. However, they passed the 10,000 publisher mark in 2019 already, so they definitely have value to offer.
One very advantageous feature is their use of advanced smartlink technology, which makes it easier for affiliates to connect customers with relevant offers. This increases their chance of becoming registered leads. Their WordPress plugin and JavaScript tag also make it easy to integrate offers with your content.
This is a relevant affiliate network for the current times, where mobile apps and online browsing are becoming more popular all the time. Using this global affiliate network can be beneficial for affiliates who want to improve their impact.
| | |
| --- | --- |
| Network | Affilight |
| Niche/Product Types | Versatile – made for mobile web audience |
| Average Commission Rate | Depends on campaign; 5% referral program |
| Cookie Duration | N/A |
| Minimum Payout | $10 |
| Payment Methods | WebMoney, PayPal, Payoneer, Bitcoin, ePayments, Ecoin, Wire transfer |
| Payment Duration | Twice a month, 15 days hold |
| Affiliate Support Type | Chat, Skype, Email |
Our Verdict About Affilight
We really enjoyed their tools to help determine possible profit, as this will quickly tell you if it's worth joining up. It's a relevant affiliate network with lots to offer, but their current website's information is limited and slightly out of date, so we'll keep monitoring their performance.  
Pros
Global geo coverage in over 190 countries

International offers available

Relevant for modern audiences

Advanced Smartlink technology

Low minimum payout
Cons
Website lacks important information

Only suitable for affiliates with big mobile audiences
CityAds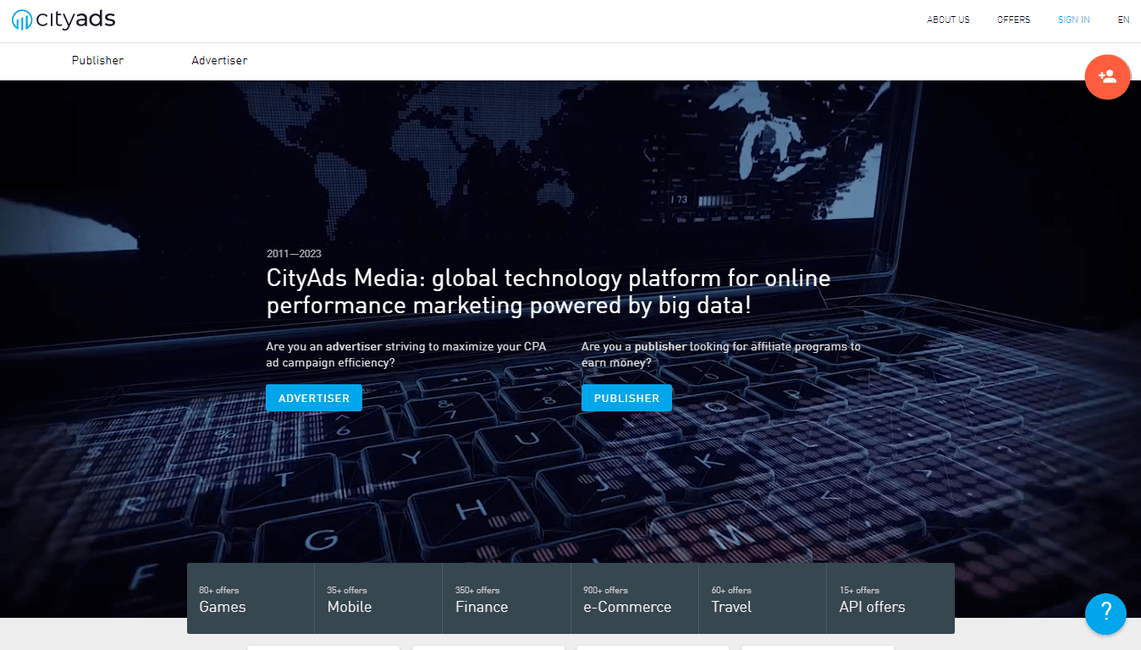 The origin story of CityAds starts in 2010, when the original brand GameLeads was founded. Its purpose was game promotion, but because of growth pushing them beyond the gaming niche, company changes were made, which resulted in CityAds.Over the years, they developed technology in-house that improved processes such as driving and analysing traffic, as well as monitoring product costs and availability. All their tech helps to draw brands and optimise offers that affiliates can benefit from.
They've opened offices across the globe, and today they can report having CPL affiliate offers from famous brands like HP, Marriott International, and Agoda. As you can see, their offerings cover a wide range of verticals.
Note that it's mostly a CPA affiliate network with great options for CPL as well.
| | |
| --- | --- |
| Network | CityAds |
| Niche/Product Types | Versatile |
| Average Commission Rate | Depends on campaign |
| Cookie Duration | N/A |
| Minimum Payout | $30 |
| Payment Methods | Bank transfer, Webmoney, PayPal, Capitalist |
| Payment Duration | Once or twice/month depending on payment method; 3-14 days hold |
| Affiliate Support Type | Email, Phone |
Our Verdict About CityAds
We found that despite the platform only providing limited information, some of the most important details were easily available and explained thoroughly. This makes it easier for new users to know what to expect and plan ahead. You can also try their 'Userdocs' page that gives access to a mass of information.
Pros
Page information available in 6 languages

Low minimum payment

Some of the most comfortable payment methods

Popular brands to market

Real time stats available

Data analysis enables a recommendation system
Cons
Limited details available of company

Website slightly outdated

CPA focus
Dynu in Media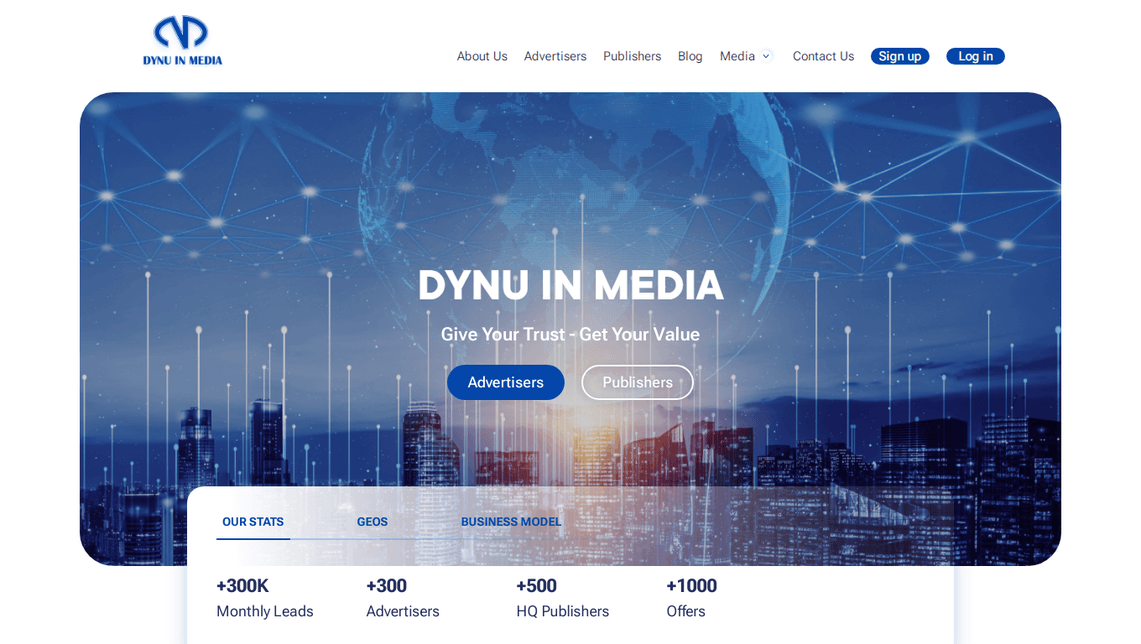 Dynu in Media is another affiliate network that those interested in CPL affiliate marketing can try out. This company is stationed in Vietnam and has had industry experience for over a decade, although they've only been officially in operation since 2019.On Dynu in Media, you can browse offers from over 300 advertisers, and with reports showing the platform helps generate over 300,000 leads a month, it's clear why people use it for CPL affiliate marketing. Partners include OfferVault, Blue Book, and CafeBiz.  
It's always helpful if companies are active on social media platforms, since it makes it so much easier to keep track of what's going on, such as when the team shuts down during the holidays. This is exactly what Dynu in Media offers, so they're a user-friendly brand to work with.
| | |
| --- | --- |
| Network | Dynu in Media |
| Niche/Product Types | Versatile |
| Average Commission Rate | Depends on campaign; 2% referral program |
| Cookie Duration | N/A |
| Minimum Payout | $50 |
| Payment Methods | Wire, PayPal, Payoneer |
| Payment Duration | Monthly after invoice submission, NET25 (NET15 in special cases) |
| Affiliate Support Type | Email, Phone, Skype |
Our Verdict About Dynu in Media
The number of generated leads gives one peace of mind that, although it's a newer platform, it's worth using it to increase one's CPL income. Also, with many popular niches, such as gaming, it's easy to get your audience to click and become qualified leads.
Features like a 7-day EPC (earning per click) showcased in offer details make it easy to plan campaigns and identify the most beneficial offers.
Pros
Decent minimum payout

Popular verticals

Accepts most types of traffic

Intuitive, informative website
Cons
New in the market

No dedicated affiliate managers

No immediate sign up – applications take up to 48 hours
TradeDoubler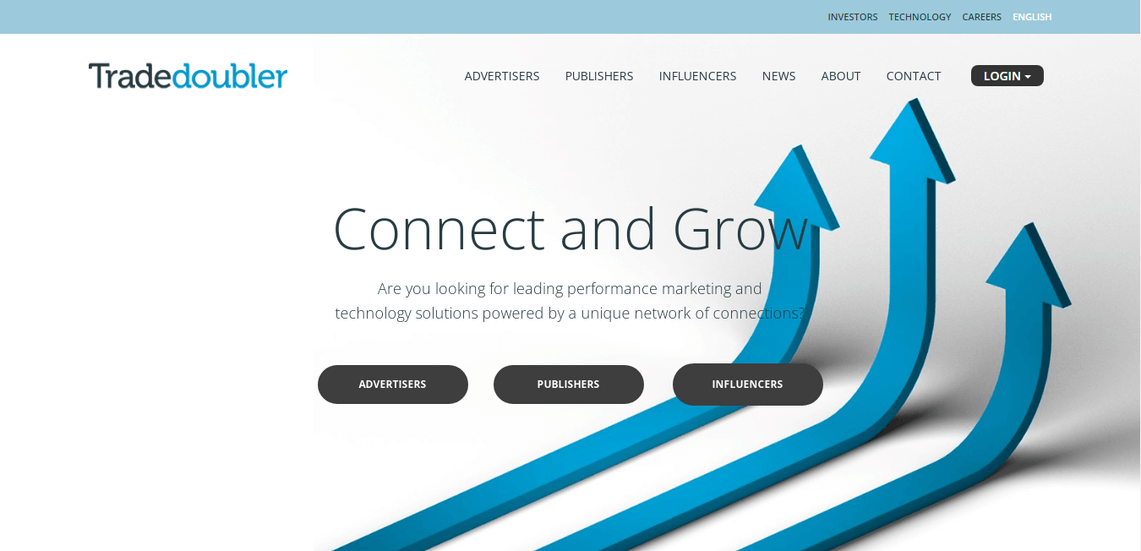 TradeDoubler has been active for over 2 decades, and they can boast impressive numbers, including having over 3,000 advertisers share their affiliate program offers on their platform. Then there are more than 180,000 publishers who help these merchants get the word out. Therefore, for someone hoping to grow CPL marketing revenue, this is a healthy, successful platform to join.Another fact that can give you peace of mind about joining TradeDoubler is the popularity of the names on their partner list, such as IKEA, Lufthansa, and ClubMed. Being a multi-vertical affiliate network, you should be able to find favourable offers no matter the type of audience you create content for.
Today, you'll find their offices in 10 countries. While these are mostly based in Europe and Asia, their users are all over the globe, and they report business activities in 80+ countries.
| | |
| --- | --- |
| Network | TradeDoubler |
| Niche/product types | Versatile |
| Average commission rate | Depends on campaign Referral program is available |
| Cookie duration | N/A |
| Minimum payout | €50 |
| Payment methods | Bank transfer |
| Payment Duration | Monthly |
| Affiliate Support Type | Phone Email |
Network
Niche/product types
Average commission rate
Cookie duration
Minimum payout
Payment methods
Payment Duration
Affiliate Support Type
TradeDoubler
Versatile
Depends on campaign Referral program is available
N/A
€50
Bank transfer
Monthly
Phone Email
Our Verdict About TradeDoubler
We do wish TradeDoubler shared more details on their website, such as clarity on exactly how payments work. This will make it easier for newbies, in particular, to plan and get on board. Still, this is a large affiliate network to become part of, with lots of scope to grow your affiliate business.
Pros
Accepts most traffic sources

Influencers enjoy using Metapic for easier content creation

Large network with worldwide coverage

Well known brands
 Cons
Slow customer service for account matters

Lack of information on the website
CPL Model vs. CPA Model
Two of the most popular affiliate earning models are CPA and CPL marketing, because both of them offer great opportunities at low risk for merchants and publishers.
With CPA (cost per action), a marketer gets paid per completed action. The action can be anything from completing a sale to filling in a form to watching a video. Similar to CPL, you'll find great affiliate program offers on the best CPA affiliate networks that have partnerships with reputable brands from various niches.
CPL Model
Client must supply personal information to become a qualified lead
Low risk for advertisers and publishers
Helps determine advertising campaign success
Opens up a 2-way communication channel with audience
Helps build long term relationships with audience
Great earning potential for affiliates thanks to high rates.
VS
CPA Model
Payment are made even without a client supplying personal details
Low risk for advertisers and publishers
Helps determine advertising costs of a sale
Only a 1-way communication method, even after certain actions are completed
Benefits thanks to the action (but not necessarily a long term journey with the client)
Often offers high rates for affiliates.
Pros and Cons of CPL Affiliate Networks 
As with any other type of affiliate network, CPL affiliate networks have advantages and drawbacks. Knowing these facts helps affiliates decide to what extent CPL earning plans and these networks should be part of their business.
Quick way to find available CPL affiliate programs

 

Marketing tools may be available to benefit campaigns

 

Guaranteed to get paid what you're owed

Advertisers can get access to vetted, quality publishers

Access to personal manager that can advise
Good networks may not cover verticals you're interested in

Some of the best CPL affiliate networks have strict application procedures

Unlike RevShare earning plans, income is a once-off payment per lead
CPL Affiliate Networks Conclusion
The CPL earning plan is an established and much-loved affiliate marketing earning plan for good reason. With advantages for both advertisers and publishers, it has helped many businesses grow and will be around for years to come.
Using a reputable global marketing agency is especially relevant in a business world where digital marketing plays such a vital role in success. Any company requires high-quality traffic these days, but it's a challenge to effectively attract customers when people are inundated with competitors' marketing efforts as well. Leads enable brands to reach out to individuals who may never visit them in person but are more likely to make a few clicks online and willingly share their personal details.
This clarifies the important role CPL affiliate networks are playing in helping to connect quality advertisers with quality affiliates. With streamlined workflows, from finding entities to partner with to getting affiliate links to share, more marketing campaigns can be launched more often to help spread the word and accumulate leads faster.
Knowing which networks to trust is another bonus! Using a CPL affiliate network listed here, affiliates will speed up their workflows even more. So, compare the brands and identify which affiliate network you'll join first.
FAQ
Still in search of important answers to questions on CPL affiliate networks? Scroll down for insight on the most discussed topics relating to this advertising network niche.
What Are CPL Networks?
CPL networks are online platforms that showcase available CPL affiliate programs. Affiliates can look for merchants' affiliate program offers on these networks, and the CPL network will ensure they get paid for leads obtained.
Do CPL Marketing Offer High Payout Rates?
CPL marketing does carry the possibility of earning high rates for each confirmed lead, but it depends on the affiliate marketing program's specific offer. Advertisers are willing to pay high rates because in almost any industry, leads are extremely valuable.