We'll Call You Back in Next 5 Minutes!
People Also Liked
Best CBD Affiliate Networks
Thanks to changing legislation, the opportunities for CBD affiliate marketing are expanding rapidly. For effective business growth, however, publishers must connect with the right advertisers, which the right affiliate networks can help with.
Experts predict steady growth in the CBD market in the coming years, and products are becoming more relevant for various demographics that learn about benefits such as pain relief. Therefore, joining a CBD affiliate program carries many advantages. However, as a new market, it's still challenging to identify who the best CBD affiliate programs are to partner with, so we've done the homework to streamline your decision-making process. As a top digital marketing agency, we've done a lot of research on the market and covered everything there is to know about the best CBD affiliate networks, showcasing some good CBD affiliate programs.
How Do CBD Affiliate Networks Work?
A primary goal for affiliate marketers is to identify the best CBD affiliate programs to become part of. On an affiliate network, you can find various CBD affiliate programs and their offers, browse for the best options, and then obtain affiliate links to share in your digital content. Affiliate networks serve as a marketplace to connect affiliates and advertisers, making it easier for affiliate marketing role players to find each other. Affiliates can look for an affiliate program, or some of the biggest CBD brands offering an affiliate program may also look for affiliates that they want to offer contracts to.
Since many brands and products are shown on one platform, the network makes it much easier for affiliate marketers to look through the offers that are available. On a CBD affiliate network, the focus market is CBD products, or it's one of the verticals. There may also be other verticals that could be relevant to the audience of the affiliate.
Based on the tracking of affiliate links, the network can generate data on how the content performed, for example, how many people clicked on the referral link and purchased a product. An affiliate will be paid commissions via the network based on this data.
How Can Affiliates Benefit from CBD Affiliate Networks?
CBD affiliate networks can vet partners, so affiliates know they're working with reputable brands. Networks speed up the process of finding appropriate brands and offers, saving affiliates lots of effort and freeing up time that they can invest in other activities to grow their business faster.
The CBD affiliate network might offer things like assistance with affiliate marketing campaigns, which could lead to more clicks and sales. Also, such a network helps with managing payments between advertisers and publishers, making it a safe resource to use and giving marketers peace of mind that they'll receive their pay-outs for services rendered.
Affiliate networks often provide insightful information on the affiliate industry, helping newbies that want to help sell CBD products and learn the business faster.
Why Should You Become an Early CBD Affiliate?
Some experts believe the cannabidiol market will have a 20% CAGR (compound annual growth rate) until 2028. CBD specifically is one of the most prominent and popular product ranges in the cannabidiol market that people consider buying. Apart from people wanting to buy premium CBD brand products for themselves, the organic CBD pet product niche is also growing. Therefore, this market, which is still fairly new, stands to make people and businesses a lot of money, if you're correctly positioned to benefit from the increase in customers and interest.
With online shopping also being popular, CBD affiliate programs will play a large role in helping to connect buyers with CBD retailers. There's sure to be an influx in publishers in the coming years, so it's best to start building your reputation now and establish yourself as an experienced CBD affiliate that will be an asset for merchants with CBD oil affiliate programs. Because of the unique features and challenges of the CBD market, it's best to give yourself enough time to grow.
Marketing Restrictions
Changes in Federal and State Laws
Becoming Experienced Takes Time
Certain social media platforms won't allow ads mentioning CBD oil or related products. With restrictions on where you're allowed to market CBD affiliate links, you must learn to apply specific affiliate sales strategies.
Legislation changes all the time. Publishers must learn where and how to obtain the latest information so they can adjust campaigns accordingly.
Learning how to overcome the above mentioned challenges takes time. Only after a while will you make the most of the affiliate program you're part of, and then only established affiliates can attract more business. So, it's essential to have long-term plans in order to be successful in this niche.
The advantage of doing affiliate marketing in this niche is that, by joining CBD affiliate programs now, you'll be an expert while others are still getting to know the market down the line. Also, it's worth putting in the hard work because buyers are bound to become long-term customers, resulting in continual revenue on certain affiliate contracts. So, joining this niche as an affiliate marketer as soon as possible is a smart business decision.
5 Best CBD Affiliate Networks
When you use networks known to share information on excellent CBD affiliate offers, you make it easy to find good options to share with your audience. Save yourself time by using the most reputable networks in the business at the moment.
Some of these networks may focus exclusively on CBD products, which is helpful if you're specifically looking for CBD affiliate links. However, others have a range of verticals to choose from. This enables you to cater for many of your audience's preferences by simply using one affiliate network.
We summarize the best on the current market so you can compare and pick the next one to try out and grow your business.  
Diamond CBD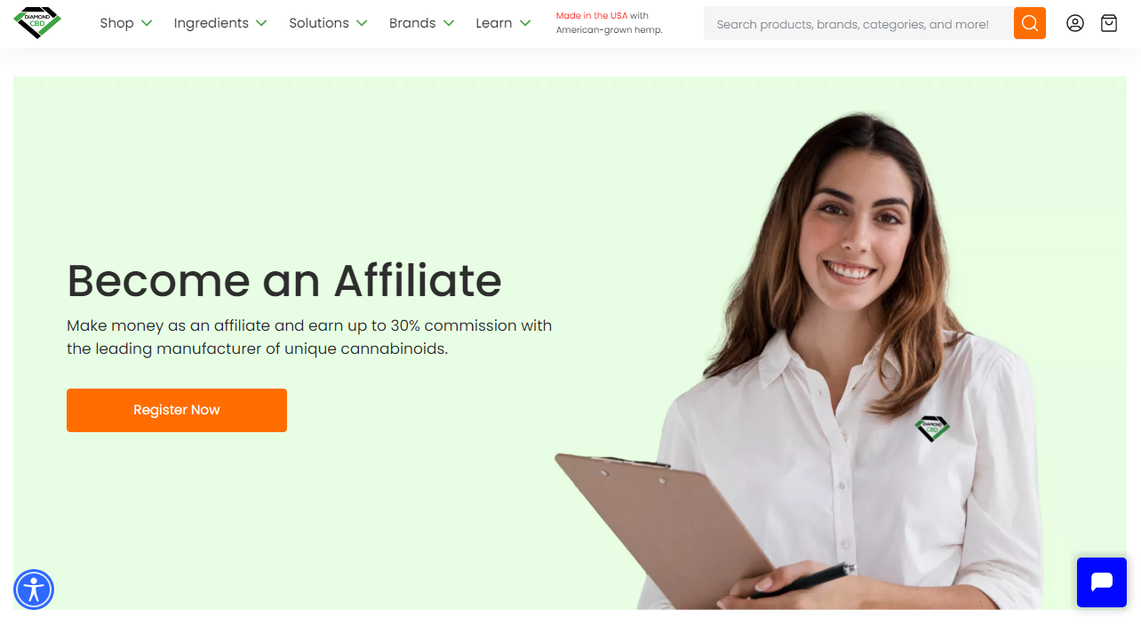 Starting off, the Diamond CBD affiliate program gets loads of 5-star reviews from users, which showcases the value they bring to the market in terms of service delivery. This is a CBD affiliate program, and the company produces its own cannabinoids, but it also gives you access to many other brands' CBD oil products. The platform has an impressive list of over 25 brands that you can browse, and you'll find over 1,000 products to market. Brands include Artisan, Buzz, and CBD Oil Biotech, to name but a few.For affiliates, there's the option to join other platforms like FlexOffers, ShareASale (see below), and CBD Affiliates to also take advantage of offers.  
Diamond CBD does have a few verticals within this niche, such as also catering for users who prefer products containing THC or even kratom products. A nifty feature on the platform is being able to search according to ingredients. So, if you know your audience will only be interested in CBD isolates or you want to discover what the kratom market is about, a few clicks give you what you need, and Diamond CBD created very informative pages on each product group, which is very helpful for newbies.
| | |
| --- | --- |
| Network | Diamond CBD |
| Niche/Product Types | Versatile |
| Average Commission Rate | Up to 30% |
| Cookie Duration | N/A |
| Minimum Payout | N/A |
| Payment Methods | N/A |
| Payment Duration | N/A |
| Affiliate Support Type | Chat, Email, Phone |
Our Verdict About Diamond CBD
Keep in mind that Diamond CBD is more of an advertiser hoping to draw affiliates than just an affiliate network. Still, it's beneficial that you can access such a wide range of products in this niche, even kratom. This gives affiliates a one-stop option when gaining experience for this type of affiliate work.
The site is easy to navigate, but we would appreciate more information on the company itself, along with affiliate details.
Pros
Range of products and brands

User friendly website

High ratings from users

Great commission rates

Information rich on many products
Cons
Not an experienced affiliate network as some other platforms

Lack of information on some details
Armorica Network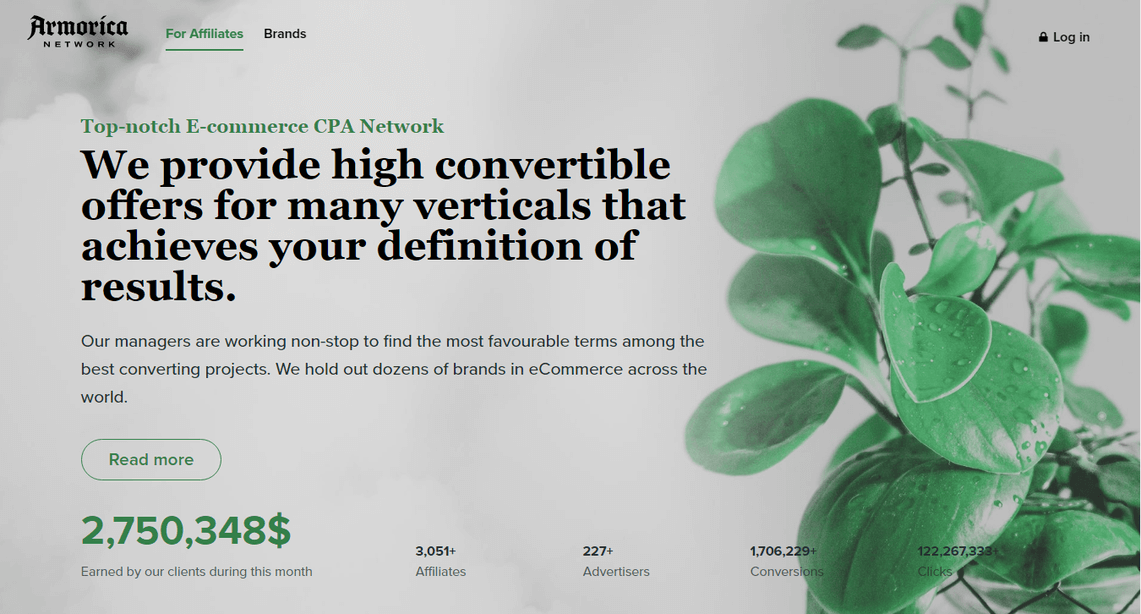 Armorica Network can draw respect based on its impressive stats, such as having over 200 advertisers and over 3,000 affiliates. However, not all advertisers cater for the CBD affiliate niche, since they also have offers in many other verticals. For CBD offers, you can pick from CBD brands like CBDPure and SuperNaturals.Luckily, audiences are very likely to find that multiple verticals on Armorica Network suit their preferences, since they're closely related to CBD. This is the case with brands in the health and supplement markets.
A benefit of using Armorica Network is its flexibility when it comes to traffic types. With many CBD affiliate programs, you'll earn commission if you market via email and mobile apps, which makes it easier for affiliates to earn when marketing products where legislation prevents you from using certain other advertising mediums like social media.
The platform is big on CPA offers, but you can also opt for RevShare offers, with commission rates that are very lucrative.
| | |
| --- | --- |
| Network | Armorica Network |
| Niche/Product Types | Various including CBD, CBD for pets, hemp, CBD oil, health, beauty, hobbies, dating, supplements |
| Average Commission Rate | CPA, CPL and revenue share offers available – affiliate partner dependent |
| Cookie Duration | N/A |
| Minimum Payout | $100 |
| Payment Methods | Various including WebMoney, ePayments, Bitcoin, Wire |
| Payment Duration | 7 days |
| Affiliate Support Type | Chat, Email, Dedicated affiliate management team |
Our Verdict About Armorica Network
Armorica Network makes it easy for affiliates to find relevant offers thanks to their user-friendly filter. You can simply select the vertical you're interested in and view all the options.
The offers from merchants selling organic CBD products are limited, but they change all the time, so it's worth checking in on this platform on a regular basis.
Pros
Accepts almost any kind of traffic

Intuitive website

Quick payouts

Network can contact other CBD brands on request

Real time stats available
Cons
Limited product options

Available company information is limited
Algo Affiliates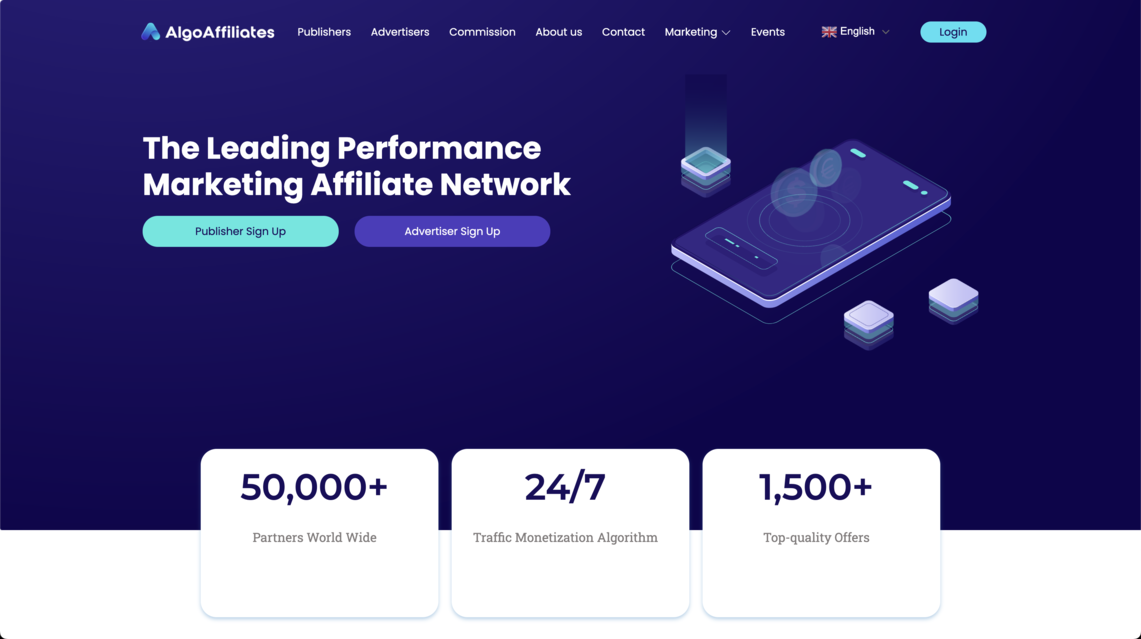 This is an award winning company, and affiliates have over 1,500 offers to choose from. Just remember that this covers many verticals. However, with health being one of the top verticals on the Algo Affiliates network, it's clear that it's a smart affiliate network to consider when interested in marketing CBD products.The brand is big on technology, so you get the benefit of features like smartlinks that will match up a client with the best possible offer. With their algorithm, an ad can be adjusted to suit the viewer.
The brand has over 50,000 partners globally, so you can consider joining no matter which country you're from. The marketing materials are even available in multiple languages.
As a network showcasing various verticals, you can obtain a variety of affiliate links to suit all your audience's needs and interests.
| | |
| --- | --- |
| Network | Algo Affiliates |
| Niche/Product Types | Various, including CBD, finance, nutra, crypto, dating |
| Average Commission Rate | Different deals available for CPA, CPS and CPL |
| Cookie Duration | N/A |
| Minimum Payout | Varies based on CBD affiliate program |
| Payment Methods | PayPal, Wire, Crypto |
| Payment Duration | Varies based on CBD affiliate programs |
| Affiliate Support Type | Email, dedicated affiliate manager, Skype |
Our Verdict About Algo Affiliates
We appreciate that it's one of the company's primary values to accurately track activities. Therefore, there's little chance of affiliates missing out on payments due to them. Affiliates will also feel looked after since account managers discuss your business with you and help you make the best decisions to benefit your bottom line.
Pros
Uses high tech to benefit affiliates

Health is a prominent vertical, closely related to CBD

Account managers available

In-house developed algorithms help drive traffic 24/7
Cons
Doesn't clarify list of partners

Not exclusively CBD focused
ShareASale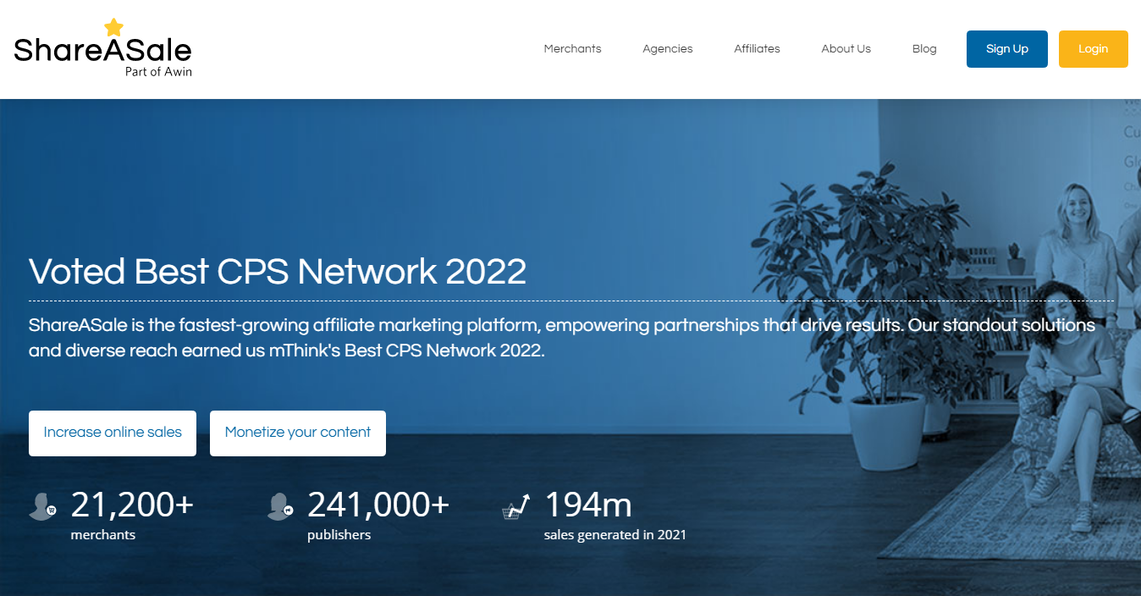 This platform has been around since 2000 but was acquired by Awin in 2017. ShareASale is impressive in terms of numbers, with over 25,000 advertisers' offers to choose from and over 250,000 publishers using the platform. Partners include reputable companies like Reebok and AIM, but also companies like Central Vapors and Flawless Vape Shop that the CBD community is likely to find relevant.Role players are stationed around the globe, making ShareASale appropriate for affiliates from many countries. However, not everything is focused on CBD, so there will be limited offers for this niche. Still, with niches like health being prominent, it's a platform where affiliates can find multiple offers to suit clients' interests.
| | |
| --- | --- |
| Network | ShareASale |
| Niche/Product Types | 30+ categories including Health, Food & Drink |
| Average Commission Rate | Varies based on brand |
| Cookie Duration | N/A |
| Minimum Payout | $50 |
| Payment Methods | Check, Direct Deposit, and ACH |
| Payment Duration | Paid monthly |
| Affiliate Support Type | Email 24/7, Training Webinars, Resources |
Our Verdict About ShareASale
It's quick and easy to gauge whether ShareASale is right for your affiliate business since you can browse the 30+ merchant categories even before signing up. Double check the platform's relevancy before making a commitment.
The website is user-friendly overall, and there are great offers. Also, using an established brand like ShareASale is beneficial for the CBD niche, which requires long term planning for optimal results. Users can have peace of mind knowing that the platform won't close down overnight.
Pros
Website is very user friendly

Verticals relevant to CBD niche

Established brand

Active on social media to update uses on news
Cons
Can be difficult to grow CBD business for newbies
Impact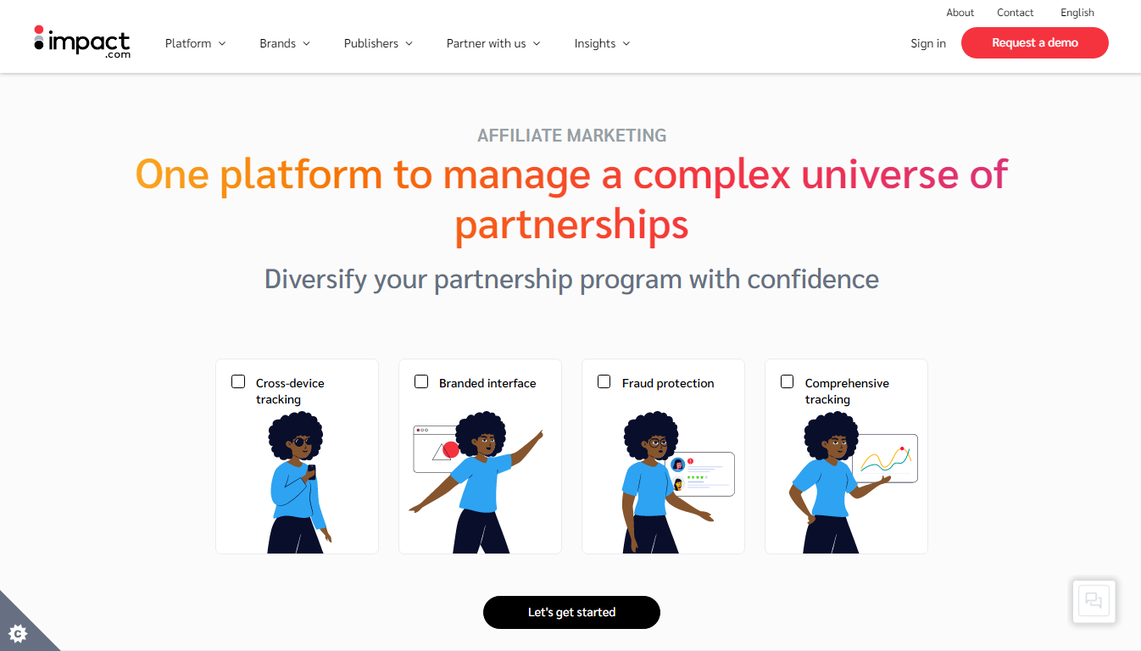 Impact is a US tech company and provides another platform where you'll get access to offers related to many verticals. Some of them, such as travel, will be relevant for those interested in CBD, so you can use it to cater for multiple interests clients have. Note that B2B is also listed as a vertical, so affiliates hoping to engage with businesses and benefit from large scale purchases could find Impact very helpful.There are thousands of brands, including CBD brands, showcased on the platform, and they come from across the globe. This is therefore another platform that affiliates can consider, no matter their place of operation.
Impact is the name behind one of the most respected influencer and affiliate software products on the market. You can have peace of mind knowing that they know how to cater for affiliates, and because they're experts on topics like fraud protection, they know how to look after users' data.
| | |
| --- | --- |
| Network | Impact |
| Niche/product types | Various |
| Average commission rate | Various |
| Cookie duration | 7 days |
| Minimum payout | $50 for check $100 for bank transfer |
| Payment methods | Direct transfer BACS or PayPal in any currency |
| Payment Duration | Paid monthly or weekly |
| Affiliate Support Type | Phone Email Chatbot |

Network
Niche/product types
Average commission rate
Cookie duration
Minimum payout
Payment methods
Payment Duration
Affiliate Support Type

Impact
Various
Various
7 days
$50 for check $100 for bank transfer
Direct transfer BACS or PayPal in any currency
Paid monthly or weekly
Phone Email Chatbot
Our Verdict About Impact
We think this platform could be a good place for established affiliates to consider, since there is an approval process before you can start using the platform. Affiliates can share links of brands that already have a good reputation, which is one reason to use Impact in this niche. 
Pros
Active in over 80 countries

Flexible payment system

Can obtain partners' information for direct communication

Various options to filter and review offers

Quick signup

B2B marketing is possible
Cons
Payments sometimes fall behind

Customer service requires improvement

Long approval process (up to 3 days)
Pros and Cons of CBD Affiliate Networks
Although very lucrative, the CBD industry can be a challenging one, even when using the best CBD affiliate programs around. By being aware of all the benefits and drawbacks, you can appropriately prepare, optimize the usage of CBD affiliate networks, and sidestep potential problems.
Potential of lifetime commission earnings

CBD industry is growing fast

High commission rates available

CBD products are relevant to many other popular affiliate verticals

Networks help create ads that sell

Offers often last long, giving affiliates time to market
CBD legislation changes often, requiring effort to stay informed

You're not allowed to market CBD products on all social media platforms

Merchants are known to close business without warning

Terms and conditions vary, so take time to research each contract
Conclusion
Anyone looking to make it big in the affiliate world should consider adding CBD affiliate programs to their list of focus areas. With the CBD industry being one of the fastest growing markets, it can help you scale your business faster than planned. However, smart planning is vital, and affiliates should get started as soon as possible, so they can learn the finer details of what it takes to make it big.
A helpful resource for affiliates is finding a reputable CBD affiliate network with reputable CBD merchants as partners, selling high quality CBD products. By taking care of details such as payments and helping with marketing, affiliates' workflows are streamlined, and they see results faster while safeguarding their interests. We showcased some of the best CBD affiliate networks on the current market that can help affiliates gain traction by identifying the best CBD oil affiliate program for their particular needs.
Use our FAQ sections and other information to familiarize yourself with this niche so it can help you become an affiliate of note.
FAQ
With CBD legislation changing all the time, are you sure you're up to date on what it takes to be an affiliate in this niche? We answer important questions to help you get started, become one of the successful affiliates using CBD affiliate programs, and stay on track.
What Are CBD Affiliate Networks?
A CBD affiliate network acts as an online marketplace where CBD brands selling CBD products can connect with affiliates hoping to advertise affiliate links to those products. Either party can make contact with the other. The network helps with activities like managing payments, tracking links' activity, and creating ads.
Does CBD Marketing Offer High Payout Rates?
CPL marketing does carry the possibility of earning high rates for each confirmed lead, but it depends on the affiliate marketing program's specific offer. Advertisers are willing to pay high rates because in almost any industry, leads are extremely valuable.
Can You Advertise CBD Products on Social Media?
Social media platforms have restrictions on the types of products you can advertise. CBD and similar cannabinoid products aren't allowed currently, and that includes low THC products like CBD gummies, even when marketed on a private Facebook group. However, rules change often, so it's worth reviewing guidelines on a regular basis. For example, Google has shared its intentions for allowing ads for certain CBD products.