Despite the controversies surrounding digital currencies, utilising crypto affiliate networks is attractive to many, as it presents an opportunity for affiliates (publishers) to easily earn money by directing interested clients, such as crypto investors, to the offers of crypto merchants. A helpful resource in this process is affiliate networks, which help connect publishers to cryptocurrency affiliate programs.However, it is critical for affiliates to choose the right affiliate programs to participate in. For one thing, security is a main concern when it comes to money, cryptocurrencies, and protecting your affiliate business' reputation. Therefore, affiliates should only partner with trustworthy merchants, and affiliate networks make it easier to compare and vet affiliate programs.
Being a leading digital agency, we have a lot of experience in cryptocurrencies and affiliate marketing, so we've put together an extensive guide on the best crypto affiliate networks to try out this year. We also share information on how to compare different networks and programs, so you can choose the best affiliate partners going forward.
What Are Crypto Affiliate Networks, and How Do They Work?
A crypto affiliate network serves as an online marketplace to find cryptocurrency affiliate programs you can join. These marketplaces showcase various merchants that offer affiliate programs, and as an affiliate, you use the network as a middleman to connect with these programs. The affiliate networks also help manage various aspects, such as providing marketing tools and ensuring commission payments are made.
Some affiliate networks will focus on crypto only, showing you cryptocurrency affiliate programs or brands that will reward you for crypto exchange referrals. Others will have crypto as one of the many verticals they promote on the network.
Affiliates join a program, obtain a personal referral link for a specific offer, and use that in digital marketing campaigns. Anyone clicking that affiliate link and completing the expected activity results in commission payments, as stated in the contract. Affiliates can earn in many ways when using affiliate networks and affiliate programs. You may get commissions or flat fees for any of the following:
Clients completing referral transactions and buying crypto
Sign-ups of new clients
Clients completing actions such as filling in forms or watching videos
You'll get paid by the affiliate network, not necessarily by the merchant who set up the program.
How Do Crypto Affiliate Programs Work, and Are They Different from Crypto Affiliate Networks?
Some merchants have crypto exchange referral programs focused on prompting existing clients to share information with their friends. In contrast, an affiliate program is for third-party marketers that merchants use to increase traffic to a crypto exchange.
On an affiliate network that you join, you can view available crypto affiliate programs and pick one or multiple ones to sign up for. From the affiliate program, you'll receive unique affiliate links that you can use in your digital marketing campaigns, whether that includes blogs, emails, social media, a YouTube channel, or other affiliate page content. The goal is to get your audience to click on the affiliate link and take an action, such as signing up for something or purchasing cryptocurrency.
Using cookies, affiliate tracking systems can track and record what people do with these affiliate links. The affiliate program can confirm completed actions, know which affiliate should get credit for them, and pay affiliate commissions based on the number of completed actions or referral purchases of crypto.
You may get a flat fee for each new client or even lifetime earnings based on the client's referral purchases down the line. This is part of what makes crypto affiliate marketing so attractive for individuals and companies.
5 Best Crypto Affiliate Networks
A trustworthy crypto affiliate network is important if you want to find good affiliate programs that will help your income streams. This is because you can trust the merchants they feature. Then you can compare different crypto affiliate programs and decide which is best for you.
Many factors determine the value of a specific affiliate program. For your own benefit, you need to compare details such as the commission rates, which can range from as little as 5% to as much as 50%. Furthermore, the merchant's reputation, customer support, and payment policies also matter. A crypto affiliate network will give you all of this information and may even be able to help your business grow by giving you marketing tools.
Read the reviews below to find out which of the crypto affiliate networks will work best for you.
ClickOut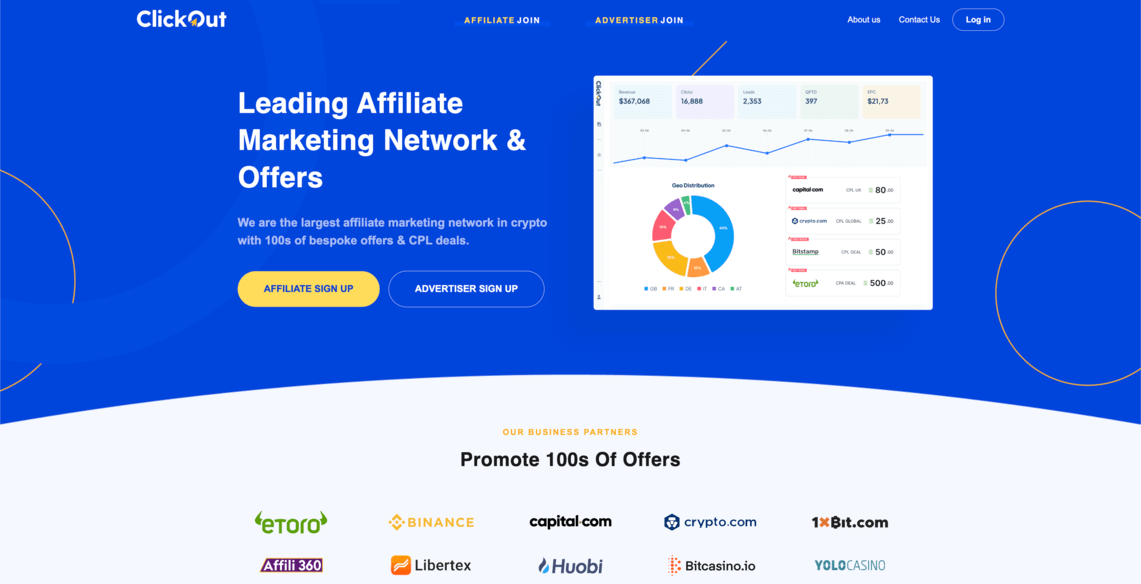 ClickOut is not solely an affiliate network for the cryptocurrency market, but they do understand what it takes to succeed in the crypto affiliate niches. You can also market affiliate links related to health or finance, which are often relevant to the same target audience. Therefore, when using ClickOut, you don't have to join another affiliate network to meet the multiple needs of your audience.The team members have over a decade's worth of experience in this type of business, and you'll find crypto affiliate program offers from well-known names in the business, including Binance, Etoro, and 1xBit.com. However, their stats are less impressive than some others since they only have around 80 active affiliates. But they have hundreds of offers and can provide support in over 20 languages, making it practical to join from almost anywhere in the world.